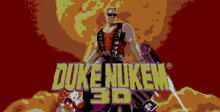 jimi posted a comment: 12 years ago

this game rocks! :P but i want wolfenstien 3D thats much funnier.. and gex would be nice to can somebody fix it?
jake posted a comment: 12 years ago

Wolfenstein was not released on genesis, therefore it would be impossible to find it. The pc version of duke nukem is far superior to this sega version, and if youve played the pc version youll know what im saying. Even the playstation 1 version of duke nukem was inferior to the pc version as even the playstation 1 did not have the capabilitys or power to fully emulate this game. Nonetheless for what they could do this is a decent game but can be hard to find your way around as it has no gammer correction option.