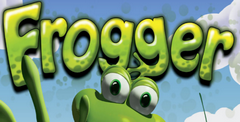 Justin Garcia CoolDuelist posted a comment: 16 years, 7 months ago

If you like the arcade version, this is the same thing. If you never the arcade or ever played this game before, I got to tell you that this game is very enjoyable. For those of you who don't know, you have to get five frogs across the street and that's it. Simple? I think not. Because the street is really a highway and there are hundreds of cars that never stop and even if you do get across the street, you have to get across a lake and to your home. This game doesn't have a plot, but is really fun. Get as far as you can until you run out of lives. Good luck and Happy Gaming :)! This game is Highly Recommended by me, JGCD!
Andy posted a comment: 15 years, 5 months ago

The music alone takes me back, This was the gem in my Atari games collection!, A MUST TRY.