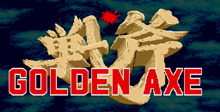 Justin Garcia CoolDuelist posted a comment: 15 years, 2 months ago

Have any of you ever played S.O.R. (Streets of Rage)? If you have, this game is partly similar. If you have never played S.O.R. then I can tell you that this is an action/Adventure that involves magic and fighting. It's really cool, you should play all three of these and all three of S.O.R. This Game is highly Recommended by me, JGCD!
azumi posted a comment: 14 years, 10 months ago

i can't enjoy da games cos i don't no da comtrols. can any1 help? thanx.
adam posted a comment: 14 years ago

i am having problems with the controls for player 2 because i can jump hit and use special but i cant move the player. But player 1 i can do all these things, is there something i need to change in the options and i am only using my 1 keyboard do i need controlers or something ??? plz help i wanna battle with friends and i love this game but i aint to good on my own and need 1 of my mates to help me thow it all.

1 last thing i love this site its amazing it has all the classic games i enjoyed when i was younger its bringing back some right good memories