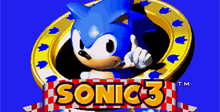 Justin Garcia CoolDuelist posted a comment: 14 years, 7 months ago

I am still speechless, All can say is that now you can save and you have to fight against both Knuckles and Dr.Robotnik (Now named Dr. Eggman). Knuckles is mad at you because he thinks you took the Master Emerald and Dr. Eggman was the one who really took it. Through out the game try to beat all the Special stages to get the chaos emeralds, when get all of them and beat Dr. Eggman, You get the best ending, if not, Eggman laughs at you because he still has everything including the Master Emerald. This Game is Highly Recommended by me, JGCD!
israel acevedo posted a comment: 14 years, 6 months ago
Shepherd Morttey posted a comment: 14 years, 2 months ago

it is inteeeee rrrrrrrrrrr eeeeeeeeeee ssssssssssss tttttttttttttttttt iiiiiiiiiiiiii nnnnnnnnnnnn ggggggggggggggggggggggggggggggggggggggggggggggggggggggggggggggg i like it
Ken posted a comment: 14 years, 1 month ago

I like Sonic the Hedgehog 3 alot, but not as much as Knuckles Chaotix.
ilir posted a comment: 13 years, 9 months ago

Dragon ball is very good.Add to my e-mail address iliri.97@hotmail.com
LisuTailor posted a comment: 12 years, 11 months ago

Soinc and dragon Ball i Sonic No dragon ahhh to Good Wats good Sonic or dragon to good to good ????/is Sonic Vs Dragon or dragon Vs Sonic ahh to Good
Q posted a comment: 13 years, 8 months ago

I beat this game years ago.. Great game, but I still like Sonic 1 & 2 the best, to this day. Sonic 3 save is alot better than starting over though..
mitch gardner posted a comment: 12 years, 8 months ago

what buttons do you push to activate sonic's super ability once you have all the chaos emeralds? please reply i need help!
mariano_xbox94@hotmail.com posted a comment: 12 years, 5 months ago

que buen juego este sonic estoy re viciado el truco del soun tes es arriba,arriba,abajo,abajo,arriba,arriba,arriba,arriba cuando aparesca sonic rotando aslo ultra rapido