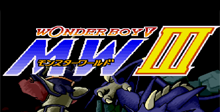 jake posted a comment: 14 years, 4 months ago

This is actually, the 4th wonderboy game. It started off as wonderboy, wonderboy in monster land, wonderboy the dragons trap, and this is the forth sequal. Those who have not played wonderboy, probably do not realise what a legendary game it trully is. Wonderboy in monster land (the second sequal) and wonderboy the dragons trap, were both Sega Master System games, and maybe the greatest games to have ever been on Sega Master System. This is the first wonderboy to be on Mega Drive and genesis (both versions are exactly the same) Wonderboy is not just anougher game, its a legendary series and a terrific game so try it for yourself.
Andy posted a comment: 13 years, 4 months ago

I remember this game well, I just wonder if that's what Tenacious D were singing about?. Either way it's a great game!, Jake can you recommend any other japanese games?, I love the art work and style of all there games!, I have all the Natsume games like Pocky & Rocky, Lufia and i like Final fantasy and Zelda type games!...
jake posted a comment: 13 years, 4 months ago

I would like to make a correction to my previous comment, the sequels goes as follows: Wonderboy. Wonderboy in Monsterland. Wonderboy Monster Lair, Wonderboy the Dragons Trap. Wonderboy in Monsterworld, and Monsterworld IV so this is in fact the fifth Wonderboy in the series. If I could recommend any other japanese genesis game it would be Monsterworld IV, the final chapter in the series. I'm not sure if its on this site, but I got in from a link on gamefabrique, I think the site was called sureloads. It's very much like this game, and I would say its equally as good. The game originally only came out in japanese but theres a english version on the net so you can understand because theres a fair bit of roleplaying in it.
Andy posted a comment: 13 years, 4 months ago

Thanks Jake i am now on the hunt for Monsterworld IV!, I'll tell you if i find it and where from, Ive already found it on www.coolrom.com but the download don't work so on goes my quest for Japanese gaming excellence, Wish me luck!....