Actua Soccer 3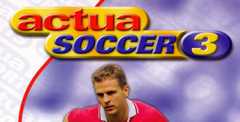 Click the "Install Game" button to initiate the free file download and get compact download launcher. Locate the executable file in your local folder and begin the launcher to install your desired game.
The most relevant fact here is that we used to play Actua Soccer 2 all the time until EA Sports eventually managed to live up to everything they'd promised with their rather good World Cup '98. Gremlin are obviously keen to outdo EA Sports' latest effort, and have decided to take one or two leaves out of the Canadians' book in an effort to make the latest in the Actua Soccer series better than anything seen before.
As a result, the latest incarnation sports a variable speed option that enables you to slow the game down, and for the first time sees the introduction of FIFA-style player Cskills' that enable you to indulge in the kind of foot wizardry seen in last summer's Nike TV ad campaign.
The Actua Soccer games were always dead quick and very easy to pick up and play, argues producer Tony Casson, but we felt that once you'd got to a certain level and learnt how to play the game, there wasn't much left to do.
So we thought we'd add some new special moves and introduce the facility to slow the game down so you can spend more time on the ball. This added sophistication should give skilled players a little edge in the game - though people using just the basics should still find it rewarding and still very much a pick-up-and-play game. Hopefully, this will give the game more depth and appeal.
Looking Better
As soon as you see the game running, it's pretty clear that Actua Soccer 3 represents a massive step up in terms of detail and player animation. There are now over 30 different stadiums to play in, all accurately rendered and pre-lit, and thanks to new capture-compression technology there are now approximately 10,000 frames of motion-captured animation for even greater realism.
This time round we felt that the players must have a larger-than-life quality with exaggerated moves accentuating both skilful and bad play, explains Tony. This will serve to reward the player during the game, and make for some excellent replays. Each player is now also made up of around 30 per cent more polygons than before, and is covered in a textured skin that prevents tearing at the joints. The overall effect is impressive. The players in Actua Soccer 3 are quite possibly the most refined ever found in a computer game, and it's often possible to tell who you're passing the ball to simply by the way they look. Petit has got a ponytail, Bergkamp can be picked ut by his Beavis-like forehead, and Seaman has an appropriately ridiculous Cstrong man at the circus'-style moustache.
We've now incorporated interchangeable heads and hair, which enables us to create a pretty accurate lookalike for most players, adds Tony.
The fact that they are constructed from single mesh models means they also look a lot more solid than the players in World Cup '98, and the animation is visibly a lot smoother.
Each player also has individual stats that represent their on-screen ability. There's nothing new in this idea, but Actua Soccer 3 has got to be the first game where you can actually notice the difference in players' stats when you play. Players also now have a preferred foot. It doesn't sound much of an innovation, but it actually makes a lot of sense.
Motion-capture animation can be flipped at no extra cost, explains Tony, and a stat can be included in the player data which details their preferred foot - left, right or both. This means you now have to think more about playing a player out of position. If you play a left-footed player on the right wing, for instance, he may lose accuracy when attempting to cross into the box. This won't render a player useless, but it should make you think twice about your tactics and formation.
Playing Better
Actua Soccer 3 undoubtedly looks better than its predecessors, but it's only when you play the game that you start to notice just how different it really is. As far as player control is concerned, you have a lot more to do - if you want to. As well as the toggleable speed feature and various Cskill' moves, Actua Soccer 3 gives you a lot more control over what your players actually do on-screen. Passing is no longer automatic, for instance - using a power bar and directional guides, you have to estimate just how hard to strike the ball. This should influence and encourage passing and build up play, says Tony. You now need to anticipate passes far more than ever before, as well as thinking about which pass to make.
As well as the facility to make 40-yard, Beckham-style passes, you can now also pull off some cool flicks and one-twos, and there's more scope for leaping for headers, controlling the ball or making a first-time touch. Overall, it's a marked improvement - not just over Actua Soccer 2, but also over other motion-captured football games, because you don't feel as though you're waiting for your player to complete an animation cycle before he can execute your next move.
Unlike World Cup '98, players are still selected automatically, depending on how close they are to the ball, but you can now override this and cycle through the players that are nearest to play, and retain control of a player if you want to. This solves those annoying auto-player select problems and makes positioning a player for a tackle much easier.
You'll be pleased to hear that the almost-useless Cstandard' tackle has been dropped in favour of a more effective and speedy Ctoe in' affair. Also, it no longer takes an age to get up again after a successful sliding tackle, and the gloriously effective shoulder barge has been tweaked to make it more difficult to pull off.
In Actua Soccer 2, timing a normal tackle was difficult in some circumstances due to the turning circle of the players, admits Tony. Lining up and timing your player's position to steal the ball from an opponent was very difficult, and if you messed up you were left wide open. The new tackling and shoulder charge moves really balance up this area of the game. Now, the emphasis really is on timing. It will be a lot easier to orient yourself to the ball carrier, and exactly when you decide to dive in is crucial.
Altogether Better
The improved control system, enhanced graphics and the introduction of a toggleable speed feature will undoubtedly boost Actua Soccer 3's appeal to those of us currently addicted to World Cup '98, but it doesn't end there. The squads are bang up to date (the alpha we played had Dwight Yorke up front for Man Utd - and this was only a day after his transfer was confirmed), and this time round the players actually play where they are supposed to. The 450 teams (which includes the English leagues, national squads and various other top teams from around the globe) are accurately represented, as are the 30-odd stadiums. What's more, team formations are pretty much what you'd expect, and some sides visibly play a long-ball game or a neat pass-to-feet-style game.
As well as playing in the usual leagues and cups, you can also set up just about any custom competition you want, from knockout cups to special leagues. You can even set the number of points for a win and a loss (!?).
Altogether, judging by what we've seen so far, it could well be a case of third time lucky for Aetna Soccer. There is some serious competition from World Cup '98, and there's also a club-based game on the way very shortly which uses a new Cenhanced' game engine. However, if Gremlin manage to live up to their promises we could be in for a fabulous footie fest once the nights start to draw in. Which basically means that our Publisher will get in a strop when we refuse to stop playing football games in the office when we should be answering the phone.
Download Actua Soccer 3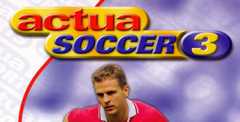 System requirements:
PC compatible
Operating systems: Windows 10/Windows 8/Windows 7/2000/Vista/WinXP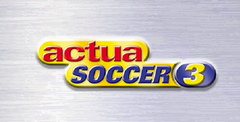 System requirements:
PC compatible
Operating systems: Windows 10/Windows 8/Windows 7/2000/Vista/WinXP
Game Reviews
Gremlin have been keeping a low profile on the football front of late, avoiding the recent World Cup shootout and quietly getting on with the business of the third instalment proper of their successful Actua series which, as you can see from the accompanying screen shots, is looking pretty hot already. Gremlin have thoughtfully decided to include all the teams in the English league for the third series in the game, giving people like Steve Hill the opportunity to take Chester City to Premiership glory for the first time in their (and his) history. Flexible tournament editing is promised as is variable game speed, something sadly missing in previous footie games. At the E3 show, we were rewarded with an exclusive audience with the game, deep within a secret section of Gremlin's stand. The verdict? World Cup '98 may have some decent competition at last.
Almost a year after Actua Soccer 2 was released, the third football game from the massively popular Actua stable is upon us. Actua Soccer Club Edition may have been voted the best sports game of last year, but one of the most popular games featured in this year's Reader Awards is Electronic Arts' World Cup '98, and that has since been bettered by the 'all-new' (ahem) and rather excellent FIFA '99. So, is Gremlin's third effort any match for the mighty FIFA'?
Keown Or Ginola?
In terms of graphics, there's little to choose less detailed. When they start scampering around the pitch, you can tell that they both make use of motion-capture technology, though you never feel as though you're not in control. Both games stand head and shoulders above all other football games in terms of graphics and attention to detail, and it's actually possible to recognise some of the more 'unique' players when using some of the closer camera angles.
When it comes to overall presentation, however, Actua cannot compete with the super-slick FIFA Although the intro to Actua is in many ways a work of art, the superbly edited live footage cannot compete with FIFA's Fat Boy Slim, Des Lynam, Lineker and co million-dollar extravaganza. You can tell that the menus were designed with the PlayStation in mind, and while it's pretty easy to navigate your way around the game, Actua's menus lack that polished FIFA feel and aren't as instantly clear. So, after the first round if s looking pretty even between them - until FIFA just snatched a 1-0 win in injury time.
RONALDO OR ANDY COLE?
A lot has been made of the special 'skill' moves in FIFA, and this is something that Gremlin haven't ignored when developing Actua 3. Even if you don't actually use them, the fact that they're there is important, because when you do get bored of hammering your opponents 14-0, it's nice to have something new to get to grips with. Actua 3 doesn't sport as many 'skill' moves as FIFA 99, but what's on offer is at least useful and helps prolong the game's appeal. With practice I you can execute some slick one-twos, send your opponent the wrong way, and play the ball Into space.
In terms of general play, there's little to separate the two games. FIFA 99can be a little on the easy side when playing on the lowest skill setting, and it's still possible to rack up double-figure scores when playing against worthy'human' opponents (sorry, Steve) on the higher skill settings if you discover and consistently exploit one of the two dubious 'score almost every time' tactics. We've yet to find any such anomalies in Actua 3, which shows that Gremlin at least take their playtesting seriously, and on the whole it's generally a lot more difficult to score, and therefore the game may be considered to be more realistic.
Unlike previous Actua Soccer games, goalmouth scrambles are not conspicuous by their absence, and it's now possible to lob the keeper from pretty close up. The heading has been improved too, and you have to direct headers and volleys, which makes scoring a spectacular goal from a pacy cross even more satisfying.
The tackling appears to be more realistic than FIFA's, and it's generally harder to win the ball unless your timing is spot on. When playing Actua 3 it's less of a battle in midfield to win and keep possession, which makes for a more fluid playing experience. The fact that you can now adjust the speed of play will be a boon for FIFA fans brought up on a diet of slow motion, and Actua fans will be pleased to hear that you can still play a game at the breakneck speed of Actua Soccer 2.
So, after a tremendously competitive second leg, Actua bags if to win in a five-goal thriller, scoring the winner from outside the box with a beautifully executed lob. That makes it one game apiece.
James Or Seaman?
The weak point in many football games is the behaviour of the goalkeepers. Previously, those in Actua Soccer 2 were prone to some very stupid mistakes, as were the keepers in World Cup 98 though less so. The keepers in Actua 3 are improved, but they're still prone to making some silly errors. You could say this is realistic, but it can get frustrating. On the other hand, it's sometimes tremendously difficult to score in Actua 3, and this is rarely the case with FIFA 99. Everyone has their standpoint on this, but the general consensus is that people want consistency or, failing that at least a little control over the situation, And while the keepers in both games are good, those in FIFA just edge it. That makes it 2-I to FIFA with one match to go.
Des Or Barry?
As before, Actua Soccer 3 is full of numerous Cup and tournament options that enable you to fully customise your own leagues and competitions. The choice of teams and tactics available is impressive, and the secret teams that become accessible once you've got a couple of decent seasons behind you prove that Gremlin know their football; though the fact that you can now finally create your own competitions in FIFA 99 is a real boon, as is the 'two clicks and you're in' option.
At the end of the day there really is little to choose between the two, and it depends on what you're used to. While I've always liked Actua Soccer, I must admit that I was very impressed with FIFA 99. Suffice to say that if you own and like Actua Soccer 2, you won't be disappointed with Actua Soccer 3. And at least you won't feel ripped off if you buy it, because the last one is over a year old and the next one probably won't appear on the shelves until this time next year. If you consider that we've got both games set up in the office and that most people here prefer to play FIFA 99, that might suggest which of the two you should buy. Having said that, if you bought WC96 a few months ago then maybe you should try something a little different.
Similar Games
Viewing games 1 to 9