UEFA Challenge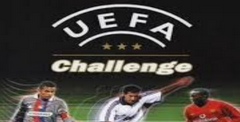 Click the "Install Game" button to initiate the file download and get compact download launcher. Locate the executable file in your local folder and begin the launcher to install your desired game.
Football is the most popular sport on earth, and football games are one of the most popular genres. The PC is the most powerful games machine on the planet, but is there a game on it worthy of the hallowed sport? Is there bollocks? FIFA is lapped up by simpletons on a regular basis, but if you haven't already worked it out it's not that good. As for the rest, it says much about their quality that FIFA stands head and shoulders above them.
Here's another pretender then, straddled with the obligatory superfluous licence and a flashy intro, featuring ten of the world's best players in action. Naturally each player involved was given loads of cash, and the marketing skunks must be chuffed to know that nobody is ever going to watch the intro more than once, with a sizeable proportion not even affording it that courtesy. Whatever money was left for development was obviously lavished on Infogrames' Sheffield studio, the developer formerly known as Gremlin, and formerly responsible for Actua Soccer.
Hurry Up Barry
While it's not exactly Actua Soccer 4, the stench of that series does linger in the game's darker crevices. Veteran commentator Banry Davies has again been hauled out (of the audio library), and as ever he does a sterling job, bringing a touch of class to the proceedings. However, as with all commentaries, it begins to repeat, and there are only so many times you can hear him describe a goal being "tucked away with aplomb" without wanting to twist your own brain out. To compound matters further, Davies is joined by erstwhile hard man, Graeme Souness, offering glib opinions through a moustache that would do credit to a Greek waiter.
It's quite apt that Souness should be involved, as some of the tackling is reminiscent of the Liverpool midfielder at his most career-threatening. The slide tackle is so exaggerated as to prove virtually unusable, but is thankfully supplemented by a more controlled 'foot-in' option. The passing is either to feet or a lofted ball of variable length, and the shooting relies on a power bar, a la Actua Soccer. Sprinting is optional, and a host of largely useless tricks have been thrown in to appease the FIFA crowd.
Whip It
With practice, it's possible to knock the ball around with some style, and also to discover a fairly surefire way of scoring. A through ball down the wing, whipped into the box and twatted first time will often reap dividends, and games consist of little more than trying to manufacture this move. It's possible to score the occasional screamer from outside the area, but ultimately it's a hollow experience, proving largely unsatisfying. As for periphery, there's a host of tournaments, but for some unknown reason the UEFA Cup isn't among them, despite the high-profile licence.
At the end of the day, you only need one football game. This isn't it. What you want is a PlayStation and a copy of ISS Pro Evolution 2. If you don't like it, I'll give you the money myself. Or maybe not.
Download UEFA Challenge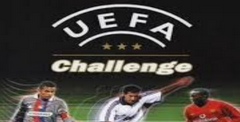 System requirements:
PC compatible
Operating systems: Windows 10/Windows 8/Windows 7/2000/Vista/WinXP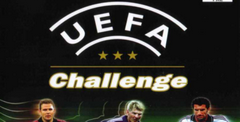 System requirements:
PC compatible
Operating systems: Windows 10/Windows 8/Windows 7/2000/Vista/WinXP
Game Reviews
In the face of a dearth of tangible information, here's an apocryphal tale. On the Monday after the tragic death of Princess Di, a brace of UK journalists and a PR mook were dispatched to Paris to look at Infogrames' forthcoming UEFA game. Having recently acquired the prestigious licence, a French development team had begun work on what was to be its showpiece title.
Despite it being very early days in the development cycle, we were afforded a chat with a barely literate Frenchman, who enthusiastically demonstrated some rudimentary motion capture of a headed goal. So far, so poindess, but the otherwise forgettable trip was to take on greater significance on the journey back to the airport. Road travel in Paris is a haphazard experience at the best of times - as Di 'n' Dodi discovered - but our taxi turned out to be piloted by what appeared to be Henry Paul's more reckless brother. Paying little heed to speed restrictions, he spotted the turn-off for the airport with seconds to spare and slewed across three lanes of motorway traffic, grazing a concrete abutment while three ashen faced Englishmen sat in mute terror.
Licence To Kill
Fortunately, we survived, unlike the game, of which little was ever heard again. The licence was eventually used on UEFA Striker for PlayStation and Dreamcast, and released on PC in the guise of Microsoft's International Football 2000. It also surfaced in the long-forgotten UEFA Manager 2000, a game Infogrames admits was mainly poor and is now being revamped.
Infogrames has high hopes for UEFA Challenge though, and is backing it with an almost vulgar amount of marketing. This includes signing up .no less than 10 European footballers, allegedly representing a combination of established stars and up-and-coming talent. For the record, those who have put pen to paper are Sonny Anderson (Lyon), Oliver Bierhoff (AC Milan), Stefan Effenberg (Bayern Munich), Luis Figo (Real Madrid), Stefano Fiore (Udinese), Lionel Letizi (Paris St Germain), Stephane Dalmat (Paris St Germaine), Kevin Philips (Sunderland), Dwight Yorke (Manchester United) and Gianluca Zambrotta (Juventus).
While they may not all be household names, suffice to say none of them would have any trouble stepping into the Chester City side.
We Can See You Sneaking Out...
Likewise, they could all comfortably turn out for either of the Sheffield clubs, which is where the game is being developed. Some of you may recall Infogrames purchasing Sheffield-based veterans Gremlin a while ago, and it is they who make up the core development team for UEFA Challenge. Naturally, the spectre of Actua Soccer hangs heavily over them, a series that Infogrames purports to respect, while conceding that successive versions were somewhat rushed. They claimed that this wouldn't happen with UEFA Challenge, and promised the team the time and backing to come up with a quality tide.
That time runs out in May, by which stage they should have put the finishing touches to a game featuring 40 stadiums, 146 teams, weather effects, pitch deformation, players shrieking at each other, and an injury system that will see players nursing damaged limbs. Most interestingly, if their team is losing, the crowd will often walk out in disgust. Whether gamers will display a similar reaction remains to be seen.
Playstation 2 Screenshots
Similar Games
Viewing games 1 to 7