Scooter Pro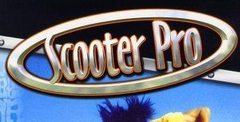 If you don't live in London, you may not be aware of the supposed micro-scooter phenomenon. Thankfully, it seems to have peaked, but time was you couldn't pop out for a ciabatta and latte without a grown man in urban skatewear whizzing past on a miniscule aluminium vehicle. We've even seen one in the office, although suffice to say that the ZONE team didn't get involved, maintaining a dignified distance. Call us old-fashioned, but nobody in possession of a developed set of genitals should use a children's toy as a mode of transport.
Nor should they purchase this game, which takes the 'fun craze' and transfers it into a series of American locations. Selecting from 12 different riders and five different-coloured scooters, the idea is to mince around a shopping mall or something vaguely resembling one, collecting tokens while trying to beat the clock. Should you succeed, some different-coloured tokens will become available, eventually followed by a new level.
As fun goes, it's up there with attempting to plait snot. A wholly unresponsive scooter with the turning circle of a battleship is not ideally suited to tight areas, and it rapidly becomes a frustrating process, involving a great deal of reversing and no small amount of swearing. Clearly the idea was to model this on Tony Hawk's Pro Skater 2, but it's simply far too leaden. And besides, scooters arefortwats.
Download Scooter Pro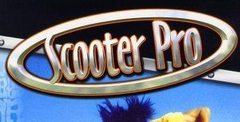 System requirements:
PC compatible
Operating systems: Windows 10/Windows 8/Windows 7/2000/Vista/WinXP
Similar Games
Viewing games 1 to 11