Actua Soccer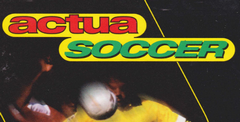 a game by
Gremlin
Platform:

PC

Editor Rating:

7

/

10

, based on

1

review
User Rating:

8.0

/

10

-

1

vote
Rate this game:
This game, it says in the publicity handout, "will play like Barcelona did against Manchester United." Frankly, given the state of most other pc football games, I think we'd settle for it playing like Blackburn did against Trelleborgs.
It would still comfortably defeat the opposition. Rather like Ajax did against Milan, in fact. And by the way, we'd like to say that we were behind them all the way. Even though it was cheating Dutch swine who knocked our brave English Tommies out of the World Cup with one of the worst displays of referee-aided injustice in history. (Matched recendy only by Italy's psychotic display, and lucky win, against Spain in the tournament itself.) But we supported Ajax because they were playing Milan. And we'd support anyone against Milan - except maybe Manchester United. Apparently Milan have plans to buy the whole of the rest of Italy next season to make sure they regain the Scudeto.
Eh?
Games have come, trumpeting their technical virtuosity and their revolutionary rotoscoped animation sequences, and games have gone, dragging their tired old gameplay in a stained pillowcase behind them, banished from the Room of Lovely Games, to wait in the Poyer of Over-Hyped Disappointments until they can be released on budget. And Aetna Soccer is the latest, complete with cocky name, that takes the piss out of all the Virtua titles, and real live England footballers.
What?
Well, sort of. Andy Sinton, it says here, of "Sheffield Wednesday and England", is one of them. And Chris Woods, also of (ahem) "Sheffield Wednesday and England", is the other. It's a moot point whether either of these players Still have the right to include the "and England" bit, neither exactly featuring prominently in the current side - it's a bit like Geoff Thomas doing it. In fact, but for Pressman's injury at the end of last season and Trevor Francis' bizarre decision-making, it's likely that Chris Woods wouldn't even be a Wednesday player. And, according to Matt and David Cooper of War of the Monster Trucks, the Owls' fanzine, neither are what you'd call popular, or deserved, members of the team. I say all this only because it does make you wonder why these particular players have been chosen. I suppose they do have a lot of time on their hands. And maybe Gremlin is working on a game that involves a lot of falLing down injured and conceding last-minute goals.
Come again?
What it will have is 44 national teams (all looking strangely like Andy Sinton and Chris Woods) which you'll be able to customise. Perhaps you'll be able to make them look like Geoff Thomas. It will also have a celebrity commentator. (As we go to press, this is rumoured to be either Rusty Lee or Lester Piggott.) Most importantly, it will have almost unlimited camera angles which you'll be able to adjust yourself. What's more, you can do the same with replays, so you can bore the buttokian glands off your friends by showing your favourite goals over and over again from that painstakingly positioned Centre Forward Nasal Cavity-Cam. There'll also be a five-players-on-one pc option, and an amazing network facility allowing up to 20 people to play at once. (That way lies Confusion, if you ask me.) I don't know about you lot, but we're getting so excited about all this that our kneecaps have exploded.
Download Actua Soccer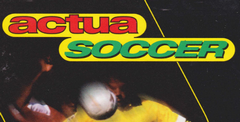 System requirements:
PC compatible
Operating systems: Windows 10/Windows 8/Windows 7/2000/Vista/WinXP
Similar Games
Viewing games 1 to 10