Actua Soccer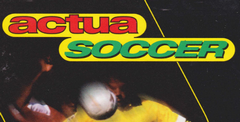 Click the "Install Game" button to initiate the free file download and get compact download launcher. Locate the executable file in your local folder and begin the launcher to install your desired game.
Have you noticed that football games tend to go through certain phases? A couple of years ago, football on a computer meant top-down views and extremely fast and playable games, such as Sensi and Kick Off, which were developed for the Amiga market and were generally jolly good fun, if a little poor in the graphics department.
Next came the console-inspired 3D isometric jaunts, which were graphically "the tops", but failed to deliver in terms of gameplay. Some of these were ported on to the pc with some success -most notably FIFA Soccer from EA Sports. Others, such as Planet Soccer, Striker 95 and Action Soccer were little more than variations on a theme - graphically "nice" diversions that tended to be tediously slow, sport really naff console-style menu systems, and lacked that special something.
Well thankfully the third phase is just around the corner, and from what we've seen so far, Gremlin seems to be well ahead of the competition. This time, of course, footie games are finally being developed on the pc for the pc (with the possibility of a psx version on the horizon). So they're, presumably, going to play to the pc's strengths, which hopefully means top graphics, a strong strategy element and the option to play via a modem or over a network with your mates.
Money = Motion Analysis
Gremlin has already invested a fair wack of cash in some rather wonderful Motion Analysis Technology, which enables it to recreate players who move and behave realistically on screen. However, to ensure an even greater level of authenticity, Gremlin has not just strapped it all up to any old Tom, Dick and Cleaning Lady, and told them to jog about a bit and roll around on the office floor. No, it brought in experts; real footballers (no less than Andy Sinton and Chris Woods) to leap about the place, clutch their shins in feigned agony, adjust their wedding tackle when they line up to make a defensive wall, scratch their arses in preparation for taking a corner, and do those funny dances when they score a goal. Of course, it also got them to go through the motions of slide tackles, diving headers and scissor kicks too, but that goes without saying really, doesn't it?
The result at half-time...
The results are, to say the least, amazing. At the moment Gremlin has a very rough and unfinished version of the game up and running. This version incorporates just a couple of the motion analysis points, but the animation still looks smooth and realistic. Players actually get up off of the pitch when they've made a tackle in one flowing movement, rather than simply spring into the running position, whilst the goalkeeper bounces the ball on the ground before he makes a kick, and makes some really impressive diving moves. When the game is finished, each player will have over 140 different moves, which they can execute at any one time during the match. Cool.
As for the actual player graphics, well as you can see from these early screen shots, they are made up of texture-mapped polygons instead of the more usual blobbo-sprites. And, what's more, they're lovely and big without being too "chunky", even in close-up. A far cry from the mini-sprites that raced around in Sensi, I'm sure you'll agree.
So what else is new?
Well, as the AI is far from finished, it's a bit difficult to say how the game plays. Suffice to say that at the moment it's bloody difficult, and that you're a better man than me if you can get that annoying ball in the opposition's half of the pitch, let alone score a goal. However, the difficulty level will be changed to accommodate butter feet like mine by the time Actua Soccer is released. Also there's talk of including different difficulty levels in the game so the player can appreciate what it must be like playing for Scotland against a proper side such as Italy or Brazil.
One of the most impressive features of the game is the multiple camera angles. Think FIFA Soccer on the 3D0 and you're not too far away, although I would say that in Actua Soccer you seem to have more control over how much you see and from what angle. As well as the normal overhead view, there's an over-the-shoulder cam, a ref-cam, a pick any player view-cam, and even a ball-cam. It might take a bit of getting used to, but once you've played a couple of matches and experimented with the different views, it really is quite superb.
Add to all this a complete team edit facility, commentary by Barry Davies; a network option for up to 20 players; and an unusual "five players on one pc" option; and you can safely begin to appreciate that things have finally started to move on a bit from Sensible Soccer. And about time too.
Capturing the spirit of soccer
To make Actua Soccer look as close to the real thing as possible, Gremlin has invested $250,000 in a Motion Analysis System, which allows the game's designers to "capture" the motion of a real-life footballer (or any creature or object) and place it directly in the game. The result is a new level of animated realism that would be impossible to recreate by hand. Unlike other systems that have been used to animate games, which require the subject to be wired up, Gremlin's motion capture studio is lined with six special CRC video cameras, each fitted with light-emitting diodes that emits a beam of monochromatic light into the performing area for almost total freedom of movement. Small, light-reflecting spheres are then placed at key points (i.e. joints) on the performer. Then, as they jump about and fall over, the spheres reflect the light back into the camera, allowing them to record the motion at up to 120 frames per second. The result is extremely realistic animation and a lot of embarrassing material, which can be used to blackmail the performer... Especially if they happen to be Chris Woods.
Download Actua Soccer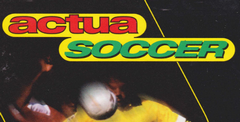 System requirements:
PC compatible
Operating systems: Windows 10/Windows 8/Windows 7/2000/Vista/WinXP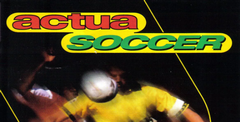 System requirements:
PC compatible
Operating systems: Windows 10/Windows 8/Windows 7/2000/Vista/WinXP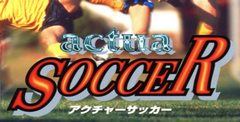 System requirements:
PC compatible
Operating systems: Windows 10/Windows 8/Windows 7/2000/Vista/WinXP
Game Reviews
This game, it says in the publicity handout, "will play like Barcelona did against Manchester United." Frankly, given the state of most other pc football games, I think we'd settle for it playing like Blackburn did against Trelleborgs.
It would still comfortably defeat the opposition. Rather like Ajax did against Milan, in fact. And by the way, we'd like to say that we were behind them all the way. Even though it was cheating Dutch swine who knocked our brave English Tommies out of the World Cup with one of the worst displays of referee-aided injustice in history. (Matched recendy only by Italy's psychotic display, and lucky win, against Spain in the tournament itself.) But we supported Ajax because they were playing Milan. And we'd support anyone against Milan - except maybe Manchester United. Apparently Milan have plans to buy the whole of the rest of Italy next season to make sure they regain the Scudeto.
Eh?
Games have come, trumpeting their technical virtuosity and their revolutionary rotoscoped animation sequences, and games have gone, dragging their tired old gameplay in a stained pillowcase behind them, banished from the Room of Lovely Games, to wait in the Poyer of Over-Hyped Disappointments until they can be released on budget. And Aetna Soccer is the latest, complete with cocky name, that takes the piss out of all the Virtua titles, and real live England footballers.
What?
Well, sort of. Andy Sinton, it says here, of "Sheffield Wednesday and England", is one of them. And Chris Woods, also of (ahem) "Sheffield Wednesday and England", is the other. It's a moot point whether either of these players Still have the right to include the "and England" bit, neither exactly featuring prominently in the current side - it's a bit like Geoff Thomas doing it. In fact, but for Pressman's injury at the end of last season and Trevor Francis' bizarre decision-making, it's likely that Chris Woods wouldn't even be a Wednesday player. And, according to Matt and David Cooper of War of the Monster Trucks, the Owls' fanzine, neither are what you'd call popular, or deserved, members of the team. I say all this only because it does make you wonder why these particular players have been chosen. I suppose they do have a lot of time on their hands. And maybe Gremlin is working on a game that involves a lot of falLing down injured and conceding last-minute goals.
Come again?
What it will have is 44 national teams (all looking strangely like Andy Sinton and Chris Woods) which you'll be able to customise. Perhaps you'll be able to make them look like Geoff Thomas. It will also have a celebrity commentator. (As we go to press, this is rumoured to be either Rusty Lee or Lester Piggott.) Most importantly, it will have almost unlimited camera angles which you'll be able to adjust yourself. What's more, you can do the same with replays, so you can bore the buttokian glands off your friends by showing your favourite goals over and over again from that painstakingly positioned Centre Forward Nasal Cavity-Cam. There'll also be a five-players-on-one pc option, and an amazing network facility allowing up to 20 people to play at once. (That way lies Confusion, if you ask me.) I don't know about you lot, but we're getting so excited about all this that our kneecaps have exploded.
See Also
Viewing games 1 to 10