Michael Owen's World League Soccer '99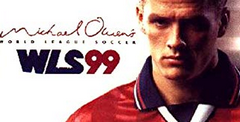 Click the "Install Game" button to initiate the free file download and get compact download launcher. Locate the executable file in your local folder and begin the launcher to install your desired game.
Regular perusers of game shops may have already seen this game clogging up the shelves, The Boy Owen's faux-sullen pose lurking amid the pre-Christmas detritus. So why are we so late in reviewing it? Because we didn't receive a copy until a couple of days before its release, traditionally a ploy by worried software companies to provide damage limitation on titles they consider suspect. They've clearly got it wrong though, as Michael Owen's WLS '99 is a decent game, building on the moderate success ot its predecessor and correcting many of the flaws that rendered it so niggly.
If anything, the enhancements have made the game harder, as this is certainly no instant goal feast, and requires days of practice before any kind of proficiency is achieved. Manual dexterity is pushed to the limit, and attempting to play the game with anything less than a Microsoft Sidewinder pad would be folly, and even with this de facto controller it can still prove difficult to pull off every move.
Elaborate combinations are the order of the day, and even remembering them all may be beyond the Ken of all but drooling beat 'em up fans, which in some ways makes the game more suited to the PlayStation. It's still a decent turn on the PC though, and graphically is up to scratch, although a 3Dfx card is pretty much a prerequisite. Detailed stadiums, varying weather effects, player shadows and so forth are thrown into the mix, and it all looks very pretty. The players have been tenuously modelled on their real-lite counterparts with varying degrees of success, including a number of glaring ommissions - such as a moustacheless David Seaman. The players' individual physical attributes have also been taken into consideration - with a fair amount of exaggeration. For instance, both Chelsea's Dennis Wise and Spurs' Jose Dominguez sport the build of wiry 14-year-olds, whereas most of the goalkeepers wouldn't look out of place in a gorilla pound. The universal flat-tops of the previous game have been dispensed with, and a number of more frisky hairstyles are on display, as well as the occasional bit of facial hair experimentation. However, the bottom line is that even the most knowledgable of football fans would be hard-pushed to recognise any of the players, with the pre-match line-ups often resembling a multiracial version of The Krypton Factor's identity parade.
Its In The Name
As far as gameplay is concerned though, having cloned players doesn't really make a great deal of difference, and in fairness they do actually have their names on their shirts, and even hovering above their heads if desired. And unlike World League Soccer '98, Eidos have bitten the bullet and opted for real player names. This is a good thing - nobody is interested in fielding a forward line of Shoarrer and Kowen; football fans want the real deal. To the average prole, this may seem a trivial worry restricted solely to the type of people who store football programmes in laminated folders. A fair point. But if you're going to do it, do it right. Apparently the law states that as long as no unlicensed individual is being used to sell the game, then there Is no valid gripe. Other developers take note: we never ever want to see another bastardised name in a game.
Anyway, Michael Owen is no bastard, and his first major foray into the hateful world of game endorsement seems largely to have paid off. MOWLS '99 is a compulsive game, and narrow defeats leave you seething and gagging for another match.
But as the hapless Graham Taylor maintained, there's no such thing as an easy game at international level these days, and the slightest lapse in front of goal is often ruthlessly punished. Concentration is paramount, and losing possession can be fatal. Sticking the ball into the back of the onion bag is no mean feat either, and cheeky one-twos and shimmies all have to be employed to even get within shooting distance. Also, no longer can you rely on simply crossing the ball into the box and despatching a bullet header, as the marking seems to be a lot tighter, apart from at free kicks where it is nonexistent. It's also possible to score free kicks from ludicrous distances, evoking memories of erstwhile Nottingham Forest slaphead Jonny Metgod.
A choice of tackles is offered: the perrenial slide, or a hook; the lack of a soft tackle inevitably leads to a flurry of free kicks. It's all too easy for the game to become bogged down in the middle of the park, and it can often prove to be a stop-start affair. Skilful play is rewarded though, and goals have to be earned, which makes them all the more satisfying to score.
As for the commentary, it's again provided by Ray Wilkins and Peter Brackley, who make desperate stabs at comedy, an onerous task when attempted by two straightmen.
So, despite some sloppiness - the first ten games in a league season are away from home, for instance - Michael Owen's WLS 99 is a quality game. It's certainly not perfect, but by the time they get around to Joe Cole's WLS '01 they might have got it right.
Download Michael Owen's World League Soccer '99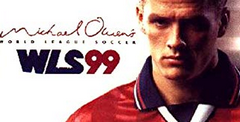 System requirements:
PC compatible
Operating systems: Windows 10/Windows 8/Windows 7/2000/Vista/WinXP
Game Reviews
Regular readers will recall Eidos swooping on the player who will forever be known as The Young Michael Owen. They're pretty chuffed with the deal, Eidos chairman and erstwhile goblin writer Ian Livingstone boasting: "I am perhaps the envy of every football manager in the world, having signed Michael Owen, the best footballer in the world, undoubtedly. We're delighted that Michael has chosen World League Soccer to endorse."
But what of Owen himself? Apart from the obvious reason, why did he choose to work with Eidos? "I think there were a number of companies that could have picked, but I'idwas tile must appealing." he "They wanted to make the game as real as possible as well as have me influence what the game comes out like, so that was really the main reason. It's great to be able to put your name towards computer games; it's something I wanted to do and something I'm glad to have done." Owen obviously knows more than a little about football, but can a mere video game ever compare to the real thing? "Every computer game is trying to be as realistic as possible, trying to bridge the gap between playing a computer game and playing a real-life game of football. I think Eidos will come closest to that and it should be a good game to play."
Owen is certainly no games virgin, and actually bought a copy of WLS '98, having played games for years. "I started when I was reasonably young. Obviously I can't really spend as much time out of the house now (Oh, the price of fame - Ed) so recently I've been using the computer a bit more. Hopefully with this new game I'll be stuck to it."
Clearly, Owen will be picking himself in the England side, but his choice of striking partner also causes no surprises. "I think Robbie Fowler would be a good one to pick because he's back from injury now. It's nice to have Robbie back training again, and I think he'd be my ideal partner."
Owing Owen
Michael Owen's World League Soccer '99 is being developed by Silicon Dreams, as was WLS '98. Robert Palfreman, senior producer of the game, describes his experience of working with Owen: "Michael was very professional, very focused, and it became clear during the times he visited us that he was here to do a job. It really was like working with an 'old head on young shoulders', and I think that this is reflected in the mood of his interviews when he's on TV. Once we had broken the back of the job, and he became more familiar with the environment, he did lighten up - even to the extent where he had his photo taken with every member of the SD staff. All in all, a top bloke."
Very nice, but will putting his mug on the box really make it a better game? "WLS '99 is a great game. As you may have noticed from WLS "98, it's really aimed at the hard-core gamer, as opposed to someone who wants a bit of fun. Michael's endorsement will give the product a much greater shelf appeal and inevitably provide a greater challenge to a larger audience."
So what are the major improvements from WLS '98? "Even greater emphasis has been placed on the player skinning technology. This prevents any breaking up of the player polygons and gives the gameplay a much slicker look, which obviously adds even greater realism. All the correct players names have been included, and all the kits have been updated throughout the domestic and international leagues, along with the introduction of new stadia. We've also included new animations for the players who have been fouled, as well as those who are lying or rolling on the ground in a German fashion.
"Time has been taken to improve both the outfield players' AI as well as the keepers'. For the more skilled games player we've now incorporated extra skill moves. This enables the player to use any one of the 23 combination moves to outstrip and outplay his/her opponent. And there's been a revamp on the commentary, as well as an enhancement to the crowd animations. Would you like me to go on?"
Er, no. Will WLS '99 feature a new game engine, or has it merely been tweaked? "No, the WLS engine hasn't really been tweaked, it's gone through a complete overhaul. It has been optimised to run in higher resolution, and the G-shading and skinning technology now give the product a highly polished finish."
World Cup Willy
As far as we at ZONE are concerned, the most recent office favourite footie game is World Cup '98. The Silicon Dreams team have also had a dabble, but weren't that impressed.
"Yes, all members of the team have played all the versions of FIFA. This was for two reasons: obviously for research purposes, but also due to the face that the team itself consists of hardened footie fans. This is now the sixth soccer product from the Silicon Dreams stable. As a team, and personally, we prefer a football game to provide us with a far greater challenge than that of FIFA."
So what do you think is the definitive football game across all platforms, and why?
"Sensible Soccer on the Amiga, just for sheer playability." Correct. But are there too many footie games available at the moment?
"No, you can never get enough of football. After all, in the words of Sir Bobby Charlton, it's God's game."
It certainly is. And if some pundits are to be believed, Michael Owen is God's footballer. Let's hope his game is equally good.
See Also
Viewing games 1 to 7