Striker 95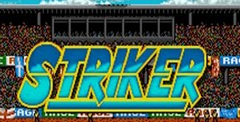 Click the "Install Game" button to initiate the free file download and get compact download launcher. Locate the executable file in your local folder and begin the launcher to install your desired game.
Striker 95 - Snappy Name For An update, eh? Where do they think of them? In a bam in Somerset, actually. I just checked. Good name, though, because what they're actually saying in the title, right, and this is quite clever, is that it's Striker - again, because it was out once before (and it was called Striker) - and it's out this year (1995). Cool. But what does it mean to you. the man in the street? (Or woman, in the unlikely event that you're (a) female, and (b) enough into football that you'll plough through this garbage.) let's look at the chart.
As you can see from the chart (What chart? Ed.) Striker and Striker 95 are almost identical. As you can also see quite plainly on the X-axis (Where is this chart? Can anyone see a chart? Ed.) Pamela Anderson is an android with as much charm as a Li-lo. and the Conservative Party in the West Midlands has been registering dead people as Tory voters in marginal constituencies. Now let's look at things in a bit more detail.
Sticky situations
Striker's basic problem is with the ball. It sticks to your player's foot like a plastic chair to a nudist's butt. Nothing short of a nuclear strike (or. in the case of the butt, a dash of Windolene) will dislodge it. And the realisation that every single one of your players is an honourary Ferenc Puskas changes your approach to a match. Everyone, no matter how pure their original intentions to play a clean passing game, ends up charging downfield on lengthy runs, skipping around and back-flipping over tackles with the help of the in-built glue-factor, until the goal looms in sight.
Passing fancies
Even the most stubborn, who try to stick with a passing game, will soon give up. simply because passing is such a pain in the arse. You have to press two buttons at the same time (Yes. mark you. two! I shall write to my MP...) to pass directly to the nearest player, and given the 30-yard slide that would-be tacklers execute, it isn't what you'd call an effective approach. So the game degenerates into taking it in turns at lengthy sprints, followed by shots on goal. Except that as soon as you realise that the goalkeepers are virtually omnipotent, even the shots disappear as players concentrate on running the ball past the goalie. They also haven't improved the aftertouch. When I say "improved''. I mean they haven't made it any more realistic. The ball still moves about like a beach-ball in a wind-tunnel, and can be curved so drastically it can practically loop-the-loop.
A catalogue of woes
What else? Oh yes. video insens. Take a kick-off or a throw-in and you can watch film of real footballers doing it and everything. You need never go to a football match ever again. Then there's the much-vaunted "greatly enhanced" artificial intelligence of the players. Artificial stupidity, more like. Control switches between players mid-tackle; players sprint away when they should be chasing the ball; they throw the ball straight out of play; and the ball can roll to a stop, completely ignored, in a corner.
Add to this a view that makes it difficult for anyone playing out of the screen to see where they're going: "different" stadiums with meaningless attendances and player ratings that are ignored by computer players (thrill as your Olympic sprinter of a winger is out-run by a full-back who, to judge from his ratings, should be a quadraplegic) and you have a game that hasn't improved one jot over the original. Oh. hang on a minute. The pitch is better than it was. Take an extra seven marks.
Download Striker 95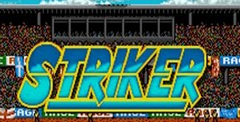 System requirements:
PC compatible
Operating systems: Windows 10/Windows 8/Windows 7/2000/Vista/WinXP
See Also
Viewing games 1 to 11