Brutal Legend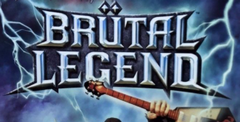 As one of the most prominent games for music games, real-time strategy title from Double Fire and EA, Brutal Legend, was a huge hit when it was first released. The game itself takes on a rather comical storyline, using music as a major part of the theme and even the combat of the game. The game revolves around Eddie Riggs, a Jack Black lookalike who is sent into a fictional world that is inspired by the worlds heavy metal music album covers. He has to 'save the world', combatting against the supernatural armed with a battle axe and a guitar, as well as a Hot Rod car. It sounds like a hit, but was it a miss?
A unique concept taken to extremes
The first thing to note about the 2009 release is that it isn't an RTS in the shape of say, Company of Heroes or Command & Conquer. It is far more action-oriented, with the game combining action adventure with RTS features. Battles involve commanding troops to victory, while other parts of the game involve controlling Riggs himself.
The game was well loved for its excellent range of voice actors, though others complained that the game lacked the polish of either a pure action or RTS game. With well over 100 metal songs listed in-game, though, the theme and unique playstyle more than helped to make up for anything that was missing in terms of depth in either side of the games design.
A unique RTS/action hybrid
Games such as Brutal Legend tend to get cult followings because they dare to break free from convention and try something new. Fans love games that are more ambitious in general, and this game does its best to combine action and RTS elements. Though sometimes it can jar as opposed to mix together well, with a lack of some pretty expected features in a pure action or RTS game, it gives enough variety and features to deliver a fun experience.
The story, though sounding utterly ridiculous, is well-written and acted out by the many stars who took part in the game. Legends such as Ozzy Osbourne appear, as do other acting superstars like Tim Curry. The game might lack in some feature and depth, but most loved the theme, the unapologetic love of meetal music, and the game itself providing one of the most enjoyable storytelling that exists within the genre.
8.5
Though it might lack some depth compared to other RTS/action games, there is more than enough fun to be had with Brutal Legend to make it a worthwhile play – even long after it was first released. The quality voice acting, solid story, and interesting – if not always great – gameplay makes for an experience worth seeing.
Pros:
Unique gameplay concept that feels very interesting to try out
Engaging combat and action play
Great voice action helps to really tie the story together
Cons:
Lacks enough depth in both its RTS and Action sections overall
Download Brutal Legend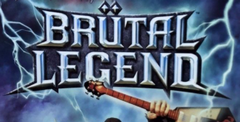 System requirements:
PC compatible
Operating systems: Windows 10/Windows 8/Windows 7/2000/Vista/WinXP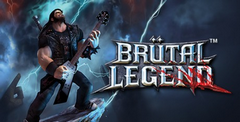 System requirements:
PC compatible
Operating systems: Windows 10/Windows 8/Windows 7/2000/Vista/WinXP
Playstation 3 Screenshots
Similar Games
Viewing games 1 to 8