Combat Mission 2: Barbarossa to Berlin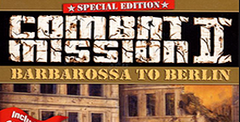 Click the "Install Game" button to initiate the file download and get compact download launcher. Locate the executable file in your local folder and begin the launcher to install your desired game.
Here's some useless trivia for you. If we gave you 'a penny for your thoughts', then in one day the average person would earn $40. We kid you not. Which means in 40 minutes you'd make $1.11- and by a freak coincidence Combat Mission 2 takes 40 minutes to install. Forty long, slow and painful minutes as all 8,249 files, using an installer from the Dark Ages, are slowly dumped on your PC. Good start...
We are are a little confused, however. A quick glance at the US developer's website has the game listed as Combat Mission: Barbarossa To Berlin. The website even describes it as 'successor to the award winning game system pioneered in Combat Mission: Beyond Overlord.' But in the UK it is being touted as Combat Mission 2 - and it's somewhat unclear as to which one is right. The game has certainly had a serious make-over graphically and sound effects are much improved. But the game is still essentially Combat Mission 1, albeit much prettier. To us, a sequel should be radically improved from its predecessor (just look at the difference between Panzer General II and Panzer General 3D). Combat Mission 2 still has many of the same problems that dogged Combat Mission 1 - installer from hell, slow Al and so on.
Quick Steppe
But enough of the bitching, what's the game actually like? Simple, it's the same as Combat Mission - except this time it's Nazis versus Russkies. After Hitler decided to 'make Poland a little bit smaller' he started eyeing up Russia, and in August 1941,3,000 tanks, three million troops and industrial quantities of sausage in sour cabbage sauce rolled across the border - Operation Barbarossa had begun.
Combat Mission 2 has you slogging it out on the Russian Steppes, these missions proving to be an extremely well-balanced affair. The Soviet tanks could go toe to toe with almost all the German armour (later in the war). However, it wasn't until the battle at Kursk in 1942 (Operation Citadel) that things started to go Russia's way. And you'll find playing Citadel in Combat Mission 2 challenging.
Graphically the game has been tidied up since its original incarnation. Rather than weird bubbles, you now get proper explosions and smoke. Machine-gun fire no longer resembles a scene from Star Wars and Al is fairly competent although it does take a rather long time to 'think'.
Foxtrot Oscar
But, while the game is more polished, there are still chunks missing. There is no campaign mode, where you take a band of raw recruits and turn them into veritable killing machines. There are no upgrades or weapon selection: you take what you're given. Sure you can generate your own battle, but that requires a great deal of effort - some flexibility in the pre-made battles would have been a welcome addition.
Gripes aside, Combat Mission 2 is a fun follow-up to Combat Mission - although it's more of an update than a sequel. As a turn-based game, it ain't half bad, but to be honest, calling it Combat Mission 1.5 would have been nearer the mark.
Download Combat Mission 2: Barbarossa to Berlin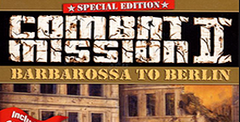 System requirements:
PC compatible
Operating systems: Windows 10/Windows 8/Windows 7/2000/Vista/WinXP
Similar Games
Viewing games 1 to 10