ESPN Sunday Night NFL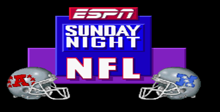 Click the "Install Game" button to initiate the free file download and get compact download launcher. Locate the executable file in your local folder and begin the launcher to install your desired game.
SUNDAY NIGHT FEVER!
Ladies and gentlemen, welcome to ESPN Sunday Night NFL! Your commentator, Chris Berman, will guide you through this game, providing you with the latest news of the action on the field. At half-time he will be there (ESPN Sports Center) to give an in-depth look of the current game being played, showing you all the stats and scores.
ESPN Sunday Night NFL looks average, but it does have some originality on its side. First of all, pick from various types of plays as well as audibles on the field. You will have to learn the plays that ESPN has offered to defeat your opponents on the field. Do special running abilities like hurdle, spin, and jump to pass the defenders ahead of you. These features may sound familiar, but the hard-hitting action is always different. Plus, do you always have Chris Berman as your commentator? I don't think so.
Check out the close-up of the referees as they look at the measuring chain. Others like this will be shown of the ref making penalty calls. This football cart packages everything you need in a football game. Stats, weather, refs, plays--it's all here. Look in our later issues for more in-depth reviews and play-by-plays.
Manufacturer: SONY
# of players: 1 OR 2
Available: NOVEMBER 1994
Cartridge size: 16 MEG
Download ESPN Sunday Night NFL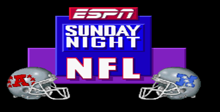 System requirements:
PC compatible
Operating systems: Windows 10/Windows 8/Windows 7/2000/Vista/WinXP
Pentium II (or equivalent) 266MHz (500MHz recommended), RAM: 64MB (128MB recommended), DirectX v8.0a or later must be installed
Game Reviews
Put plainly, ESPN Sunday Night NFL for the Genesis is a simple game that has some stats and generates average fun, but when compared to giants like the Madden series, it comes up way short.
Football Follies
ESPN does give you a decent number of options. Play the 1994 season, a random season, playoffs, or a single game. You get all 28 pro teams, complete with official logos, though you don't have actual players. You have a large playbook at your disposal, but you've seen nearly all the plays before.
The game's biggest flaw is its lack of realism. Without real players, the teams are virtually identical. It's difficult to control a football team when everyone runs at the same casual speed. The one good feature is the long downfield view, which makes a deep passing game possible.
The flat, lifeless graphics cause even more problems -- the small football players have hardly any color to distinguish them. Uneven scrolling makes the plain field look worse, and if these problems aren't bad enough, the game is plagued by flicker. Sound effects? Aside from a few grunts, there's not much more than some voice samples. The crowd is so quiet it sounds like it's asleep, and the music is downright weak.
ProTips:
Decide which play you want to run before you get to the huddle. Choose your play in under 15 seconds.
When you hear. "He could go all the way," a touchdown is coming, but it's not too late to tackle the ball carrier.
Sunday Night Snooze
This game lacks the well-crafted execution of Madden '95 or any number of other football games. Save your cookies for those games -- this one is just average football and average fun.
Once you have the lead, burn as much time off the clock as possible. One way is to let the 40-second clock run down before you hike the ball.
Manufacturer: Sony Imagesoft
Machine: SNES
An awkward play selection system and graphics that often cause players to disappear from the face of the game puts this football cart somewhat in the basement of its division. This average cart is only for patient and forgiving garners.
Good football games for the SNES are rare, and ESPN Sunday Night NFL doesn't add much to the unimpressive SNES sports lineup.
Less Filling, Tastes Lame
This game isn't much different from other football titles. You get the same basic options that appear in the Genesis version: full-season play, playoffs, real logos (but no real players), and 81 plays. As in the Genesis game, this game seems to be a less-complicated variation on the Madden series, right down to Chris Berman posing just like Coach John.
ProTip: On offense, focus on your passing game, and you'll score faster.
Visually, ESPN for the SNES improves on the Genesis version. Players show more color, and the field scrolls more smoothly. Unfortunately, the graphics are all but ruined by flicker. How bad is it? So bad that entire groups of players disappear!
When running, keep using the speed burst to go faster.
The voices are clearer here than on the Genesis, especially the crowd sounds that roar throughout the game. Other sound effects are sparse, however, and the music is still bad.
The mediocre play control becomes sluggish at times. Slow runners keep you from mounting a dazzling ground attack, but the passing game works well, and players do execute spin moves and diving catches. At least in the SNES game, you can actually score frequently, something that is tough to do on the Genesis.
Always use the Quarterback Sneak when it's fourth down and inches to go.
Bench Berman
While better than its Genesis cousin, ESPN Sunday Night NFL on the SNES still falls short of the best football games. With plans for revisions next year, this game might be worth checking out.
Next year.
Are you ready for some football? Come join the NFL action in this intense football game for the SNES & Sega Mega Drive gaming consoles. Pick your favorite NFL team and go for the season mode to see how well you do. If you are not ready for the Season, try out the Exhibition mode. You can also try your skills in the Playoff mode, which will challenge your playing skills and techniques. Listen to the announcers from the 1990s, as they take you through their observations before game play. Get great comments and reviews on the game from the one and only Chris Berman, while the camera shows every possible of he hard-hitting action on the playing field. Are you skilled enough to go all the way to the Super Bowl? Try them out with various plays like audibles to no-huddle offenses to power blitzes, providing you with a complete NFL experience. This 1994 release by Sony ImageSoft is a highly intense action packed sporting 16-megabit cartridge for Super NES and Sega Mega Drive platforms. Developed by Absolute Entertainment, this game is for either the single or multiplayer.
SNES/Super Nintendo/Super Famicom Screenshots