Futurama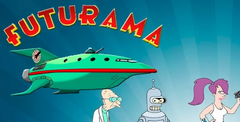 Download Futurama and embark on a hilarious, intergalactic adventure with the Planet Express crew! Battle outrageous enemies, solve mind-bending puzzles, and save the universe from a terrible fate. Prepare for a futuristic ride and play now!
Video game adaptations of popular animation franchises often feel like a cheap products, designed to sell based on the show's popularity alone. That's certainly not the case with Futurama: an enjoyable 3D platformer that any fan of the animated show will surely love, thanks to the heaps of references and exclusive content included.
Join Fry, Bender, Leela, and even Zoidberg, as they traverse levels full of self-referential humor and easter eggs. Though the gameplay is nothing groundbreaking, there's still tons of fun in this quirky platformer. Even players that haven't seen a single episode of the show might find it engaging – although, I have to admit, it takes a seriously die-hard Futurama fan to get over some of the title's more negative aspects.
Original Content
While games like The Simpson's: Hit & Run offered scenes and content that was similar in writing quality to what we've come to expect from the show, Futurama goes one step beyond, effectively containing an animated episode made exclusively for the game. Though many tie-in games have tried it in the past, this might be the only title that really feels like an episode of the show.
The plot contains some of the same mind-bending scientific shenanigans fans of the show love so much. This time, time travel and video game meta humor are front and center.
Once you look beyond the immensely funny plot, however, you might begin to notice the cracks in Futurama's dated gameplay mechanics.
Self-referential Excuses
As I mentioned a bit earlier, the game is a 3D platformer, much like The Simpsons Game. However, the similarities stop there, as Futurama's floaty controls and uninspired level design make the game feel like one big chore after another. The game itself even makes fun of its basic gameplay with alarming frequency.
Even though the game's writers use every opportunity they have to address some of the more "video gamey" aspects of the Futurama game, they're still glaring issues that no one corrected. Things like long fetch quests and lackluster areas are sadly a common occurrence in this title.
It's not all bad, though. Character models and even some of the game's locations look decent enough and more or less in line with the show's art style. There's that uncanny quality that comes with every 3D game based on 2D characters, but that's something that would hardly be Futurama's fault.
Still, the humor is decidedly top-notch in Futurama. Directed by the same creative team behind the series, this is one seriously funny game that fans of the show are sure to enjoy, if only for the animated sequences that appear from time to time.
7
As long as you love the show, Futurama delivers on its premise of being the video game equivalent of its animated counterpart. Sadly, the dated gameplay can get in the way far too frequently.
Pros
The original voice cast from the show is all here
Includes an animated episode that's genuinely funny
Some levels look just like the show
Cons
Awkward controls
Almost zero replay value
Some boring level design
Download Futurama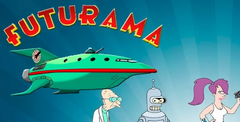 System requirements:
PC compatible
Operating systems: Windows 10/Windows 8/Windows 7/2000/Vista/WinXP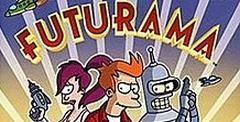 System requirements:
PC compatible
Operating systems: Windows 10/Windows 8/Windows 7/2000/Vista/WinXP
Playstation 2 Screenshots
See Also
Viewing games 1 to 9