Heroes of Might and Magic 5: Hammers of Fate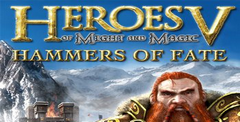 Click the "Install Game" button to initiate the free file download and get compact download launcher. Locate the executable file in your local folder and begin the launcher to install your desired game.
Heroes of Might and Magic V: Hammers game is the first ever expansion game to the strategy based Heroes of Might and Magic V. The expansion pack was produced by the same developers as the main game. However the expansion includes a large number of extra features. How is Heroes of Might and Magic V: Hammers of Fate different?
Heroes V expansion Hammers of Fate has several additional features such as the developers added a whole new race, that was mentioned briefly in the Ashan map given in the Heroes V edition, the Dwarves.
Along with the features, the new town is called the Fortress. Although the Dwarven Army's rank and file soldier is a bearded, rugged shorty's with weapons like a hammer, certain units of Dwarven are shockingly creative. For example, the bear riders can easily throw their opponents onto nearby floors, rendering them nearly as secure as the furies of the blood to avoid counter-attacks. The most favorable dwarves are the Warlords, who carry large sized axis in their left hands, and with their right hand, they can throw lightning, flaming attack on their enemies. Dwarves have their own kind of magic in the system, known as Rune Magic, which allows them to have various abilities due to these runes.
The difference between Hammers of Fate and Tribes of the East is that the former contains 3 campaigns of three chapters divided into five mission each. Whereas, the latter contains 6 campaigns, which allows room for more factions to choose from. But a complete story carries on from the base game, Hammers of Fate. The only thing to keep in mind is that the Dwarves are slower overall and less versatile in battle.
Pros of Might and Magic V: Hammers of Fate
Simultaneous Online Play. The game allows players to move together. Once the main heroes of the two players clash with each other or both are at a striking range from the same weapon, the game returns to its traditionalformat of one player making the move first.
Custom Map Generator. Allows players to only choose the size, layout, ranged-attack monsters, and not various factions.
Animation. The graphics and sound of the game are sharp and work well with the overall layout of the game. The upgraded features like Berserker armor, Warlord's flaming fists make the game more interesting.
Cons of Heroes of Might and Magic 5: Hammers of Fate
Only one new specific faction.
Fewer gameplay missions.
Has no difficulty level fixture.
Low outpost cut scenes.
Final Verdict
The expansion game does not come with a variety of factions. The game feels short as it is divided into small missions than full-fledged expansion mission. Hammers of Fate includes a new Caravan and a random map generator editor that makes playing the strategic game an excitingexperience. On the scale of 1-10, it is a solid 7/10 for its upgraded features.
Download Heroes of Might and Magic 5: Hammers of Fate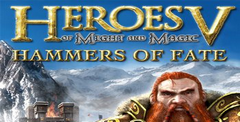 System requirements:
PC compatible
Operating systems: Windows 10/Windows 8/Windows 7/2000/Vista/WinXP
Game Reviews
If HOMMV is the reinvented prog-rock beast of the fantasy genre, then Hammers Of Fate can be likened to an instrument upgrade. What's more, one with overhead cymbals, kick drums and double-necked guitars that, despite being superfluous and bordering on the ridiculous, actually fit the theme so well you kind of wish they'd been there from the beginning. For instance, generic dwarf-type folks are now part of the festivities, adding an overall look that's not too far removed from World of Warcraft, with beards, booming voices and a stunted love for mountainous and snowy terrain. In short, it's as exaggerated and as cliched as ever.
As well as the obligatory new units and whatnot, the most obvious additions to the game are a random map generator and in-game entities called caravans, which basically enable you to transfer military units between towns. Not a massive feature in the grand scheme of things, but very useful once you start to control multiple settlements.
Considering the original game only came out a couple of months back, obviously when it comes to the fundamentals, the developers haven't had an awful lot of time to make many changes. Indeed, in many ways, it feels as if you're starting from scratch with a campaign that literally sends you back to base camp. In my case, having just reached HOMMVs end-game, I'd rather have waited a bit longer and received a bit more. Led Zep this isn't, but then thankfully, it's not Marillion either.
Similar Games
Viewing games 1 to 5