Might and Magic VII: For Blood and Honor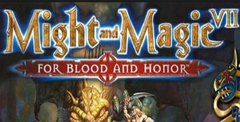 Click the "Install Game" button to initiate the free file download and get compact download launcher. Locate the executable file in your local folder and begin the launcher to install your desired game.
The previous instalment of this long-running RPG series, Might And Magic VI, was let down by a poor software-only graphics engine and patchy animation. It was also considered far too challenging for novice role-players, proving inaccessible to all but seasoned campaign veterans. However, despite its shortcomings, those who persevered were gripped by the cunning multi-layered plot of regal deception and intrigue.
For the uninitiated, the latest in the series is set in the war-torn mystical land of Erathia. Leading a band of four adventurers, your quest is to amass wealth and, perhaps more nobly, restore peace to your homeland. Those fearing another shoddy-looking affair need only look at the screenshots to realise that Ubi Soft have addressed all the previous incarnation's visual shortcomings - they've added full 3D support, tidied up the animation and dramatically increased the frame rate.
But it's not just the graphical overhaul that's impressive; throwing off the restrictions of the dated prequel, you're offered a more diverse range of characters to add to your team, including elves, dwarfs, ores and human combatants. This time, careful team selection will pay dividends because each character has their own allegiances and personal agenda, meaning that their personalities develop uniquely as the plot unfolds.
As a result, individual team members are as likely to be ruthless (handy when it comes to fisticuffs and spell-casting) as approachable and friendly (essential for gleaning information from locals, and for trading purposes), so a good balance of character traits and physical attributes will be required to produce an effective team.
Unlike the unforgiving prequel, you're eased into the action by being cast initially in the role of team "overseer" - a temporary but reassuring way to start your quest which keeps you abreast of developments but detached from the immediacy of character control. Once familiar with your surroundings, you're led through the story by a series of advisors and cut-scenes which develop the plot, so although those who completed the previous quest will have an advantage (the plot background, game interface and 'feel' are all retained), new travellers to the land of Erathia will soon feel at home. That's not to say that the locals will go out of their way to make you welcome, because the best you can hope for is that if you ignore them they'll leave you alone. That ploy won't work for long though, because interaction is necessary in order to acquire tools, food, weapons and other equipment, and if diplomacy fails spell-based combat skills will be essential.
Thankfully, you won't have to rely solely on potions based on the four elements of nature - earth, air, fire and water - for survival, as in addition to the elemental spells and those that disrupt the mind and body, there's a superb range of'light magic' (including lightning bolts, paralysis potions, invulnerability and 'attack all' spells) and some devilishly dark magic (such as sacrificing opponents, destroying souls, reanimating the dead and creating havoc by shrinking combatants). This means that even novice alchemists should find a potion or two in their armoury with which to take on the legions of new monsters on offer.
Although the game is some way from completion, it looks like Ubi Soft have cast a very powerful spell of their own over this offering, and it could be that they're about to produce a game that finally delivers on the promises of its predecessors.
Download Might and Magic VII: For Blood and Honor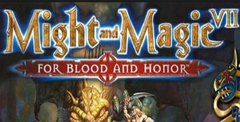 System requirements:
PC compatible
Operating systems: Windows 10/Windows 8/Windows 7/2000/Vista/WinXP
Similar Games
Viewing games 1 to 12