Viewing games 1 to 6 (of 6 games)

See also:
Super Mario World

Super Mario World is a side-scrolling platformer. The game consists of seven main worlds and two secret worlds.

Wayne's World

Once you start on the adventure in Wayne's World, you won't want to quit because it's party time.
One minute you a samuri the next your a guy throwing axes and the next your a ghostbuster.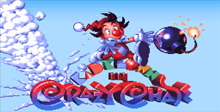 The player character, Kid Klown, carries balloons with which he can attack, jump higher, or float. There are seven (including the introduction level) different-themed levels throughout the game, and at every end of the level is a bonus stage where ..