Links Extreme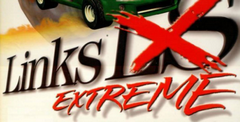 Click the "Install Game" button to initiate the free file download and get compact download launcher. Locate the executable file in your local folder and begin the launcher to install your desired game.
Overview
The last time I played real golf was a couple of years ago and on that outing I was stuck behind a very slow foursome. Oh, how I wished I had a golf ball that exploded like a fragmentation grenade to wipe that slow party out. Fast forward to the current date, when my boss says, "Hey, do you want to review the new Links Extreme? It's the one with wild courses and exploding golf balls." I scream a happy "Oh, heck yeah!" So here I sit, gentle reader, reviewing for you a twisted golf game that you sure don't want to bring home to your father. Links calls its new game "golf with attitude!" Head on down to Armadillo Al's Demolition Driving Range where you can blow up hot air balloons, cows, and even those annoying slow golfers. If you are in the mood for a little voodoo, then grab your clubs and play the 18 hole Mojo Bay golf course set in the bayou. Feel like playing some golf in a WWI setting? Grab your passport, because you are heading to France in WWI where you get to play golf on the battlefield as planes roar by overhead. You also have a new twist as far as how you can play golf; there is regular stroke play, extreme play (where you can get all sorts of balls that do funky and wild things when you hit them), or you can play either a poison match or a deathmatch where you basically try to kill, hurt, and maim the other guy.
Gameplay, Controls, Interface
When you pop into Links Extreme for the first time, you already have high expectations because of the great track record they have established for putting out wonderful golf games. Playing this game gives you the impression you are playing half a game and not a full one. There is only one full 18-hole course in the game; the other is a nine hole course, and then you get the driving range. I was surprised because all the hype promoting this game before it came out indicated we were to expect another solid game from Links with lots of cool courses. Instead we get a game that feels half-finished. I did do some serious laughing, though, when I tried the demolition driving range; it was a hoot trying to blow up cows and stuff, but the novelty wore off quickly. I then headed to Mojo Bay to try my luck at 18 holes and stumbled onto the best course of the game. Mojo Bay comes across as really creepy, dark and scary, but it is also a fun and challenging course that has you shooting over swamp monsters, old pirate ships and hungry alligators. I tired very quickly of the poison and deathmatches because there was no real challenge except to try to get the ball close enough to kill your golf partner, which is pretty easy considering the blast radius of the exploding balls.
Graphics
I really got into the graphics because of the various locations and how different each one was. The best graphics for the game are on the Mojo Bay course -- you've got all sorts of talking skeletons, walking zombies, and sea monsters. The demolition driving range has some pretty interesting stuff scattered around the place, but nowhere near the amount in Mojo Bay. The WWI half course is way too dark, with too much orange color everywhere, which is too bad because the battlefield idea for a golf course is pretty cool. All the golfer animations are the same as any other Links game, except this time around the golfer animations are geared to the younger set, with kids wearing baggy pants and ball caps turned backwards. All in all, I was pretty happy with the graphics in the game.
Audio
When you are playing the Mojo Bay course, every time your ball goes into the water you hear it scream. Well, after an hour of this you want to scream at the ball. I do like the deep Jamaican-accented voice that gives you pointers around the course; it complements the scary bayou theme well. The rest of the audio is pretty unimpressive; it is mostly just explosions, since the driving range is demolition and the other course is set in WWI.
System Requirements
Pentium 200MHz, Win 95/98 or Win NT4.0, 32 MB RAM (64 MB RAM for Win NT4.0) 60 MB free space, 4X CD-ROM drive, 32 bit sound card, 1 MB video capable of 800x600 video card, 28.8 modem for head to head or internet play
Documentation
I like my game manuals to be short and to the point. Thank you, Links, for making the manual short and sweet. The manual covers basic gameplay, setup, and playing online, so you don't have to sit there for a day reading the manual, plus if you have played Links golf before you don't even need to look at the manual.
Bottom Line
I either set my expectations too high for this game or Links really fumbled the ball on this one. It's not that it is a bad game; there just isn't enough of it. I would have really liked to see another two or three courses to play, because as it is, I feel gamers will get bored very quickly with the 1 1/2 courses provided. The driving range won't keep your attention for very long either; it should take most gamers a couple of times to figure out how to rack up really high scores (hint: think balloons). I had fun playing this game the first couple of times, but after that it just didn't hold my attention. If I had a few more courses to play, that might not have happened. If you're a kid, you will like this game; but for us golfers, I would recommend waiting until they try this idea again, because for now there just isn't anything to hold you down in your computer chair.
Download Links Extreme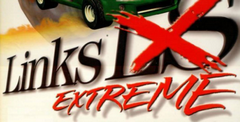 System requirements:
PC compatible
Operating systems: Windows 10/Windows 8/Windows 7/2000/Vista/WinXP