NBA Live 2001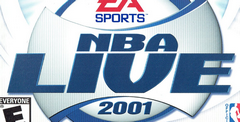 Click the "Install Game" button to initiate the free file download and get compact download launcher. Locate the executable file in your local folder and begin the launcher to install your desired game.
EA Sports really has the PC games market cornered when it comes to major sporting simulations - Equestriad 2001 not withstanding. Cricket, rugby, FI racing and, of course, football are all given an annual make-over. This usually consists of slight gameplay tweaks and improved graphics to make the most of the latest machines.
NBA Live 2001 is no different, it's hardly distinguishable from the previous instalment and, like every other EA game, is extremely polished, from the gentle rap music and easy-to-navigate menus to the realism of the players. EA has made a move towards greater simplicity, closer to FIFA's interface than last year's NBA, which means you can jump into a game straight away. Unfortunately, it also limits the number of options and doesn't let you set the resolution or graphical detail.
For some reason, EA has also gotten rid of the player creation screen, where you could make a player, graft a photo of yourself onto his face and put him in your favourite team. Nostalgics can still find the All Star teams of all the past decades - back to the 1950s - but, inexplicably, there are no three-point shootouts or slam-dunking competitions.
Might As Well Jump
In the unlikely event that you're a keen follower of the NBA, you'll recognise every player, who now chat to each other as they walk into the arena. Actually hearing their voices makes a big difference, and brings the series one step closer to the real thing. In true FIFA style, your players can perform a series of beautifully animated skill moves to dazzle their opponents. But basketball is all about position and possession, both in defence and attack, so you don't have to worry about losing the ball within seconds of getting it, as you so often do in FIFA Here you can stop and think about what you're going to do next, keeping an eye on the clock at all times and trying to break through the defence. Defending is more about covering than trying to steal the ball which, unless you're playing in arcade mode, usually results in a foul.
The game modes are pretty straightforward and include the usual quick game, full season and play-offs. There's also a franchise mode for people with far too much time on their hands. It's basically a series of seasons through which you can build up your team, drafting in new blood at the start of each campaign. We'll stick to a quick match with a mate, thank you very much.
NBA Live 2001 is definitely a good game and probably the best basketball title available (Microsoft's NBA Inside Drive is not in the shops anymore, despite its supreme playability). The problem is that, as with all the EA Sports titles, you should only get it if you haven't bought any of the previous titles in the last few years. As always, check out the budget stands in your local game shop for a cheaper, and virtually identical, NBA Live 2000.
Download NBA Live 2001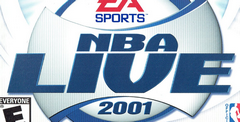 System requirements:
PC compatible
Operating systems: Windows 10/Windows 8/Windows 7/2000/Vista/WinXP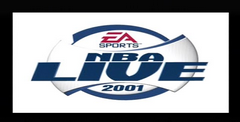 System requirements:
PC compatible
Operating systems: Windows 10/Windows 8/Windows 7/2000/Vista/WinXP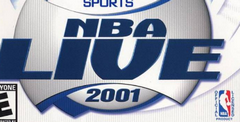 System requirements:
PC compatible
Operating systems: Windows 10/Windows 8/Windows 7/2000/Vista/WinXP
Game Reviews
If you've got game, you're going to get rewarded handsomely in EA's NBA Live 2001. Live now has a reward system similar to the "Madden Challenge" that lets you earn new abilities and codes for accomplishing on-court feats. Also interesting is the player creation feature that allows you to assign personalities and facial expressions. So, if you want an Iverson-esque jerk, so be it in when the new Live hits in October.
People say:
7
NBA Live 2001 is more like NBA 20001/2.1 can't really recommend plunking down any additional cash for this one if you already own last year's game. Sure, EA added some new low post moves and an ingame challenge feature, but the engine itself remains almost unchanged. That isn't all bad, but you'd think that EA could really have taken 2000 and polished up the framerate and other slippery spots. Player control also remains spotty, as the speed burst is too generous and special moves (i.e., crossover, spin, etc.) tend to be unreliable. It's frustrating to do a spin move and watch helplessly as your guy saunters out of bounds. Instead of focusing on these elements, EA has added facial reactions and other gimmicks. Does anyone actually go into the replay mode to see Shaq's goony mug smile after he dunks? Maybe I'm missing something, but that's not a big thrill for me. The one-on-one mode remains intact and is actually a pretty enjoyable, and competitive, experience. Notch the difficulty up to Superstar and you'll have Jordan clinging to your jersey like a cheap suit. Season play remains the most rewarding aspect of the game, however, as EA's glossy presentation and dizzying array of stats will keep you coming back for more. If you're absolutely dying for the roster update, which is about what this amounts to, then shell out and never look back. Otherwise, hang on to 2000 and save up for the PS2.
8
I don't mind that Live 2001 is essentially unchanged from last year, but then again I don't have to plunk down $45 either. It's a toss-up. On one hand they've added some useful new features like the challenges (they're just like Madden cards only for basketball) and snappy new color commentary. The new "inside game" (essentially a better selection of post-up maneuvers) is the only real gameplay improvement. So to casual fans it'll seem like dejci vu all over again. An argument could be made for saving the dough fora PS2 and accordingly-NBA Live 2001 for the PS2. You'll still get your fix of Live and it'll look a whole lot nicer...Hmm, decisions, decisions.
7
Being intimately familiar with EA's basketball offerings since Lakers vs. Celtics, I always look forward to the annual update of this hallowed series. In this installment, EA has squeezed just about everything they can from the PS graphically, and it looks pretty much the same as last year. The players appear deformed in close-ups for some reason, and some of the moves on the way to the hole look disjointed. Gameplay is the real key to a quality sports title, though, and NBA is still as solid as ever. Plus, EA has tuned up the music, sound effects and announcer commentary for richer ambience. NBA is still the best console basketball game out there.
Playstation 2 Screenshots
See Also
Viewing games 1 to 12