NCAA Gamebreaker 98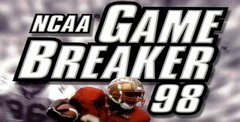 Click the "Install Game" button to initiate the file download and get compact download launcher. Locate the executable file in your local folder and begin the launcher to install your desired game.
a game by
Sony Interactive Studios America
Platform:

Playstation

Editor Rating:

7.6

/

10

, based on

4

reviews
User Rating:

9.0

/

10

-

2

votes
Rate this game:
See also:
NCAA Games
Sony strikes back at Madden with NCAA Game-Breaker. Although GameBreaker features better A.I. than GameDay and a ton of new features, football fans may find themselves wishing for the star power of well-known names rather than a better game engine.
Stats the Way, Baby
GameBreaker sports more than 100 Division 1 college teams, along with the best of Division 2 and past greats like the '92 Notre Dame squad. It also has faster gameplay than GameDay and features college-specific strategies like Wishbone offenses.
But don't think you can blow through the season with just any team. The A.I. is configured to keep track of your stats throughout the year, including favored offensive and defensive strategies. During the course of a season, the A.I. will compensate by attacking those plays, forcing you to either come up with other strategies...or enroll the team in Home Economics.
Another cool feature is the GameBreakers, which are certain star players that do their best to break games wide open with spectacular plays. Throwing to a receiver with more coverage than O.J. Simpson's trial? If your receiver is a GameBreaker, he should make the play.
The Remains of the Day
The graphics are faster and cleaner than GameDay's, but the players are smaller. You can also play in varied weather conditions, which leads to a small graphical nuance--players should get muddy in degrees, not all in one shot as they do here.
The sounds remain the same, with the exception of familiar college fight songs. These lend to the game's college atmosphere, as do the solid grunts and groans of the lines battling it out on the field.
The controls are also about the same as GameDay's. Snapping and picking out your receiver or runner is aided by the button labels following each player.
Break My Day
Is this the best football game to date? It's without a doubt the best college football game to date. It can't be compared to Madden because NFL games are infused with stars like Rice and Emmet; because of NCAA regulations regarding endorsements, you won't see any names in GB. If it's solid college action you're looking for, Sony just cut you a Break.
ProTips:
Run right, throw left. Set up the screen for maximum confusion, then throw across the held. The Play--3 Wide--Big Screen
If vour Game-Breaker Ls a wide receiver (and your opponent's GameBreaker isn't a corner or safety), try the Hail Mary as your first play. The Play--Run and Shoot--Hail Mary
Run at opponents. Pick a run play, then run the same play but Hipped. You'll con fuse your opponent, and often, the computer. The Play--Pro Set--Power
When running Wishbone plays, don't pitch the ball until the quarterback is well out of the back-field or being pursued by defenders. The Play--Wishbone--Bone Pitch
If your quarterback is a GameBreaker, use his running abilities to offset the defense.
If you deliver a solid hit (usually on your opponents' long pass), immediately press Button (Triangle). Loose balls are easily recovered on these types of hard hits. The Play--Nickel--Prevent
If you're unfamiliar with college teams but still want to check out (iameBreaker. familiarize yourself with the stats.
Download NCAA Gamebreaker 98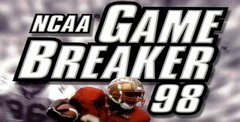 System requirements:
PC compatible
Operating systems: Windows 10/Windows 8/Windows 7/2000/Vista/WinXP
Game Reviews
Even with only a lew pix to show at this early stage, Game-Breaker '98's polygonal graphics already own the college football turf. On the features side, Sony's delivering all 111 Division I-A teams, along with a selection of all-time greats like Notre Dame '88. Gamers can tear up the field in exhibition games or a season complete with bowl games. Other nice touches include player creation, team-specific playbooks, and GameBreaker players on top teams--mirrored after real-life stars--that can break open the game.
People say:
8
At first look, GameBreaker 98 appears to be GameDay 98 with college colors. And for the most part, it is. But after further review, the game shines because of its own merits. In addition to having the fancy 3-D graphics first pioneered by GameDay 98, GameBreaker 98 has some original features of its own. Most impressive is its offensive play editor that lets you make your own play from scratch. You can also create entire playbooks from new plays you make or old plays. There are also three default playbooks that are simply titled "running," "balanced" and "passing." Ironically, the playbook is also the biggest weakness of the game. The play diagrams are absolutely horrible, and are almost unreadable. I have a feeling that some of the aesthetics were sacrificed to accommodate the play editor, but that's no excuse. The plays are drawn horribly; they don't even show where your defensive linemen will go, which is a big part of a defense. Luckily, the gameplay is good enough to overcome the bad playcalling interface. In some ways, GameBreaker 98's gameplay surpasses GameDay 98's because of the exciting option plays and new formations. Since there are only two college football games out, the question is which one is better. Because of its superior graphics and Al, NCAA GameBreaker 98 beats EA's NCAA Football 98.
8
This game has its share of flaws--namely, an ugly Play Selection Screen that I'm sure everyone else on the Crew is griping about--but it's still plenty of fun (especially when playing multiplayer). With its hyperactive tackles and crazy plays, GameBreaker seems like a quick-and-dirty football game. As in GameDay, it's more about arcade-style action than true-to-life football. The play editor's a nice touch, but one only hardcore fans will use.
8
This game is well-suited for the football fan that demands great graphics and animation but doesn't demand realism. GameBreaker plays like an arcade game, with exaggerated tackles, numerous big plays and high scores. The Play Selection Screen is among the worst in the business, and the play-by-play is lacking in some areas (how long was that punt return for?). Still, it's fun if you're looking for an action-oriented football game. GO BLUE!
7
GB 98 is a great game, but it doesn't come without its flaws. The Play Call Screen is terrible (hope you've got good vision and a lot of patience), and the lack of many football essentials (like play recaps after each play, the ability to decline penalties and other silly little omissions) is just ridiculous. Still, the gameplay is a LOT of fun, and the Al is much improved over last year's version. With the right work, GB 99 could be killer.
Using the engine made famous in last year's NFL GameDay, NCAA GameBreaker reprises a successful formula. Smooth, speedy gameplay and a full roster of all 110 Division One college teams (including national faves like Notre Dame, UCLA, and Cal) round out this solid title. But the game will impress you only if you're a fan of college sports--regular football fanatics will find the game identical to last year's acclaimed GameDay as there are no new features beyond faster, cleaner graphics. Although GameBreaker has the usual differences with college play (no two-minute warning and plays like the Wishbone), so far this season's Madden clearly outshines it.
Other Games by Sony Interactive Studios America