NHL 2-On-2 Open Ice Challenge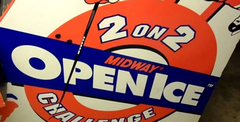 Click the "Install Game" button to initiate the file download and get compact download launcher. Locate the executable file in your local folder and begin the launcher to install your desired game.
a game by
Williams, and Midway
Genre:
Sports
Platforms:
PC,

Playstation

Editor Rating:

7.3

/

10

, based on

7

reviews
User Rating:

8.7

/

10

-

3

votes
Rate this game:
See also:
NHL Games
If there's one thing I noticed at E3, it was that Williams is poised to kick some serious butt down at your local arcade. The coolest game the company showed us was NHL Open Ice.
I'll admit up-front that my love for this game stems from my obsession with hockey. Nothing less than NBA Jam with a hockey puck, Open Ice has the fast-paced, over-the-top action that made the former title so popular. Pick your favorite team, put your favorite players on the ice and then flail away at those buttons.
Everything--from the set-up screen to the button configurations--is the same as in NBA Jam. Expect players to catch fire after three goals, watch players do flips during a powered-up slapshot, and laugh as the opposing player is sent flying after you lay into him with a hit. If you love hockey and are hip to Jam, then you'll drool over this coin-op. But, if you're tired of Jam and are able to see through this thinly-veiled transformation from hoops to hockey, move on. Expect it to hit the console sometime later in the year.
Download NHL 2-On-2 Open Ice Challenge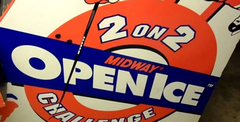 System requirements:
PC compatible
Operating systems: Windows 10/Windows 8/Windows 7/2000/Vista/WinXP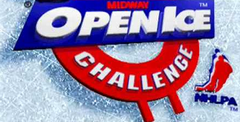 System requirements:
PC compatible
Operating systems: Windows 10/Windows 8/Windows 7/2000/Vista/WinXP
Game Reviews
Open Ice skates straight from the arcades to the PlayStation with that same raucous two-on-two action that made NBA Jam a classic. Playing with up-to-date rosters that include all the NHL players, gamers duke it out with simple but effective controls that supply passes, shots, checks, turbo, and more. Scoring three goals sets your player "on fire," and of course tons of codes unlock secret players and power-ups. Graphically, the game's remarkably close to the arcade version, and even at this early stage, Open Ice is a blast.
Williams' latest sports hit, NHL Open Ice, has arrived on the PlayStation, and it is crammed with ail the hard-hitting excitement of the arcade original.
The best way to describe NHL Open Ice is to call it NBA Jam on ice. Players assume control of digitized versions of two of their favorite NHL stars, who zip around the rink, executing pin-point snapshots and wildly exaggerated super moves. Fully licensed by both the NHL and the NHL Players' Association, Open Ice's players are governed by their real-life attributes.
As in NBA Jam, Open Ice's players become "on fire" after executing a sufficient number of checks, assists and goals. Once on fire, a player becomes virtually unstoppable and can scorch the net with flaming shots.
Williams continues the insanity with tons of hidden characters, humorous score-board clips, a Big Head Mode and a unique Super Goalie Mode. The codes found in other Williams games were always entertaining, and you can be sure that this game will be no exception. You can also. bet that there are a number of secret characters thrown in to keep things interesting. Williams also included a turbo button and an enlarged puck to keep the action fast and furious.
Like NBA Jam and NBA Hang Time, NHL Open Ice is more of an arcade game than a true-to-life hockey simulation. This being the case, it may appeal to arcade fans more than fans of the statistical, strategic side of the game of hockey.
NHL Open Ice takes full advantage of the PlayStation's CD audio by including commentary by broadcasting great, Pat Foley. The game's audio is further enhanced by the incredible DCS Sound System, so players will really feel every brutal cross check.
Because the action is so intense, players will find themselves accumulating scores which are incredible for any game of hockey. The two-on-two aspect can also take a bit of getting used to for those who rely on the passing game more than the drive and shoot. But this game is sure to be a refreshing change from the less intense, slower-paced "simulations." Nevertheless, all hockey fans should be interested in any game which captures the emotional side of hockey. Players who favor insanely fast action and flashy moves over strict sports simulations definitely will want to check this one out.
MANUFACTURER - Williams
THEME - Sport
NUMBER OF PLAYERS - 1-4
If you were waiting for the thrill of Gretzky but are reluctant to buy an N64, there is still hope for you getting a quality hockey title this year. Even though it doesn't have all the bells and whistles of the N64. Open Ice is a perfect replacement. Many of the same features exist, such as the special effects of burning goals with rocket shots and checking abilities galore. With the optional multitap, up to four players can simultaneously play on the ice at the same time. With four-player action and other great features, what more is needed to give PS owners a thrill nearly equal to the celebrity-endorsed title? Hockey junkies who own a PS need only to gather a few friends for this hard-checking experience.
The Lizard doesn't discriminate. We take games from EA, Broderbund, Virgin Interactive, Microsoft ... you know—all the biggies. But we also check out games sent to us by other, lesser-known game producers. EA is a known quantity—I knew EA's NHL 97 would kick butt before I even opened the jewel case—but when Ethan, one of the GameFabrique editors, handed me Midway's NHL 2-on-2 Open Ice Challenge and asked me for a Quick Take, I had no idea what I might see once I installed and did my first double-click.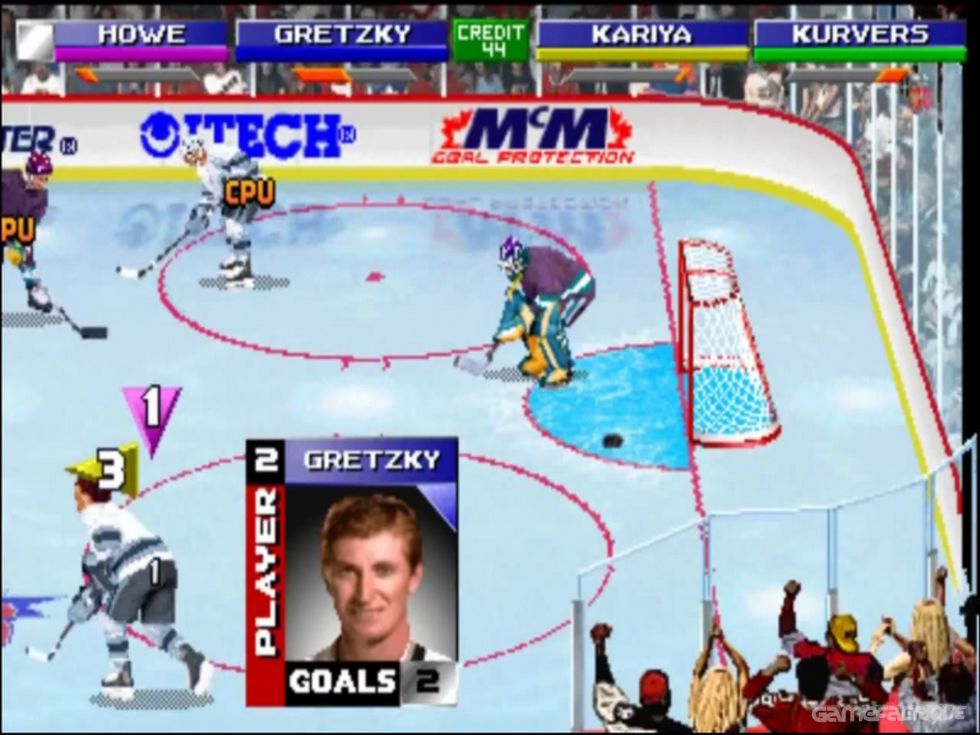 Well, now I know, and it turns out this review could be nothing but a Quick Take. The idea behind Open Ice Challenge has good potential; it's a shame it couldn't have been done better. The game is buggy, the graphics are blotchy, and gameplay is just plain ugly. Things happen so quickly you don't really know what you're doing, which makes me think this game was intended more for the console or arcade than the PC. I can see this being played in a dark arcade by a couple of 14-year-olds writhing around, jerking their joysticks, and banging on indestructible buttons; but for some reason I expect a PC game to require a bit more finesse. There's only one other player to pass to, and it doesn't require much skill to do (I won one game by moving moving my player around and pounding buttons indiscriminately). I love one-on-one hockey penalty shots, and I enjoy having lots of ice to let my players move around and show their stuff, so initially I was pretty excited to play a little 2-on-2. This game disappointed, though.
The menuing system leaves something to be desired, too. Up until my third attempt, I didn't even play this game. I installed it just fine and I configured it to use my gamepad the first two times, but when I got to the screen with ice on it I had no idea what was happening. Turns out all I had to do was hit "1" to start a one-player game, but there's no way to know that without reading the instruction booklet. Yeah, I'm one of those stubborn men who generally doesn't read instructions, but really, shouldn't you be able to just throw a disk in and play?
Williams is ready to ride into the ice-hockey rink, too. Open Ice is a console version of the action-packed two-on-two ice-hockey arcade game, which features all 26 NHL teams. Ice is basically Jam with sticks. You go two-on-two with a CPU-controlled goalie. Up to four players can get "hot" (torch the net with blazing shots), check opponents, and make game-winning saves. If Open Ice remains true to its arcade counterpart, expect tons of codes, including "big heads" and hidden characters.
"The coolest game on earth" is checking its way into your house with NHL Open Ice's two-on-two scoring mayhem. Tape up your sticks and sharpen your skates for some excellent NBA Jam action--hockey style!
Puttin' the Biscuit in the Basket
Open Ice comes correct with smokin' gameplay and an avalanche of features. Choose from all 26 teams and some of today's hottest stars, such as Jagr, Sakic, and Messier, then throw your weight around with hard checks and blistering slap shots. As in the NBA Jam series, players perform incredibly raucous moves, such as somersault wristers, flash shots, and double 360-degree spins.
If you fill up the Hot meter through assists, goals, checks, and steals, you can set the net on fire with unlimited turbo power. Also included are Jam-style features such as Big Head mode, hidden players, and more.
Open Ice shoots and scores at every level. The graphics jump right out of the arcade with only a few minor frames of animation left out. The control is flawless, and the sharp sounds feature cool color commentary that never misses a beat by Chicago Black-hawks legendary announcer Pat Foley.
Goals Galore
If you love hockey and are fond of double-digit scoring and nonstop action, Open Ice is a definite must-buy. All others should drop this puck as a weekend rental. You won't get deked.
ProTips:
Crisscross your players in front of the opposing net. then do a one-timer to the open man.
Keep your Hot meter rising without the puck by checking the opposition into next week.
Get the goalie to commit to the corner, then one-time the puck for an easy score.
Similar Games
Viewing games 1 to 9