NHL Faceoff 2001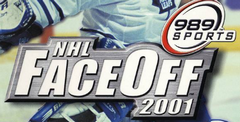 Click the "Install Game" button to initiate the file download and get compact download launcher. Locate the executable file in your local folder and begin the launcher to install your desired game.
People say:
7
FaceOff 2001 is definitely a step in the right direction. This game still suffers from a few problems, most notably the questionable performance of some goalies when there's a crowd in front of the net. Some of the worst shots seem to go in on a regular basis, but one-on-one a lot of the goalies are like a brick wall. It could be they don't deal well with a screen. The computer players don't seem to hustle back out of the zone to avoid offsides, either. I've played games where there were literally six offside calls in less than a minute. And the fighting looks just ridiculous. The two players will stand there, and sort of wave their hands at one another, apparently beating each other senseless. Nonetheless, playing two high-rated teams against each other usually results in a good game, and I think the skating feels almost perfect here--that's no mean feat in hockey games lately. It's too bad the graphics, actually the entire presentation, is pretty ugly. The players look horrible. Luckily the camera needs to be so far off the ice during play that it's easy to overlook during a game. But even the transitions, the times between a whistle blow and a faceoff, could have been done better. There's absolutely no color commentary, hardly any stats flashed on the screen or anything. It makes every game feel like a non-event. Still, this is a sign that 989 Sports games on the PS2 are getting better. I can't wait to see next year's FaceOff.
6
It's not the prettiest hockey game I've seen. The players are bulky and a bit on the bland side and. aside from the faces, look like clones. So in that department it doesn't score too well. Thankfully it does score big in the gameplay arena. It's as smooth and fast as its PS cousin. That may not sound like much, but apparently it's much harder to pull off those traits on the PS2. And while I'm not the biggest hockey fan, I had a lot of fun with the game overall. The bodychecking is pretty darn effective as are the speed burst and directed passing. It does seem, however, that the goalie Al is a little weak--I had several high-scoring games. Still, it's worth a look.
4
With such experience at making hockey games, it boggles my mind that 989 can put out a product with such obvious flaws. For starters, the graphics in this game are so uninspired that I wonder if they realized the PlayStation they were programming for had a "2" after it. I mean, even the menus suck. Sure, the players animate smoothly, but my lawnmower would cut grass faster if it had a Ferrari engine under the hood, too. The gameplay isn't bad--it delivers the same fast-paced action (with tight controls) that the previous game did. In fact, were it not for the braindead goalies, this would be a very realistic hockey game, even if it didn't look like one.
Download NHL Faceoff 2001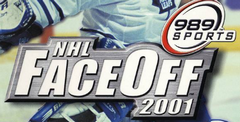 System requirements:
PC compatible
Operating systems: Windows 10/Windows 8/Windows 7/2000/Vista/WinXP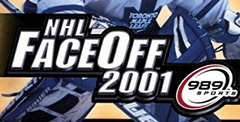 System requirements:
PC compatible
Operating systems: Windows 10/Windows 8/Windows 7/2000/Vista/WinXP
Game Reviews
People say:
8
Despite being little more than a casual fan of the real-life version, I've always had a penchant for video game hockey. The sport just seems to translate well for gamers, with its subtle blend of speed, finesse and violence. NHL FaceOff 2001 captures the above ingredients with style and the result is nothing short of the best hockey game available for the PlayStation. The game engine is true to the FaceOff series, with fluid skating and a nice feeling of momentum-based physics. Once into the game, players will notice a tight Al routine which is markedly different from previous lackluster efforts. Scores are realistic and goalies offer just the right amount of resistance. On offense teammates cycle through the zone in various patterns, offering unique scoring opportunities at every turn. It's a nice change from games which require players to create the same crusty scoring plays over and over. Another unique first for the genre (at least on the PS) is the ability to change forward and defense lines independently, a feature which really adds to the sim value. Speaking of sim, the one "bell and whistle" which 989 left out was any sort of Franchise Mode. Still, you can play General Manager for a season, pulling the trigger on blockbuster trades and creating any new players necessary to take a team to the top. Hopefully this title doesn't get overlooked as the wave of PS2 sports stuff hits the shelves.
8
It seems like this game has reached its zenith. Even with the absence of a franchise mode it still packs enough gameplay punch to stand up to EA's NHL. The animation looks a little funky at times but overall it's very smooth and fast. For me, that's the most important thing, but if you're looking for more it has a few new, albeit minor features. A ShootOut mode lets you practice your attack skills against the goalie alone (it's nothing special). The new expansion teams are included as well. There's also an option that lets you aim your shots more precisely-but it doesn't work that well. While not a huge advance over FaceOff 2000, it's still a solid game.
7
989 puts forth a good effort with NHLFO, and includes a few nice touches that give the game added depth. The players look OK, but more importantly they move quite fluidly across the ice. Players also play fairly similar to their real-life counterparts, and teams accurately reflect appropriate strengths and styles for each club. One element that bothered me about this game was scoring: It's missing that eminently satisfying feeling of snapping a wrister past the goalie and seeing the net bulge behind him. Also, when I played a team with dark jerseys, I found myself passing to the ref in front of me, thinking he was my winger on a breakaway.
989 Sports' FaceOff 2001 hits the ice this September and it comes loaded with both new NHL expansion teams (Minnesota Wild, Columbus Blue) and eight international teams. There are four play modes: Tournament, Practice, Draft and a nifty Shootout mode that distills hockey into its most basic, fun elements. New improvements consist of more control over your shots, improved Al and a new "Line Manager."
Playstation 2 Screenshots