OlliOlli World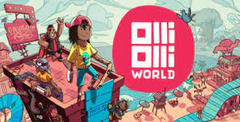 Click the "Install Game" button to initiate the file download and get compact download launcher. Locate the executable file in your local folder and begin the launcher to install your desired game.
I have enjoyed the other games in the series, but OlliOlli World is kicking things up several notches. The first thing that I have to say about this game is that everyone can play it. That is not me giving you permission to play it, but I am just informing you that this game is available on everything, PC, PlayStation, Xbox, and Switch. If you like skateboarding games, platformers, and games that have a real sense of "weirdness" about them then this game is going to be something you have a great deal of fun with.
Welcome To Radlandia
The story that OlliOlli World is telling is freaking weird man, but weirdness is what this game is all about so it kind of works. The setting for the game is Radlandia and you have come here to try and find the skate gods as you make your way to the mystical Gnarvana! Look, I know this sounds kind of nuts and it is, but it works. I am legit excited to see just how far off the deep end this story is going to go.
Jet Set Ollio!
The presentation of OlliOlli World is probably what catches your attention. This game is bright, colorful and it has a very stylish kind of thing going on. The developer said that the style of Jet Set Radio greatly inspired the look of this game and that is pretty obvious. It looks fantastic and not only do I love how bright and weird the whole thing looks. I think it is also awesome the way that the game moves at such a brisk pace and it has some very slick animation. They also nailed the soundtrack with this game too, it has a very funky kind of beat to it all and it fits the action perfectly.
Skating And Debating!
This is a platformer game about skateboarding. What I think is really neat about OlliOlli World is that they have made this a game for everyone to enjoy. You can just play this on your own, enjoying the kooky cast of characters, taking on main missions, side missions, and finding stuff. That is awesome and I am sure people will have a blast doing so. However, the level of platforming here is very cool. So cool, that I can see this having a very dedicated and hardcore group of players all trying to prove that they have the best skills. It is a term that is greatly overused when talking about video games, but this is a game that is going to be easy to learn, but hard to master!
Do not think of OlliOlli World as a skateboarding game. Granted, you are on a skateboard and you will be doing skateboarding tricks… ok so it technically is a skateboarding game! However, it is every bit as much a platforming game as it is a skateboarding one.
8
This game is going to be just so much fun to play and it is going to be something everyone can enjoy. Not just because it is available for everything. It is also a game that is designed to be accessible for everyone, with an extra level of skill required for those that want to dedicate some real time to it.
Pros:
I just love the whole style of the game
It mixes skateboarding with platforming in a fun way
You can play this on your own or show off your skills with other players
While fun, this game is also very deep with its gameplay too
Cons:
The story may be a tad too weird for some people to get
Not sure how long it will take to get through all of the missions
Download OlliOlli World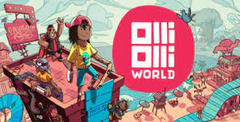 System requirements:
PC compatible
Operating systems: Windows 10/Windows 8/Windows 7/2000/Vista/WinXP
Similar Games
Viewing games 1 to 9