Tanuki Sunset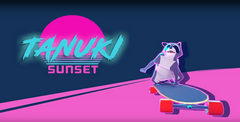 Click the "Install Game" button to initiate the free file download and get compact download launcher. Locate the executable file in your local folder and begin the launcher to install your desired game.
Ever wondered what a raccoon would look like if it had a passion for downhill longboarding in a retro 80's world? Then Tanuki Sunset might just be the perfect game for you. Featuring some of the most relaxed gameplay in an extreme sports game and some sweet lo-fi visuals, this is a game that exudes personality at every step of the way.
While the charming visual style and entertaining gameplay are in a class of their own, there are some minor grievances with the controllers that simply aren't enough to bring the game down. Like a raccoon that's learned how to skate, this is a game that's just hard to describe until you try it yourself.
Downhill Jamming
The gist of Tanuki Sunset's gameplay is to take your longboarding raccoon from point A to point B. It sounds simple enough, but you'll have to be wary of the treacherous roads and the dozens of obstacles scattered along the way to the goal. Also, there are tons of collectibles on the road, so you better keep your eyes peeled for those too.
While there are some ramps placed throughout the courses that let you pull off some tricks, aerial stunts aren't the focus of Tanuki Sunset. Think back to games like SSX, where the main goal was to get to the bottom of a slope as fast as possible: that's what you're here to do in Tanuki Sunset.
To navigate the game's sinuous tracks, there's nothing better than drifting. Thankfully, your longboard is perfect for that, allowing your raccoon to precisely make sharp turns whenever needed. At least, that's the idea: the truth is that the controls have the bad habit of becoming sluggish when you near a corner, causing many a fall from the tracks.
Falling and Getting Up
Thankfully, Tanuki Sunset is extremely forgiving should you fall from the track. As you race downhill, you'll come across checkpoints to restart from, allowing you to continue your descent without worries. Relaxation is heavily emphasized in this game, with everything from the visuals to the BGM providing an unparalleled chill ambiance.
That being said, more checkpoints would have been appreciated, as every track only has a handful of them. Having to redo long stretches of a track just because you messed up a turn can be challenging the first times, but it becomes a chore quite quickly.
Of course, we can't review Tanuki Sunset without mentioning its gorgeous visuals. The game uses an 80s Synthwave aesthetic with tons of hot pinks and cool purples to please your eyes.
Skate Forever
Once you're done with the game's single-player story, there's lots more to discover in Tanuki Sunset. An Endless mode will let players go downhill indefinitely, while the time trials are great for challenging your friends to see who's fastest.
This is a game that understood what a great downhill racer needed to be fun. The developers looked at the mistakes of other longboard games like Tony Hawk's Downhill Jam and avoided them completely. The only misunderstanding here is that there are no tanukis in this game, only a raccoon named Tanuki.
9
Tanuki Sunset is a rad downhill racer with the right attitude and gorgeous visuals. While it can be punishing at times, the positives easily outweigh the negatives in this game. If you love longboards and raccoons, keep this one on your list.
Pros:
Charming visuals
Killer soundtrack
Entertaining gameplay
Great level design
Cons:
Checkpoints are too sparse in latter levels
Controls can be a bit unresponsive
Download Tanuki Sunset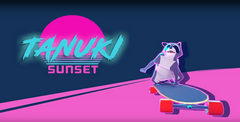 System requirements:
PC compatible
Operating systems: Windows 10/Windows 8/Windows 7/2000/Vista/WinXP
Similar Games
Viewing games 1 to 10