Pro Cycling Manager 2022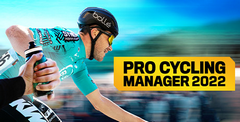 Click the "Install Game" button to initiate the free file download and get compact download launcher. Locate the executable file in your local folder and begin the launcher to install your desired game.
It's the most popular sporting franchise you've ever heard of! Pro Cycling Manager 2022 is the next installment of cycling's most prominent game franchise. If you're not a cyclist, you've probably never even seen a morsel of gameplay. However, if you tend to dabble in the sport, you'd likely be more excited about this year's addition to the series.
While the notion of cycling wouldn't be particularly thrilling to most casual players, the gameplay has consistently won some hearts and minds over the years. Pro Cycling Manager 2022 is an upgrade on a game that focuses on the management of the strategy of the sport rather than the actual racing elements. It's provided quite the challenge of the past, giving it a surprisingly immersive flair. Can it hold that up in the upcoming 2022 version?
Modern Cyclist
Looking at Pro Cycling Manager 2022 from a casual perspective, one would think there isn't much going for it. After all, if you don't understand the sport, you'd think you'd spend your time just peddling up and down multiple tracks endlessly. And once you've mastered those mechanics, that will be that, as is a relative tradition in most racing games.
The reality is that Pro Cycling Manager 2022 is as intricate and challenging as any other sports simulator. Even if you have no idea about the sport, the gameplay is welcoming. It's incredibly kind to those with an analytical brain and those who enjoy the art of problem-solving. This has been the core of the Pro Cycling Manager franchise, but is there anything special about the upcoming edition to make it more enticing?
Possibly, but the new features and mechanics still feel niche to the sport and may not encourage new players to try the game. But cycle fans might be thrilled with the additions. Pro Cycling Manager 2022 puts you in the shoes of a sporting director tasked with building a cycling team that will dominate the world stage. There are many human and sports challenges to achieve that feat, making your journey more enjoyable.
So what else makes the 2022 edition stand out? There's a new, sleeker interface, more realistic biking mechanics, increased customization options, and an integrated scouting system. While Pro Cycling Manager 2022 is inherently the same game as its predecessor, there are plenty of quality-of-life improvements to keep things interesting.
Get Your Head into the Horde
Everyone should be encouraged to try Pro Cycling Manager 2022 if you haven't dived into the franchise because the game looks like its most improved version yet. It could be a surprisingly engaging title for those who wouldn't have batted an eye at it beforehand. The Football Manager continues to get legions of people onboard every year, so why not cycle?
8
The mechanics, worldliness, visuals, and realism that provide the platform for gameplay are all intriguing. But what about fans of the Pro Cycling Manager series? Is it worth getting then? Considering the revamp of major elements works so cleanly, we'd say this is a fine addition to purchase for your collection.
Round-Up - Pros & Cons
Pros:
An immersive cycle game focusing on the management side
Great for those who like puzzle-solving
Intricate management gameplay with flexibility for solutions
Cons:
Much the same game as the predecessor
Still will have trouble attracting a new audience outside of cycle fanatics
Download Pro Cycling Manager 2022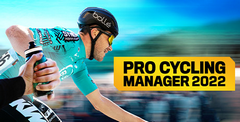 System requirements:
PC compatible
Operating systems: Windows 10/Windows 8/Windows 7/2000/Vista/WinXP
Game Reviews
Pro Cycling Manager 2022 is the next iteration of the franchise. In this exciting chapter, you'll be able to go behind the scenes at the most incredible cycling events. Follow your favorite cyclists and learn about their lives on and off the track. There are so many ways to engage with Pro Cycling Manager 2022, whether you're a casual observer or a die-hard fan. You can play for free or purchase additional features for $19.99.
Time To Pedal
The game's storyline is based on you, the manager of a fictional pro cycling team. The goal is to get your team to the Tour de France. You'll train and manage your riders, get sponsors, and build a successful team that can win races and sign new riders.
The player takes on the role of an amateur cycling fan who stumbles into managing a professional cycling team after his favorite rider retires from racing in 2020. He accepts money from investors to create his own squad, then manages it through 2021 as he tries to make it in time for Paris-Nice 2022 (the first race of the season).
Cycling
The controls are simple and easy to learn, but they're also responsive and customizable. If you want to change the way your riders pedal or how much power they put into each pedal stroke, you can do that with a few clicks of the mouse in the simulation mode. You don't have that option when racing against other teams—your riders will automatically start pedaling at their maximum ability if you choose not to customize them—but it's nice to have options in practice mode. Pro Cycling Manager 2022 is not for the faint of heart. It's a game that requires you to have a detailed understanding of how cycling teams operate, and if you don't know this already, it can be a very frustrating experience.
It's also not for casual gamers. There are many different aspects to managing a team that isn't covered in other sports management games (such as player morale and staff relationships). If you're looking for something simple that allows you to jump into the action quickly and easily, then this isn't it.
The game isn't very friendly for newcomers, and you might find yourself struggling a bit at the start, but don't let that be the reason that you stop playing.
Conclusion
Pro Cycling Manager 2022 is a great way to get a feel for managing your cycling team in the real world. The graphics are wonderful, the controls are intuitive and easy to pick up, and the game is terrific at showing how real cycling is. With such an immersive storyline, it was easy to get drawn into this game and forget that we weren't professional cyclists ourselves!
8
As I said before, if you're looking for something light-hearted or casual, you should probably look elsewhere. Other games you might enjoy are Soccer Manager, Motorsport Manager, Tennis Elbow Manager or Rugby Union Team Manager 3. Remember Pro Cycling Manager 2022 is not for the faint of heart.
Pros
Great new mechanics
Improved scouting system
Amazing graphics
Cons
Not many improvements
Long loading time
Similar Games
Viewing games 1 to 8