Freekstyle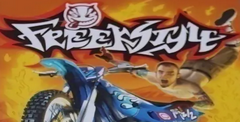 Download Freekstyle and catch some serious air in this extreme motocross game! Perform gravity-defying stunts, race on outrageous tracks, and dominate the competition. Unleash your inner daredevil and play now!
Like SSX Tricky? Like freestyle motocross? Then EA Sports BIG has just the game for you. Freekstyle borrows the insane air and gonzo attitude of SSXand adds a pinch of realism by including some of the biggest names from the freestyle motocross world, like Mike "Metz" Metzger, Brian Deegan, "Mad" Mike Jones and the Flyin' Hawaiian, Clifford Adoptante.
Imagine launching yourself off a 200-foot cliff and performing a Superman seat grab, a Saran wrap and a 360 all before you land. The game's eight venues, including Crash Pad II and Big Sky, are packed with shortcuts and hidden paths.
In addition to Circuit, Race and Freestyle modes, the game allows two to four players to compete in head-to-head, split-screen action Death defiance is scheduled to begin this spring.
Download Freekstyle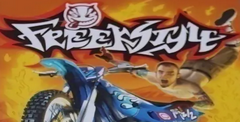 System requirements:
PC compatible
Operating systems: Windows 10/Windows 8/Windows 7/2000/Vista/WinXP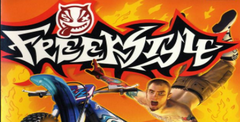 System requirements:
PC compatible
Operating systems: Windows 10/Windows 8/Windows 7/2000/Vista/WinXP
Game Reviews
People say:
8
Freekstyle is overflowing with contorted tracks, clever shortcuts and jumps so mammoth they'd make even the great Evel Knievet crap his pants. Seriously, you couldn't get more airtime unless you jumped out of a commercial jet. Fans of realistic sims will no doubt mock such folly and point out how Freekstyle is just S5X Tricky on dirt bikes. Well, they're actually right about that. But the joke's on them, because there hasn't been a more thrilling motocross game since Nintendo's Excitebike 64. For starters, the super-human riders animate well and have enough variety in their tricks to keep things fresh. To their credit, EA made it easy to perform tricks but hard to actually link them AND land safely. Getting the timing down is the key to success and the main reason I couldn't put the controller down for hours at a pop. Second to that is the speedy (and smooth) graphics. It's definitely an improvement from SledStorm in that department and especially hair-raising when the hyper-fast Freek mode kicks in --hold onto your hats, kids. Overall I'm very happy with the game. My only complaint is about the sometimes cheap tactics of the computer riders. Basically, no matter how well you're doing, they're never far off your tail and frequently pass by just before the finish line (insert sound of controller being smashed here). It seems unfair, but not enough to ruin an otherwise good time.
8
Rather than attempt to reinvent the wheel, EA made Freekstyle more of an homage to their runaway hit, S5X. Sub dirt bikes for snowboard decks and voila, you've got the idea. Does that mean you should write this one off? No way. If you like high-intensity racing action, Freekstyle definitely delivers. Skull-searing speed and plenty of eye-popping tricks add up to a pretty huge fun factor. I did find the game's camera to be a bit annoying, as it seems to follow the bike too deep into corners instead of showing more track. Also, the computer riders present a formidable, at times unfair, challenge. Other than that, Freekstyle's "freaky" good.
8
I sure love motorcycles, but most moto-X games tend to be a bit on the wimpy side. If I'm going to hit the trail on a high-torque terror with knobby tires, I want to taste the fear of hurtling through the air, a crash but a whisk away. Freekstyle brings that fear. Part SSX on dirt bikes, part F-Zero meets mud, Freekstyle has good control, tough CPU opponents and loads of tracks. The sweet-looking characters also burst with idiosyncratic detail and personality. The only downside is that the thumb-busting control scheme (gas and boost are too close to each other) is ergonomic hell, and the trick buttons aren't as responsive as they should be.
Playstation 2 Screenshots
See Also
Viewing games 1 to 8