Excitebike 64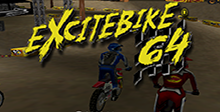 Click the "Install Game" button to initiate the free file download and get compact download launcher. Locate the executable file in your local folder and begin the launcher to install your desired game.
When we first saw these screens of Excitebike 64, we all uncomfortably laughed hoping they weren't really from Excitebike 64. Problem is, they are. Although this December release from Nintendo and Left Field looks like any no-name motocross title we've come across, we do have to give it the benefit of the doubt. Whatever the case, the cart will have a track editor and various one- to four-player modes.
Download Excitebike 64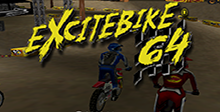 System requirements:
PC compatible
Operating systems: Windows 10/Windows 8/Windows 7/2000/Vista/WinXP
Game Reviews
A few years ago Nintendo produced a classic motorbike game for it's console of the time, the NES. Excitebike was a 2-D side-scrolling racing game which provided jumps and obstacles for you to tackle on a small squeaky motorbike. The gameplay was extremely addictive, which made up for the limitations of the old hardware and it was extremely popular with gamers of that generation.
At last Excitebike has returned and developer Left Reid Studios have made an excellent job of bringing the classic racer into the 21st century. A totally new racing engine has been developed for this game, giving plenty of control and (maintaining a good frame rate no matter how many other racers are on the screen. The action is all totally but in essence the gameplay is very similar to the 2-D version of old. The game may no longer be side-scrolling but you must still get the correct amount of speed up to ensure that you land on a downslope - hence maintaining maximum speed over the obstacles. Failing to control your motor over the various hazards results in a slow climb to the top of a hill or an extremely unpleasant accident.
Kick Start
The control system in this game is fairly complex but by using the training mode you soon learn how to get the best from your bike. Tricks like double-tapping the Turbo at the top of a jump for extra distance and using the R button to turn sharp corners are vital if you want to win the championship seasons and open all the secret stages. At the end of each of the training sessions there is a small trial to test your skills and when everything is completed successfully, the original NES Excite bike becomes a playable feature. This of course meant that many hours in the office were spent reminiscing and playing this classic title, which still has plenty of appeal, even after all this time! By completing the whole game a very special, totally amazing 3-D NES Excitebike game is unlocked. We think this may have been a canned SNES development but whatever the origin it's totally wild and offers multiple camera angles. These old-fashioned games certainly bring back memories and provide great entertainment for a while, but the N64 version is just far too enthralling to let these classics delay you for too long.
Into The Groove...
All the tracks in the game are superbly detailed and with over twenty different courses to choose from you'll be playing this game for ages. The humps and bumps are frequent, giving you plenty of opportunity to perform stunts. The tight corners make for an interesting race as well. Some of the more difficult tracks are awesome and feature tricky U-turns handy shortcuts and huge canyon leaps where you fall a long way if you don't use the Turbo. Like its NES counterpart, Excitebike 64, also has a built in track editor which allows you to devise devious courses to race your friends on! There are also K loads of multiplayer games included f on this amazing cartridge along with several bonus games which can be opened by competing in r the championship season. The bonus multiplayer modes on offer include a football game where you must use your bike to nudge a giant ball into a goal and the Hill Climb event, which requires you to try and get man and machine as high up the steep banks as humanly possible. Six different riders are available to you, each with their own unique abilities and you can alter the colour of both the bike and rider. Three difficulty settings make the game steadily more difficult as you progress but to open the amazing Hill Climb you must win the ultimate Motocross challenge. The stunts are a Original IVIES Classic By completing the Training Tests, including all the stunts, you unlock the original NES Excitebike in full colour, if you practice hard and complete the Gold Championship Season, you then access an enhanced version of the NES Excitebike in 3-D with multiple camera choices. little more tricky to perform than those in Wave Race er... isn't that a boat game? - Roy but then you get much longer in the air on Excitebike. Each rider also has their own special stunt, but this can be more than a little tricky to puli off! Top quality racing and performing massive crowd-pleasing stunts gets your heart pumping so fast you'll be dying to hop back on and hit the trail again!
No Fear
The graphics in Excitebike 64 are excellent. Taking an enormous jump as you sear through the mountains literally takes your breath away, while the crashes almost bring tears to your eyes. The sound effects are reasonable and the commentator doesn't get too overly involved, leaving you to enjoy the buzzing of your bike. There's a highly polished feel to this title and with Left Field already confirmed as a 'next generation' Nintendo developer, it's obvious that there will be plenty to look forward to on the Dolphin. We were amazed by the fluidity of the control and the way that the riders seem to glide effortlessly over the table tops. Jeremy McGrath Supercross 2000 and EA's Supercross 2000 are extremely shallow compared to this gem of a racer and it's lucky that both games came out before it, otherwise they wouldn't have sold very many copies! Excitebike 64 was a really pleasant surprise and reminds all of us that the quality of Nintendo's games just keeps getting better, which can only be a good thing. Taking the time to have a good splash around in the mud proves highly entertaining and with such an array of wonderful indoor and outdoor courses you'll keep going for quite some time. The Expansion Pak has been used to add further polish to the graphics and increase the frame rate and after each race you can watch an optional replay where you can really enjoy the visuals.
Extreme Excitement
Excitebike 64 has taken motocross racing to the extreme. The thrill of riding the big jumps and sliding around the corners with one foot on the floor has been captured brilliantly, but unlike the real thing you can crash as many times as you like without causing yourself any fatal injuries. Motorbike games have never been the most popular genre in the past but then the choice has been only average compared with the many excellent car racers like Ridge Racer and Roadster. Left Field however have redressed the balance, because the feel of this game is incredible and every second spent racing on the dirt is thoroughly entertaining.
These new screens may make the Excitebike 64 look like a regular old motocross title, but this one- to four-player game has more in common with the NES classic than we first thought. For starters, the original 2D Excitebike is contained here (and note you can now save your custom tracks--a feature missing from the original), along with a 3D, behind-the-bike version that captures the feel of the NES game perfectly. Excitebike 64 also packs an expansive desert level (much like the open stages in Motocross Madness for the PC), an oddly fun multiplayer soccer game and a hillclimbing event. Of course, you also get the standard motocross action seen in these screens, as well as a complex track editor. Developed by Nintendo-funded Left Field Productions, Excitebike 64 will be published by Nintendo in May.
Nintendo 64/N64 Screenshots
Similar Games
Viewing games 1 to 4