Paper Mario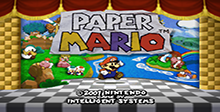 Download Paper Mario and join Mario on a unique 2D adventure in the Mushroom Kingdom! Solve puzzles, meet colorful characters, and engage in turn-based combat with a unique twist. Can you save Princess Peach and restore peace to the kingdom? Play now!
Don't let the odd title confuse you, this is Nintendo's sequel to the SNES game Super Mario RPG. Much like Voshi's Story before it, Paper Mario uses a mixture of 3D backgrounds and sprite-based characters to create a world which looks like an "animated pop-up book." Otherwise Paper Mario is set to deliver the same turn-based, RPG action of the original SNES game complete with the old time-based attacks. Look for it on store shelves Dec. 26.
Download Paper Mario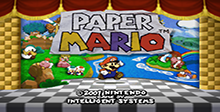 System requirements:
PC compatible
Operating systems: Windows 10/Windows 8/Windows 7/2000/Vista/WinXP
Game Reviews
What's the deal?
The original Mario RPG was a no-brainer: Couple Mario, the hottest video game character at the time, with Squaresoft, the hottest RPG developer on the planet and--boom!--instant hit.
Well, Squaresoft may be out of the equation now, but Nintendo's N64 follow-up to the Super NES classic promises to be something special nonetheless. The Paper Mario team is making a concentrated effort at getting away from that tired "N64 look" (you know, blurry, low-res 3D models) and going for the same cardboard-cutout style seen in Yoshi's Story.
Nintendo knows that its fans, when they're not drooling over the latest Pokemon product, live to play new Mario adventures. Plus we all know Nintendo would never mess up anything with Mario's name on it, right?
So why is it a must-get game?
Paper Mario is going to appeal to just about everyone, and for good reasons. It's got great, old-school RPG action, unique sprite-based graphics and, welL.it's a new Mario game. How long have you been waiting for a new cartridge starring that pudgy little plumber, anyway?
Shown as Paper Mario at the show, this game has already been retitled Mario Story for its Japan release. The RPG adventure kicks off after Mario receives an invite to a party at Mushroom Castle. The original name of Paper Mario comes from the fact that all of the well known characters appear in flat 2-D form! They are of course all set in a glorious 3-D world but as shocking as this may be, the game is a side-scroller! Despite this, Nintendo is promising that the game will be bringing a new gameplay experience to the public. The original Mario 64 is still one of the best games on the N64 - who knows, perhaps this could top it?
First Impressions
What on earth is going on in this game? It uses a similar graphic style to Yoshi's Story but puts Mario and all the usual characters (Luigi, Koopa and Peach) from the Mario games into the starring roles - and they're ail ? flat so they virtually disappear I when they turn around! This special look is one that is uniquely Nintendo and although it doesn't exactly make the best use of the N64's graphical power - it is fascinating to watch! The game is a kind of a sequel to Super Mario RPG and uses similar role playing elements - Mario Story will certainly be a game to look forward to!
Nintendo 64/N64 Screenshots
See Also
Viewing games 1 to 4