Raft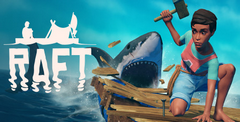 Click the "Install Game" button to initiate the file download and get compact download launcher. Locate the executable file in your local folder and begin the launcher to install your desired game.
It's safe to say that, lately, the survival/crafting genre of PC games has become as popular as platformers were back in the '90s. Even with the advent of battle royale games, there's still a big niche of gamers looking for a good, and original, survival experience. That's were Raft comes in: a unique take on the genre that's sure to leave you wanting more of its immersive world and exciting setting. Keep reading to find all you need to know before you brave the waters aboard your raft.
There's a simple question that keeps popping up every time we have to talk about a game like Raft: is the game original enough to differentiate itself from the sea (pun very intended) of competitors in its genre? The answer to that is not as clear as we'd like it to be, and we'll tell you why in our small review below.
About the game
Raft pits yourself against a never-ending open sea, complete with a man-eating shark that follows you wherever you go, just waiting for you to take a foot outside the safety of your vessel. Start small and build a strong raft that takes you through the ocean and around the many islands that are full of valuable resources for you to gather. The game features an online component, so you don't have to be stranded alone in your raft. While some might argue that the game's setting is more enjoyable as a single-player experience, playing with your friends adds an extra layer of depth that's well-received in this kind of game.
Survival at sea
Like we said before, the survival genre is pretty popular these days, and the base-building mechanics and crafting elements are hardly groundbreaking by this point. Take a look at Subnautica, for example, another survival game focused on marine exploration, resource gathering, and building your own living habitat. Unlike Subnautica, Raft sticks to a more realistic setting of castaways at sea. This is a welcome change for some players that might not be fans of Subnautica's neon-colored carnivores that would maybe feel more at home at a parade than in an aquarium. Bruce, the shark in Raft, is a relentless force of nature that appeals to our most basic fears and will provide players with more than one powerful jump-scare.
Review
Ironically, something that sticks like a sore thumb in this ocean survival game is its shallowness. The game is serviceable as a single or multiplayer experience, but don't expect to sink as many hours in this one as, say, in Minecraft. The Early Access aspect of the game shows that there are many great ideas that still haven't quite solidified, and we expect the game to get better with time. As it is now, though, it's good for a quick adventure alone or with friends, and to fulfill that need for a good shark survival game.
Graphics and Visuals: At the moment, with just a single "main" island to explore, there's not much to say about Raft's visuals. The muddied colors and brown tones make a nice contrast with the endless blue of the ocean, and Bruce is very well-animated and rendered. Don't come expecting an outstanding visual experience in Raft, as the game's focus is very clearly not in the graphics department.

Gameplay: This is where Raft excels. While basic, the survival and crafting mechanics are deep enough to be easy to grasp and fun to master. The raft building aspect is very unique and fun, especially when done in multiplayer. Additionally, the game has underwater sections for resource gathering, and they're not as bad to control as the dreaded swimming controls in many other games.

Sound: The sense of emptiness and hopelessness is boosted by Raft's sound design. The surrounding ocean and sea breeze shroud you while you're on your raft, while a lower roar is most you can hear in underwater sections. All in all, the sound in the game is basic but adequate, another thing we can attribute to the game's early access status.
Download Raft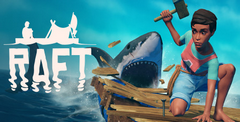 System requirements:
PC compatible
Operating systems: Windows 10/Windows 8/Windows 7/2000/Vista/WinXP
Similar Games
Viewing games 1 to 6