Simon the Sorcerer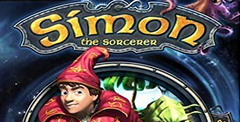 Click the "Install Game" button to initiate the file download and get compact download launcher. Locate the executable file in your local folder and begin the launcher to install your desired game.
a game by
Adventuresoft Ltd.
Platform:
PC
User Rating:

9.0

/

10

-

2

votes
Rate this game:
See also:
Quest Games
The First, And definitive, release in the long-lasting fantasy/comedy adventure series, this is the one people go "Aaah, memories" when you mention Simon the Sorcerer games.
Simon the Sorcerer is the instalment with the swampling and, of course, Chris 'Rimmer' Barrie doing the voice of Simon himself. The game is large, the puzzles difficult and obtuse - just how adventure veterans like them. For those people who are new or unsure of their adventure credentials, this one is a must-play, but it's very, very tough. Even after all these years, reading "That doesn't work" on a monitor causes much hair to be pulled out of a head that really doesn't have enough anymore.
After this, the series paralleled at Simon the Sorcerer II: The Lion, the Wizard and the Wardrobe, before sliding into a deep quagmire of shite with Simon 3D and its completely-missing-the-point European follow-up.
We hear there is a fifth game on the horizon, which, judging by Simon 4, will be another nail in the series' coffin. This Simon is the only one you should bother with.
Download Simon the Sorcerer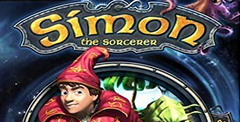 System requirements:
PC compatible
Operating systems: Windows 10/Windows 8/Windows 7/2000/Vista/WinXP
Game Reviews
In the computer game superstar stakes the likes of Mario and Sonic the Hedgehog obviously come into the Arnie and Stallone fields. There have been other, slightly lesser Tom Cruise type stars who have appealed to a slightly more intellectual audience. Perhaps topmost among these was the legendary Guybrush Threepwood. rising star in The Secret of Monkey Island and overnight success story in The Secret of Monkey Island 2.
While we British viewers always enjoy the antics of these big American names, there has been, in recent years, a noticeable dearth of British productions with British talent in the starring roles. But all that could be about to change with the advent of a new Kenneth Brannagh styled hero - Simon.
The multi-million pound production is being produced by long-standing British studio Adventuresoft and is being filmed entirely on location in Britain. And why not.
I was invited onto the set during the busy filming schedule to talk to cast and crew and find out why this production is so important to the future of adventure movies in this country. My first call was to the star's caravan. Simon was busy preparing himself for a gruelling scene with a red dragon, but while the make-up artist flustered around him. he did have time to answer a few questions.
The star
LS: Simon, you've recently reached your 14th birthday, and although you are. as yet. unknown to the public, you are already being tipped for stardom. This is such a big step for you. Are you at all nervous about becoming a household name practically overnight?
SS: Not really. Have you got a Game Boy?
LS: Er... yes!
SS: Fancy a two-player game of Tetris then?
LS: Erin... yeah okay, in a bit. Perhaps you could tell me a little about your role in the film.
SS: Okay, I play this teenage kid who really wants to be able to do magic, because his uncle did some really mega tricks for him on his 14th birthday. I really am 14 you know, and the caterers let me drink shandy.
LS: Mmm Good. good. So. Erm. About this magic then...
SS: Oh yeah... Well, one day this dog comes and he's tired and hungry so we take him in and I like him a lot and one day he goes up to the attic and what 1 nearly forgot to tell you was that when he came he had a book with him and my Dad couldn't understand it and my mum couldn't either and dad puts it in the attic in a box but my dog finds it and I read a bit but I don't understand it and we both fall in a hole in the roof and oh yeah that got there because I accidentally said some magic spell and the hole takes us to a magic kingdom and I'm a wizard and I have to go around this world meeting all these strange characters and solving problems and then save another wizard... and er. that's it I think. What other carts have you got then?
LS: Hrm... I think I'll go and have a word with the director.
The director
The director and producer is Mike Woodroffe. His a name is well known to connoisseurs of adventure movies. He set up Adventure Soft back in the '70s because he felt there was a need for strong British productions to rival the big American ones. In fact he cut his teeth making British versions of the famous Scott Adams adventures from American company Adventure International.
His romance with adventures took a short break when he went on to create some action productions, most notably Gauntlet for us Gold. But he was to achieve most acclaim for his horror productions, created under the banner of Horror Soft: Elvira Mistress of the Dark, Elvira II: The Jaws of Cerberus, and the gore-ridden Waxworks. He wanted to produce Simon the Sorcerer because the success of The Secret of Monkey Island II had shown that there was definitely a market for comic adventures and no-one was yet exploiting it.
The writer
The script has been penned by director's son. Simon Woodroffe. He admits to being heavily influenced by that master of the footnote and inspired comic, Terry Pratchett. In case you've never heard of Mr. Pratchett (in which case, where have you been for the last five years?), it might help to understand that he is the author of one of the most successful series of comic books ever written, the Discworld novels, which now run into double figures, as well as one or two other equally brilliant works. Prachett does for fantasy what Douglas Adams does for science fiction and what Robert Rankin does for the occult.
Both Woodroffes were hoping that Pratchett would become involved with the project and that it might be more of an official tribute to his novels, but for the moment the comic meister has decided not to meddle in the affairs of the men who make graphic adventures. Even so. the production retains a strong Pratchettian leaning.
Consider for example the scene in which young Simon approaches four wizards playing Mah Jongg in a bar and tells them he is looking for wizards. After several minutes trying unsuccessfully to pass themselves off as local yokels, they admit to their true profession and ask Simon how he knew. To which he responds: 'When I move my mouse pointer over you, it says: "wizards".' At this moment in time hordes of Pratchett fans will be dashing to their bookshelves trying to remember where they have seen a parallel joke. (Hint: it involves Rincewind and a certain young Barbarian lady.)
Simon's script has plenty original humour too. and it is consistently funny throughout. They'll have Guybrush Threepwood laughing on the other side of his face yet.
The technical director
Moving swiftly on to the special effects department, we find the Technical Director and Co-Producer Alan Bridgman. Alan and Michael between them have been pretty bloody clever. Some years ago. fed up of being at the mercy of inefficient and unreliable programming teams, they decided to cut them out of the picture. They achieved this momentous feat by designing lheir own game creation system called AGOSII. This masterpiece is so clever that a child of three could create a game like Simon the Sorcerer in a day!
All right then, that's not quite true, but it does make the game creation process so much easier that the team can concentrate on the gameplay and the storyline without having to expend too much energy on all the technicalities.
The art department
The scenery has been created by the talented team of Paul Drummond. Kevin Preston. Maria Drummond, Jeff Wall, and Karen Pinchin, all of whom are based at a Manchester studio, rather than the central Birmingham one.
They are responsible for creating the tremendous backdrops and doing such superb make-up jobs on all the main characters, not to mention the state-of-the-art ammatromcs for the creatures. Whereas most adventure backgrounds are static, those in Simon the Sorcerer are endowed with even more atmosphere thanks to the clever addition of supplemental animations, especially in the forest scenes.
The animations are all handled using Autodesk Animator and its built in language poco, which is used to build the numerous graphic utilities that the team uses.
Where the artwork for Simon the Sorcerer gets really clever is that, unlike Lucasfilm. Adventure Soft doesn't paint background art by hand and then scan it in. This usually results in artwork which, although pretty, is usually less than crisp, and very memory hungry to boot. Adventure Soft's solution is to generate the artwork as a selection of clips (small jigsaw like sections), which are then pasted together to form the final image. Because clips can be used in more than one location, and because the colour information is stored separately from the clips and applied as and when it is needed. Adventure Soft's graphics not only take up a great deal less space, they look a lot more attractive too.
It's not doing anything new, but it's doing it bloody well... and why not
It has to be said that Adventure Soft's latest production looks a lot like recent Lucasfilm fares, but then why fight against a formula that's proved itself a winner?
It is encouraging that although Simon the Sorcerer borrows unashamedly from several sources, it is quintessentially British humour that shines through. You'll find pastiches on well known fairy tales like Rapunzel and The Billy Goats Gruff. and there's even a hopeless owl modelled on Patrick Moore.
Simon the Sorcerer is certainly going to be Adventure Soft's most impressive product to date, and it bodes well for future graphic adventures. There is hope that, if the game proves successful, there will be an opportunity to produce a cd version with actors speaking all the text. Let's hope it's a curtain raiser for many more.
Similar Games
Viewing games 1 to 6