The Dig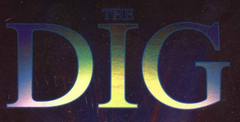 a game by
LucasArts
Platform:

PC

Editor Rating:

8

/

10

, based on

3

reviews,

4

reviews are shown
User Rating:

8.0

/

10

-

1

vote
Rate this game:
The Dig is an epic science-fiction adventure inspired by the mastermind of moviemaking, Steven Spielberg. If you've enjoyed the previous adventures from LucasArts, such as Full Throttle and Sam and Max, you'll feel right at home with this mysterious journey that will take you light-years away to a distant planet. The finishing touches are still being added to the title, but from what has been seen so far, this promises to be one of LucasArts' best titles yet. The game plays very much like their last adventure (Full Throttle), with the exception of the interface being pulled up by a transparent subscreen for use with items that you will collect throughout the game. I Besides the incredible story line, which is usually offered by LucasArts titles, The Dig goes one step further by including two other characters in the adventure.
This way, you can carry on conversations and ask advice from the other people in your party. With Industrial Light & Magic helping out on the special effects for the game, The Dig looks to be one of the best games this year.
Download The Dig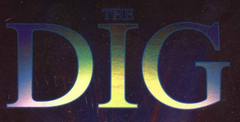 System requirements:
PC compatible
Operating systems: Windows 10/Windows 8/Windows 7/2000/Vista/WinXP
Game Reviews
This one-player adventure starts with you in the role of a space shuttle commander sent to realign the orbit of a wandering asteroid. After an accident with the asteroid, you and your crew - a reporter and a geologist - end up on an unknown planet strewn with the remains of an extinct civilization. Piecing together the story of that planet is your only way home.
Eerie, alien graphics support the intriguing story line, and the game's packed with digital audio dialogue. With creative contributions from Steven Spielberg and top sci-fi novelist Orson Scott Card, The Dig has all the right credentials to score big on the PC.
Steven Spielberg's behind this deep-space adventure about a team of explorers who are stranded on an alien planet. You must lead the team as they explore this strange new world and search for a way to escape. LucasArts and Industrial Light & Magic combined efforts to create unusual special effects for The Dig, and a stellar score rounds out the soundtrack.
The Lucas/Spielberg generation (i.e., everyone on the planet under the age of 30) is gonna be stoked with this latest piece of work from LucasArts, the same people who, in the last year alone, have given us Dark Forces, Full Throttle and Rebel Assault II.
The Dig--"based on a concept by Steven Spielberg", as the hype puts it--puts you in the not inconsiderable moonboots of NASA veteran Boston Low (a breathtakingly stupid name) who must land a team of geologists on a rogue asteroid that's been nuked to a standstill in space, thereby halting its passage towards Earth. Our boy Boston, in the company of geologist Ludger Brink (boy, these guys could kick ass at the Stupid-Name Olympics) and journo Maggie Robbins, then proceeds to examine the Asteroid and the three of them are cast into an adventure that takes them (and you) to the nethermost outskirts of the universe, to a hostile and desolate planet. Your task is to make sure that you and your companions can somehow get home safely.To do that, you're going to have to solve dozens upon dozens of puzzles and visit in excess of 200 locations and try to uncover the fate of the planets previous occupants, a highly advanced civilization that's simply disappeared.
The interface is simplicity itself: just point-and-click to talk, gather and just progress--and that's all there is to it.The graphics are stunning. With Industrial Light and Magic special effects and some impeccable light-sourcing, we're talking top-of-the-line stuff here.The character animation is excellent, with smooth movement and accomplished voice-acting. Plus the orchestrated score is what you'd expect from the folks who hired John Williams to do Star Wars--filled with atmosphere, but not enough to capsize the project.
If there's a problem here, it's that The Dig is too short. You'll probably be able to knock it off in a weekend or so. But, as with life itself, it's good while it lasts.