Indiana Jones and the Staff of Kings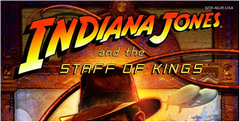 Click the "Install Game" button to initiate the free file download and get compact download launcher. Locate the executable file in your local folder and begin the launcher to install your desired game.
If you're a seasoned gamer, you probably have a well-established opinion about games based on or from movie franchises. That notion leads to the overwhelming expectation that games like Indiana Jones and the Staff of Kings will be nothing short of average. What makes things worse about our initial judgment is that the game experienced some development issues, piling on to our previous thoughts about the outcome.
But there's no doubt that Indiana Jones and the Staff of Kings come from a top-rated film franchise, even though our expectations are low. We still could get a good story out of it. Or, who knows, we'll see a good movie game for the first time in recent memory! Let's join up with one of our favorite adventurers and find out.
We Have Some Seas We Need to Part
Indiana Jones and the Staff of Kings creates an intriguing narrative premise. The storyline revolves around the Nazis searching for the Staff of Kings, the artifact Moses allegedly used to part the Red Sea in biblical days. The game's content will pull that search into a realm of adventure. Indiana Jones will travel worldwide to locate the staff and ensure the precious treasure doesn't fall into evil hands.
Players will do what you do in a standard action-adventure game. You'll take the role of Indy, defeating enemies with hand-to-hand and pistol-based combat and solving puzzles leading to the whereabouts of this mythical staff. Seems standard enough for an Indiana Jones adventure, but is it anything that would rank among the outstanding?
Your initial intuition about movie games is correct once again. Indiana Jones and the Staff of Kings is a very average game. For what it gets right in the intriguing narrative, graphics, and varied gameplay, it gets wrong in its implementation. The controls are clunky, any gameplay innovation falls flat, and the standard mechanics feel copy-pasted from a generic action-adventure game.
Solving elementary puzzles and combating repetition hardly contributes to a narrative that could be enhanced with urgent interactivity. Indiana Jones and the Staff of Kings isn't the edge-of-your-seat stuff you'd hope for in such a prominent adventure franchise. But did we expect it to be? We all knew the game wouldn't impress, but it could have been much worse.
Just Another Day, Indy
As previously mentioned, Indiana Jones and the Staff of Kings could have been worse. It's a win, as the title isn't a complete disaster, with the narrative being the game's saving grace. Thankfully, it doesn't share the same fate as Harry Potter and the Deathly Hallows: Part 2. Remember, Indy isn't breaking any ground here, either.
5
Is there any incentive to play the game? Almost definitely for fans of the Indiana Jones franchise, as you can see it from the perspective of another story for the books. If you're an action-adventure enthusiast, you'll get something mechanically average for a game you'd spend top dollar on. Best find another more immersive game to tickle your fancy.
Round-Up - Pros & Cons
Pros:
A good story worthy of the franchise
Decent visual design to bring the immersion factor
Varied gameplay keeps the narrative interesting
Cons:
Nothing exciting about the game's mechanics
Combat gets repetitive
The control schematic is frustrating
Download Indiana Jones and the Staff of Kings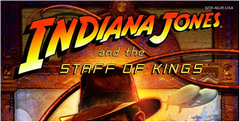 System requirements:
PC compatible
Operating systems: Windows 10/Windows 8/Windows 7/2000/Vista/WinXP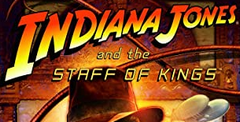 System requirements:
PC compatible
Operating systems: Windows 10/Windows 8/Windows 7/2000/Vista/WinXP
Game Reviews
So what if he's got a little snake phobia and a fighting style that relies more on derring-do than tae kwon do? Indiana Jones always got by with pluck and luck in his movie adventures, and it's a formula worth following in this next-gen brawler. You'll be using everything at your disposal to win the encounters, says Project Lead Chris Williams. Disarm an enemy with the whip, head-butt his companion, throw a bottle at the third guy coming through the door, and then roll a barrel toward him while turning to deliver a whirling punch before grabbing an enemy and throwing him into another. There's a frantic and desperate feel to every fight.
Playstation 2 Screenshots