Taz Express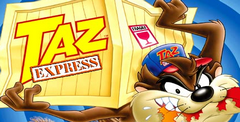 Click the "Install Game" button to initiate the free file download and get compact download launcher. Locate the executable file in your local folder and begin the launcher to install your desired game.
a game by
Zed Two Game Design Studio
Genre:
Action
Platform:
Nintendo 64
Editor Rating:

6

/

10

, based on

2

reviews
User Rating:

7.0

/

10

-

2

votes
Rate this game:
Not to be outdone by pals Bugs Bunny and Daffy Duck, the Tasmanian Devil now has his own game. Taz Express finds our ferocious furball working as a delivery boy for an overnight courier service, delivering Acme boxes to recipients all over the Looney Tunes universe. He's beset by weather, obstacles, and all the craziness of his Toon compadres, who make cameo appearances throughout the game. You can look for Taz Express whirling toward ya this fall.
Download Taz Express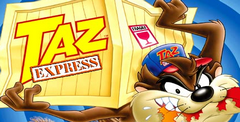 System requirements:
PC compatible
Operating systems: Windows 10/Windows 8/Windows 7/2000/Vista/WinXP
Game Reviews
The extremely nice people at Infogrames invited us down to take a look at two new games, and nothing could prepare us for what we saw. Upon arriving, a man was being carried out of the building giggling insanely, carrots tucked into the sleeves on his strait jacket. Something was definitely amiss. Venturing inside, a group of people were found huddled around an ACME TV, watching re-runs of old Warner Brothers cartoons. Glazed looks and eerie fixed smiles confirmed our worst fears - the company famous for their armadillo logo had jumped into bed with the Looney Tunes gang. Don't worry, the doctor told us that after extensive psychiatric help they'd all be back to normal. Let's face it though, who. wouldn't want to work on a game where watching cartoons all day could be considered research?
The first cartoon character to be given the computer game treatment is Taz, the —Tasmanian devil. Regular readers of 64 Magazine will know that Taz Express has been in the pipeline now for quite some time. Now we've finally played it, and it is a delight. The story goes like this: Taz has been told by Mrs Taz to take a job delivering a parcel and it's your job to get it to its destination safely. On your way you'll trawel through five worlds, from the Tasmanian bushland all the way to Mars and back.
Mars? Well, where else would you find Marvin the Martian? That's right; as Well as Taz, you get to meet up with loads other Warner characters who act as bosses, giving you a variety of challenges across the 30 themed levels. One of the most fun things about this game is the differences in styles of play – this can often spell disaster for a game, but here it works really well. As well as the susal puzzle-solving levels, you get bonus stages such as the fast side-on scrolling Wil E Coyote race.
All of the levels look gorgeous with crisp colourful graphics and virtually no fogging, thanks to the high camera angle. Developer Zed Two created its owm dynamic 3-D engine for this game and the beautifully textured scenery looks all the better for it. On most games the textures are stretched to the model they are pasted onto, but here the textures are all the right size, which gives a nice high resolution effect j without the need for the Expansion Pak. Another great thing about this game is that it has built in memory, so saved games won't be lost on a failing Controller Pak!
Big Haliy Beast
The sound effects in the game are spot on, which probably comes from an unhealthy amount of cartoon consumption. Taz is obviously vocally challenged, but there is no doubt that the thing you're controlling is the big hairy beast himself. Some speech has also been specially recorded, for this title for the other characters. It is really easy to believe that you're taking part in cartoon experience.
This being a cartoon, Taz can't physically die, so your lives in the game are represented by the box that you carry. Damage it too much or lose it and that will be the end of a life. The box can be put down while you kill baddies or solve puzzles, but thankfully there are safe points to protect the precious cargo. Drop the crate onto one of these tiles and a metal force field will erect around it, thus preventihg anyone from stealing or attacking it. This will give you the chance to go off and hit switches or whatever else needs to be done without having to worry about the crate.
On some levels you don't actually start out with the crate but have to find or rescue it. At the beginning of the Coyte chase level, for example, the crate is snatched from your hands and Wil E disappears off the screen. On another level in a city, you are enlarged by Marvin the Martian to the same height as the surrounding skyscrapers! In true Godzilla style you have to make your way around the city, trampling cars and climbing buildings to get the crate back on route.
Bite Me
The main bulk of the game, however, is spent in 3-D platform arenas trying to take the crate off the level in one piece. Of course, there wouldn't be any point to the game if you didn't find out what was in the crate, and at the end of the game you get one of three things. Depending on which door you choose at the end of the first level you get either, skates, a jetpack or some flippers. This is where the game opens up on replay value, because these call be used to explore new sections.
With Taz's acclaimed spin attack you can also open up yet more secret areas by smashing through walls and scenery. Virtually everything is destroyable and with the quick activation of the spin move you can plough through scenery like one of Stephen King's Langoliers. This being a Taz game, you can also feast on most of the objects in the game by throwing them into the bottomless pit that is Taz's stomach!
Dock Dodgers
The other Warner Bros game Infogrames had on show is based on the 1953 Chuck Jones Daffy creation, Duck Dodgers. Developed by Paradigm, the story this time focuses on Marvin the Martian's plan to destroy Earth. He's sent out his minions to collect up all the atoms needed to fuel a new gun and it's up to you to stop them, collect all the atoms and defeat Marvin.
There are five planets in total to play across, each of which is split into a series of rooms; because of this room structure you're pretty much guaranteed a fog-free environment, Like Taz, this has very cartoony graphics and in places is very detailed, not just with the graphics but with what you can do. On a city level, for example, you can play fetch with a dog in the Street, destroy fire hydrants and knok pichers off the wall. Shoot an egg person and they'll literally fry on the floor!
The Martians are coming
This game is primarily played from a third -person viewpoint, but if you want you will be to play through the game in first-person mode with your raygun out in front of you. Alas, this is not included yet for multiplayer, but' there is more than enough to keep one player happy. As well as all the usual lewls you get loads of sub games. Ever wanted to play basketball or boxing with Daffy? Well, now you can! One of the levels also turns you into a variety of C creatures, including a chicken, each with their own moves.
Duck Dodgers himself doesn't exactly have an extensive range of original moves, but one good feature about this game is the tiptoe. Like the rest of the game this is well animated, but it is the game's reactive music which makes it truly comical. Start tiptoeing and the music will change to the stereotypical cartoon creeping piano!
Nintendo 64/N64 Screenshots
Similar Games
Viewing games 1 to 3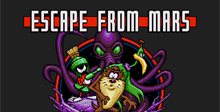 Escape From Mars Starring Taz
Taz in Escape from Mars puts you in the role of the Tasmanian Devil, the spinning, slobbering, but overall lovable cartoon character.