Tecmo Bowl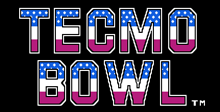 Click the "Install Game" button to initiate the file download and get compact download launcher. Locate the executable file in your local folder and begin the launcher to install your desired game.
a game by
Tecmo
Genre:
Sports
Platforms:
NES,

GameBoy

Editor Rating:

6.9

/

10

, based on

7

reviews
User Rating:

7.0

/

10

-

2

votes
Rate this game:
See also:
Monsters Games, Tecmo Games
This number one sports game easily beat out Punchout! Blades of Steel, and Double Dribble without even breaking a sweat! So, for those of you who still don't know about the hottest gridiron action around, strap on your helmet and tighten your cleats, 'cuz it's CRUNCHTIME!!
Popular Poppa
Tecmo Bowl is a faithful adaptation of the monster four-man arcade hit of the same name. It retains all the fast action, fun graphics, and excellent playability of the arcade version, but adds a couple of unique features that separate it from its predecessor.
Tecmo Bowl for the NES features three different play modes: One Player, Two Player, and Coach Mode. In the Coach Mode you're the big kahuna of your team as you call the plays and watch the computer battle it out against your opponent. You can focus all your attention on a surefire winning strategy, and if the play lays an egg on the field you can always blame your players!
This game is endorsed by the NFL Players Association so you get to play with the actual squads of your favorite NFL teams! Become Jerry Rice and catch a game-winning long bomb, or slip into Lawrence Taylor's shoes and go for the blitz! The players onscreen actually perform as well as their real-life counterparts. For example, Indianapolis' Albert Bentley doesn't cut against the green as well as Los Angeles' Bo Jackson. Having the actual NFL players' names and talents at your fingertips adds a touch of realism that you just can't get from other NES football games!
It's Not Regulation, But It's Close...
Tecmo Bowl has several characteristics that separate it from professional football. You'll immediately notice that time is extremely limited in this game. Quarters are only FIVE minutes long and you have NO time outs. In fact, the game clock ticks down at such a haphazard rate that it's essential to keep an eye on it. Don't worry about balancing your running and passing plays -- always go for the score!
ProTip: Take your time when you're on offense. The ball clock doesn't start running until after you hike the ball. Study the defense formation at your leisure and locate your receivers.
On Either Side of the Ball
Tecmo Bowl's only drawback is the lack of play options. There are only four offensive and defensive plays to select from. The patterns differ among the teams, but basically you can run left or right, and pass short or long. The most you can do to vary your play options is to run in the reverse direction, or option for a quarterback draw when the defense is wide open.
On offense, you'll need quick reflexes as you drop back into the pocket and select the open receiver. As soon as your QB releases the ball you become the chosen receiver and must maneuver into the path of the ball and fight for maximum yardage! Both the receivers and running backs have the ability to straight-arm oncoming tacklers and knock them aside for extra yardage.
Immediately drop the quarterback back In order to have enough time to search out the open receiver.
Repeatedly press Sutton A to straight-arm oncoming tacklers before making contact.
Select any one of the 11 defensive players to control before the offense hikes the ball. Unfortunately, you're stuck with your selected player throughout that play. Learn to recognize pass and run formations as best as you can or you'll eat dirt far away from the action! On defense, you're also able to stiff arm and throw aside opposing blockers. A well timed diving tackle enables you to take down any player, regardless of how big or how fast he's running.
If you want to make it to the Tecmo Bowl Championships it's essential that you have a great kicking game. A pulsating power meter controls how far you kick the football. Try to time your kick so that you nail a bomber each and every time.
Time it out when you kick off. Its best to press the button just as the meter passes the halfway mark.
A Video Hit!
Tecmo Bowl features large, clear characters that make it is easy to discern all the players on the field. The controls are very easy to learn and game-play is extremely responsive. A catchy theme song and attractive graphics during the half time show as well as close-ups of after-touchdown high fives add to the appeal of this video hit. A password feature enables you to put the game aside and continue your winning season whenever you like.
If you're ailing for fast-paced, arcade football action, Tecmo Bowl may be the perfect prescription for you! Although newer football games may have more features and better graphics, the appeal of Tecmo Bowl remains true.
Download Tecmo Bowl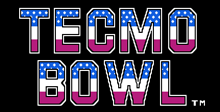 System requirements:
PC compatible
Operating systems: Windows 10/Windows 8/Windows 7/2000/Vista/WinXP
P-200, 32 MB RAM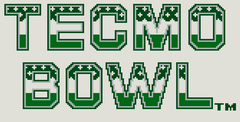 System requirements:
PC compatible
Operating systems: Windows 10/Windows 8/Windows 7/2000/Vista/WinXP
Game Reviews
Another sports game on Gameboy! Take your video link and a friend and play Tecmo Bowl on Gameboy! Same game play as the Nintendo version, and the same graphics and music are utilized. Pick from all the plays that you used in the Nintendo version. Also has a one player option for when your friends aren't home. Take on the usual pick of teams that challenged you the first time around.
People say:
8
Tecmo Bowl, another great game on the NES, has been translated nearly perfectly to the GameBoy. From the ability to use your NES codes to a great look and play mechanic, Tecmo Bowl is one of the best sports games I've played for the handheld Nintendo system. File it under hit!
8
Another great game from Tecmo! Tecmo Bowl is a fantastic translation of football from the programmers of one of the best sports simulations ever. Tecmo Bowl features the great looks, easy game interaction and the same codes as its 8-Bit brother to produce a superior hand-held cart!
6
For some reason, football on the GameBoy just doesn't sound right. This cart is good, but nowhere near the NES version. The fact that you can use all of your old codes from the NES version really adds to this cart, but despite some nice play, the remains too slow for me.
4
Tecmo Bowl never impressed me on the NES, and with the low-tech afforded by the GB the title appears even worse! Tecmo Bowl was just slightly above average as an NES title, but on the Gameboy, Tecmo Bowl falls way short of scoring the same big points.
Based on the famous arcade and NES games. Now you can take the super action of Tecmo Bowl with you, anywhere!
Whether you're playing against the computer, or a friend with the "Game Link" cable, Tecmo Bowl gives you the same award winning football action as the NES version.
Features:
1 or 2 Players
12 Pro teams
Run plays/Pass plays
Coach mode (You call the plays)
Password continuation
Real team players
11 Week season
Cinema screens
Password compatible with the Nes Tecmo Bowl
An excellent translation of the NES hit! Great game play and fast action give you football on the go! Also uses the same passwords as on the NES version.
Theme: Sports
Difficulty: Average
Players: 1 or 2
Available: Autumn 1991
At a Flip of The Coin
Heads or tails? Heads, visiting teams wins! Lets go you guys, you can win. Throw on your helmet and get ready to play a good game of hard hitting football. 43, 24, hut, hut, hike! 15 yard reception for Jerry Rice. In Tecmo Bowl for GameBoy you have a choice of twelve NFL teams. You can play real teams with real players like Joe Montana, William Perry, and Bo Jackson. You can pick from four different plays, which all are different for each team. A halftime show is presented by the cheerleaders, and a newspaper clipping tells you if you win or lose. A password lets you continue your season after you've played a few games and lets you continue on either the NES or GameBoy version! So put your gear on and be prepared for a hard hitting game of football!
NES Tecmo Bowl fans are sure to experience deja vu when they kick off with Game Boy Tecmo Bowl. This game is exactly like its NES predecessor!
A Blast from the Past!
Tecmo Bowl for the NES has been one of the most popular sports games around. The Game Boy version is an exact duplicate featuring the same 12 teams playing a 12-week schedule, the same offensive and defensive plays, and the distinct Tecmo Bowl soundtrack.
ProTip: NES Tecmo Bowl passwords work! Enter 9C7FBFA5 to play San Francisco against Washington in the Tecmo Bowl!
Tecmo Bowl is endorsed by the National Football League Players Association and features actual NFL players. However, the player data is old. For example, Herschel Walker still plays for Dallas, while Tommy Kramer is still QB at Minnesota!
Gimme the Ball!
Each team has four plays on offense and defense, usually featuring two passes and two runs. On offense, you control whoever has the ball -- the quarterback and then the running back or a wide receiver. On defense, you can select any player prior to the snap, and then you can automatically switch to the player closest to the ball once the play is in motion.
On defense, immediately press B when the ball is hiked to control the player closest to the ball. Keep pressing B on pass plays so you can shadow the designated receiver.
You control your kicker on kickoff, so immediately bring him down the field to cover the return.
The graphics are monochrome versions of those from the NES version, which is good and bad. You get nice extras such as the end zone celebrations and the half time show. However, with 22 players bouncing around, it's often difficult to keep track of your players, especially when you pass.
A Football Fix
Tecmo Bowl isn't an extremely challenging game. It's intended more for people who want to play an "arcade" football game without sideline strategizing. But if you want a rock 'em sock 'em gridiron gut buster to go, Tecmo Bowl scores!
Grab your shoulder pads. You're going to need all of the protection you can get once you step onto the Tecmo Bowl field for bone-crunching gridiron action as player, coach, and spectator rolled into one.
In Tecmo Bowl you square off against a league of computer teams. Your goal is a winning season and the chance to play in the Tecmo Bowl. The game also lets you go head-to-head against a friend with the team of your choice, or just sit on the sidelines and call the shots as coach. Since the game is licensed by the National Football League, you get 12 different teams, each representing a real NFL city, with actual player rosters. A team that has a strong passing game or a great defense in real life has similar skills in Tecmo Bowl. Once your team leaves the locker room and jogs out onto the field you'll call all of the shots...plus do all of the hard work! From the opening kickoff to the final gun you're the coach...as well as the quarterback, the linebacker, the center, and the rest of the squad. Tecmo Bowl also has crowd noises and voice effects. When you check out some of the newer football titles, you'll see better graphics, but strategy wise Tecmo Bowl is always going to be a classic.
NES/Famicom/Dendy Screenshots