The Civil War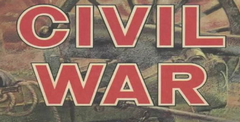 Click the "Install Game" button to initiate the free file download and get compact download launcher. Locate the executable file in your local folder and begin the launcher to install your desired game.
a game by
Dagger Interactive Technologies, Ltd.
Platform:
PC
Editor Rating:

7

/

10

, based on

1

review
User Rating:

8.7

/

10

-

3

votes
Rate this game:
See also:
Download Strategy Games
Along, long time ago (was it only two years?) MicroProse released a ground-breaking wargame sim called Fields of Glory. This was a wargame sim rather than a war sim in that it didn't really simulate war. it simulated a wargame, complete with a virtual tabletop and animated miniatures. Now the same programming team has completed the follow-up. a similar game based on the American Civil War. And for what it's worth, it's now being marketed by Empire.
The Civil War might have the same engine as Helds of Glory underneath the bonnet but it also has plenty of extras. There's now a campaign game as well as four historical battles of varying sizes, and the ordering system has been completely redesigned from the bottom up. The user interface is a totally different beast and the battlefield can now be zoomed and scrolled much more effectively. All in all. it looks a lot more impressive. And it feels a lot more impressive too.
For your money you get a cd-rom with different installation options depending on how much of your hard drive you can afford to give up. Whatever you decide, you still need to keep the cd-rom in your drive while you play, which is such a pain in the arse I can't even begin to express my feelings about it. In fact, I even had to see a my therapist about it. but I know you're not really interested. You don't care about me at all. You just want to know about the game, you smug, unfeeling bastards.
Anyway, there's a good looking 50-page manual that struggles bravely to guide you through the game, but it jumps around just that bit too much. More impressive is an excellent background book full of snippets of information and some excellent line drawings - well worth a read.
Hardware is a big headache these days. The game is supposed to run on a moderately fast 386 with four megs, but eight megs is recommended and you'll spend a lot of time waiting lor the battlefield to render when you scroll or switch magnification levels. On a fast 486 or a Pentium, though, it runs at a cracking pace.
Culture shock
As I'm writing for an intellectual magazine there should be little need to explain what the American Civil War was. You can choose sides, naturally enough, and opt for one of the four ready-made battle scenarios that range from bloody affairs like Shiloh to unheard of skirmishes which are useful for getting started.
The good news is that you can configure the game to your heart's content. There are nine factors that can be set to one of five levels: resources, supply, unit types, facilities, command and control, fatigue, terrain effects, morale and victory conditions. At the basic level your men respond instantly to orders and will do anything, no matter how suicidal. At the most complicated level, you've got time lag for orders, ammo supply problems, knackered troops and all kinds of problems that will leave you tearing your hair out. Still, war is hell, as Sheridan said. At least I think he said it. You can also have all kinds of troop types from militia and sharpshooters to mounted infantry and rifled field guns, or simply choose infantry, cavalry and artillery, depending on your inclination. Orders are given by clicking on the unit flag and selecting an option from the icons on the right, which range from attack to advance - cautious or otherwise - defend, hold, withdraw and run away. A good strategic option that last one. You can get a quick look at the unit's make-up by clicking the right button too. There are also two levels of magnification in the campaign game and five for the battlefield, so you can watch fights close up or get just the right overall view. This was one of Field of Glory's worst omissions and it's well sorted out in The Civil War.
Compared with Fields of Glory, the figures are much less detailed and look a lot less like toy soldiers. But the landscape is more detailed and varied, with plenty of trees, hills, buildings, roads and rivers. The combat system makes good use of the terrain features too, so you can gain a lot by studying the lie of the land.
The campaign element is much of a muchness. It's nice to have but it's not that much fun. Inevitably it's the battles that provide the entertainment, and this they do in style. You've got a real-time, visually appealing wargame with a high level of artificial intelligence, and gazillions of configuration options.
What more could you want? A hex or two perhaps? Naah - they're for anoraks. This is the real thing. Mount up, boys.
Hooves and helmets v hexes
The first PC wargames were dull affairs by anyone's standards. Even mine, and I've got 'em all. Everything was hexes and counters, combat odds and tables - everything but the dice, in fact. The first move away from this simulated boardgame style was the Turcan Battlescape series like Borodino and Gettysburg, where units were represented by three dimensional blocks on a simple green landscape.
Then came the first attempts at animated units moving on realistic terrain. Games like Rorke's Drift and The Charge of the Light Brigade - both from Impressions, funnily enough - brought more laughter than recruits to the wargaming hobby with dreadful, animated figures and a slow, cumbersome control system. Just remembering them makes me cringe.
In the last couple of years things have improved on both sides of the wargames table. Now we've got good, complex, hex-based games like Panzer General and the V for Victory series and miniature-style games like Fields of Glory and Impressions' much improved The Blue and the Gray. It's no wonder I'm always late with my copy...
Download The Civil War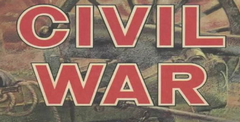 System requirements:
PC compatible
Operating systems: Windows 10/Windows 8/Windows 7/2000/Vista/WinXP
Similar Games
Viewing games 1 to 9