V for Victory: Victory Pak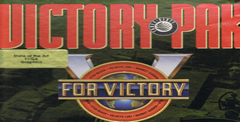 a game by
Three-Sixty Pacific
Platform:

PC

User Rating:

8.0

/

10

-

1

vote
Rate this game:
See also:
Strategy
Any seasoned vvw2 wargamer will know what Gold. Juno and Sword are. They're the codenames for the beaches in Normandy where the British and Canadian troops landed on D-Day. 6th June 1944. They're also the subject of the fourth game in the excellent V For Victory series from Three-Sixty Pacific. While there are only a few minor improvements in the interface and game system, the Normandy scenario is completely different in flavour to the earlier ones, with the possible exception of the first game, Utah Beach, which dealt with the us invasion beaches.
The game starts on D+1, the day after the initial landings. The amphibious invasion itself was a set piece action with little room for manoeuvre. On d+1 the whole of France stretches before you - if you can squeeze your massed armour and infantry past the eight German Panzer divisions and the other assorted units waiting just behind Hitler's Atlantic Wall.
The game comes on a single disk with a quick-start manual and thicker 130 page reference manual, both to a high standard. Troubleshooting is well covered in a small technical supplement dealing mainly with memory problems (VFor Victory can be awkward to set up). There is also a superb full-colour wall chart detailing the movement costs for each unit, terrain effects and a glossary of unit symbols underneath a large map of the entire playing area. Seven scenarios are provided as well as the campaign game and there are several features designed to add interest; e.g. hidden German units. The game simulates the 'traditional' hex style wargame. There are close up and overall views of the battlefield and each unit has dozens of operational choices from probes to all-out attack or digging in. It's the kind of flexibility that would be next to impossible in a board game. Clearly, with the sea behind you your backside is against the wall, so to speak, and the options are slightly less than in the Velikye Luki or Arnhem scenarios in terms of flanking and encircling movements.
While this is totally realistic it doesn't make for thrills and spills. In fact the realism can be an obstacle to enjoyment. Normandy was a vicious slugging match fought mainly on a tactical level between small units fighting at close quarters in hedgerows and sunken lanes. The only strategy you are faced with as commander of the Allied forces is to batter a way through the German line although several of the scenarios are a little more entertaining, with a little more flexibility.
Gold Juno Sword is undoubtedly an excellent wargame released with sound strategic sense - the 50th anniversary of D-Day is only months away -but it doesn't quite have the appeal of earlier games in the series.
Download V for Victory: Victory Pak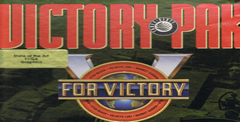 System requirements:
PC compatible
Operating systems: Windows 10/Windows 8/Windows 7/2000/Vista/WinXP
Similar Games
Viewing games 1 to 9