Ultim@te Race Pro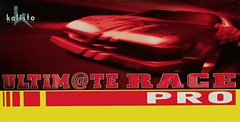 Click the "Install Game" button to initiate the free file download and get compact download launcher. Locate the executable file in your local folder and begin the launcher to install your desired game.
The PC isn't in desperate need for more racing games, but MicroProse's new road burner looks like it's going to be a serious contender. Developed by Kalisto (Nightmare Creatures,Dark Earth), it's clear that Ultimate Race Pro has been built from the ground up with 3D acceleration in mind. Visual effects include smoking skid marks, lens flares, fancy shading, and detailed textures--thin San Francisco Rush on your PC. It's no slouch on gameplay, either--16 players can battle it out over the Internet on 16 tracks, including a destruction derby arena. This could be one to get revved up about.
Download Ultim@te Race Pro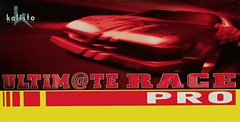 System requirements:
PC compatible
Operating systems: Windows 10/Windows 8/Windows 7/2000/Vista/WinXP
Game Reviews
Overview
I rev up my engine in anticipation of the upcoming race. There is a storm warning in effect, but I won't let it slow me down. The light flashes green and we all peel out. I would see the transparent smoke of the other drivers if it weren't so late at night. Headlights flash on all around me as I take the first turn and race down the straightaway toward the hairpin ahead.
I'm in the lead now, straining against the edge of my headlights in anticipation of the sharp right up ahead. Here it comes. CRASH! Oops, it was a left. I'm rammed up against the fence as my competition squeals around the curve behind me. I can catch them, no sweat, I'll just ... DAMN!!! Some fool didn't install a reverse gear in this thing, I'm stuck.
ESC, Restart.
Hooray, another arcade racer.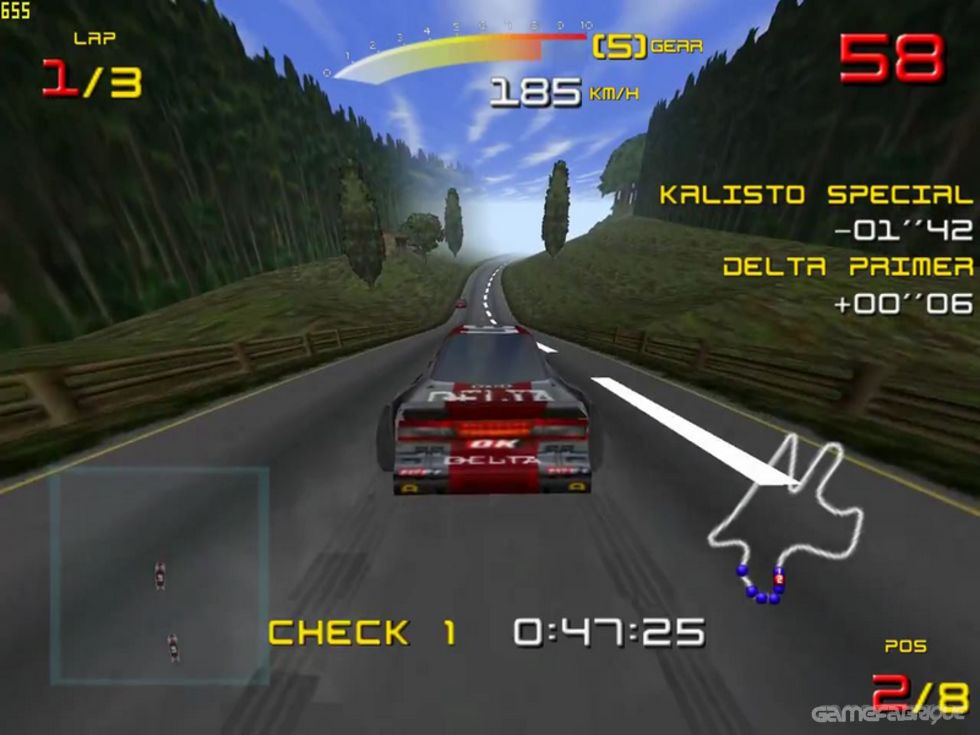 Gameplay, Controls, Interface
One nice feature of the game is the race modes. You can not only race in the bright sun, but in the dark of night, during a rain storm (which gets progressively worse as the race continues), or for the truly maniacal, during a massive lightning storm in the dead of night. They are all pretty fun and produce a gasp or two the first couple of times through the track. After that it loses its charm.
The annoying problem of no reverse comes up constantly because you tend to get stuck on the fence a lot. It is very, very irritating. I'm sure they'll fix it in a patch sooner or later, but I don't believe in reviewing a patch.
This is my chief complaint about the game; it has no real charm. It brings nothing original to the table. I don't play a lot of racing games but within two days I began to feel like this game didn't have anything that I hadn't played before.
Graphics
This game has very nice graphics, with direct 3D or PowerVR or 3Dfx cards. The smoke is great. The storms are awesome. The headlights could be better and all car models are exactly the same with different paint jobs so there is no satisfaction in choosing cooler looking cars. The fastest car on the track has Kalisto's name painted on it. Ha ha, great gag.
Audio
The sound in the game is sufficient. You hear your competition coming, tunnels echo slightly, and the opening music is kind of fun. I can't say anything really great nor really bad about the sound; it is simply competent sound.
System Requirements
Pentium 133 MHz compatible or faster, Windows 95 and DirectX 5.0, 16 MB RAM, High Color graphics for 800x600x16-bit color display, 2X CD-ROM drive, 20 MB free hard drive space, DirectX compatible sound card. Much improved graphics with 3Dfx, PowerVR or general Direct 3D Card; also supports steering wheel and force-feedback joysticks.
Oh, and if you get it, make sure your machine can handle an @ symbol in the path. Alternatively, you could change the installation path from "Ultim@te Race Pro" to "Ultimate Race Pro." Some people have had trouble with it. I can't believe Kalisto put the @ symbol in a path.
Bottom Line
If someone gives you a copy of Ultim@te Race Pro, enjoy it. There is nothing here in this game that you can't find elsewhere, so spend your money on something a little more fresh.
See Also
Viewing games 1 to 29