Penny Racers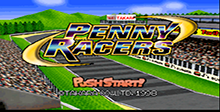 a game by
Locomotive
Genre:
Racing
Platform:
Nintendo 64
Editor Rating:

6

/

10

, based on

2

reviews
Rate this game:
See also:
Racing Games
Yet another racer enters the N64 fold - will it be worth half a sixpence or a million dollars?
Boasting tons of cars and upgrades, Penny Racers promised to be Mario Kart with knobs on. The game consists of a set of races that can be attempted in any order, with the promise of extra tracks and features once first place has been achieved.
To begin with, the player gets to choose from a selection of cars with which to start the race. Once a vehicle has been chosen, the settings screen allows the alteration of car body, engine, tyres, weapons and so on. Depending on which class, from A to C, has been selected, a certain amount of points are given to each driver to customise their car. These can only be used to fit parts the player has in their collection.
On completing a race, the three highest placed cars are given the opportunity to rob bits from the losers. By tactically choosing which bits to take, a player can knacker his opponent's car, while enhancing their own.
This sounds good in practice, but can often lead to severe frustration. The computer-controlled cars start with vastly superior weaponry and can easily hammer your vehicle into the ground, and then rub it in by stealing any decent add-ons you do have. This necessitates playing the same track repeatedly to build up your car to a race-winning standard. I'd Buy That For A Dollar!
The tracks in Penny Racers are pretty ordinary. They mainly consist of a normal racing circuit with a few quirks and shortcuts thrown in for good measure. Unfortunately these token elements fail to grab the attention and instead give the impression of being installed at the last minute to counteract the blandness of the tracks. In addition to this, on some of the wilderness tracks such as the Arctic and Volcano, the lack of detail often makes it difficult to work out the correct route to take - in places the Arctic course looks like you've been caught in a total whiteout!
Gameplay is a bit of a hit or miss affair. The superior computer cars can easily outpace your initial vehicle and every trick in the book is required to keep up with them. A few turbo arrows have been placed in obscure places on each track to help you win, but even a massive lead can come to nought if you're struck by a projectile.
That time-honoured racing favourite, 'instant last place' syndrome, has been graciously included. Guaranteed, if you pull off two flawless laps, a CPU car will whack you and every car in the world will drive straight by as you hopelessly try to recover. Add to this the omission of a jump button, in favour of a comedy French horn, and obstacle avoidance can be put down to an act of God rather than player skill. If this wasn't bad enough, some of the weapons have a ridiculous blast radius, which often takes you out when you aren't even the target of an attack.
Cash Attack
The most engrossing part of the game is the multiplayer mode. Even with four players the game maintains a high speed and good resolution. Cars can be created and saved to a Controller Pak in the single player mode, then be taken round to a mate's house to do battle with his racer. The victor then gets to steal parts from the loser, setting the scene for a few grudge matches.
There is also a map design function included with the game. Both stage races and circuits can be constructed and saved to a Controller Pak. These can be used to challenge all-comers in the multiplayer mode.
Despite this one redeeming feature, the overall game doesn't manage to raise itself above the bland gameplay and functional graphics (the cars are a testament to the art of cubism). It could have been better, it should have been better, but in the end lack of imagination has let this title down badly. If you are a fan of this sort of game you may well derive some amusement from it, but as it stands, you would be better of buying Mario Kart.
Game Reviews
Look Out
In our review we said that the game might prove to be more playable with the car customisations screens in a language we could understand, but unfortunately the sluggish handling remains, no matter how much you enhance your vehicle. And as it still holds the world record for slowness in an N64 racing game, it doesn't set the heart pumping even when, after about half a lap, the cars finally reach top speed.
In the short time since Choro Q was released multiplayer combat. Penny Racers looks decidedly dated and underpowered compared to this tough opposition. We're just warning you in case it slithers into a game store near you before next month.
Nintendo 64/N64 Screenshots
Similar Games
Viewing games 1 to 32