Demolition Racer: No Exit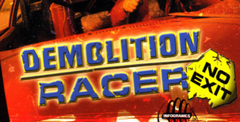 Click the "Install Game" button to initiate the free file download and get compact download launcher. Locate the executable file in your local folder and begin the launcher to install your desired game.
Overview
Causing havoc, mayhem, and destruction is what Demolition Racer: No Exit is all about. Take to the track and race against 15 opponents bent on taking you out of the race, literally. Battle it out in intense "last man standing" demolition derby bowl matches. Go head-on against your opponents in a giant game of chicken. Maniac speeds, crippling collisions, major air, and "Death From Above" kills are the order of business in this latest piece of racing mayhem.
Gameplay, Controls, Interface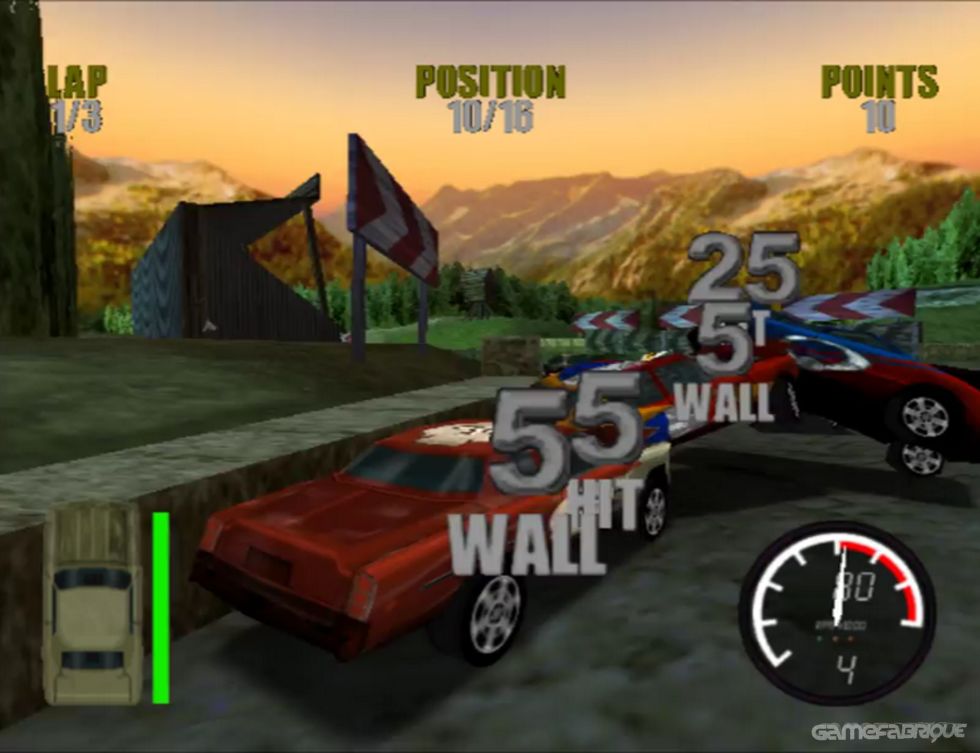 When Infogrames released the PC version of Demolition Racer about a year ago it was a big disappointment. Sub-par graphics, flaky controls, and uninspiring audio made it one of the less stellar releases in the racing genre. It's always nice to see a game redone correctly and in the new release of Demolition Racer for the Dreamcast gaming system, Infogrames has certainly done things right. With updated graphics that take advantage of the power of the Dreamcast system, new tracks and cars, and an updated soundtrack with re-mixes by Fear Factory, Empirion, and Coffee Boys, Demolition Racer: No Exit will blow you away. There are two main types of tracks in Demolition Racer: circuits and open demolition derby style arenas. Both types offer several variations -- try your hand at classic derby in the arena, all-out destruction on a circuit track, or go for a game of Chicken or Suicide. Each race offers a different challenge and beating every race unlocks new cars, modes, or tracks.
The best mode by far is the Demolition circuit tracks. This is no-holds-barred racing where anything goes -- the winner in this race is not the fastest, but rather the one who can dish out the most damage to his opponents and still cross the line. Every time you smash into an opponent you earn points and if you manage to destroy their car you'll get extra bonuses. Once everyone crosses the line the points get multiplied by a bonus that varies based on your finishing position and the car with the highest overall total wins. In early races I found it easy to bash my way into a high point total in the first lap or two, then take off to cruise unmolested in the lead to take the first place multiplier and win, but in later levels winning becomes more a matter of luck than skill -- I beat the levels much more often by getting a high bonus kill or two early in the race from chance hits than through any design on my part.
Graphics
Demolition Racer takes advantage of the Dreamcast's power to provide lots of eye candy. Cars crumple and fall to pieces, smoke pours out of the engines, and the track scenery and backgrounds are varied and detailed. The gameplay is smooth and seamless -- I never noticed any slowdowns in framerate as I careened around at top speed.
Audio
The effects are very well done, from the screech and crump as cars crash together and grind along walls and guardrails to the groans of the high powered engines everything blends together seamlessly. Add to that some truly pulse-pounding music tracks and you've got a combination that works very well.
Bottom Line
If you've got a Dreamcast, go get Demolition Racer -- you won't regret it for a minute. This game appeals to just about everyone. We had it up and running with our whole family; everyone from my six year old niece to my parents had a blast playing. Mind you they all enjoyed it for different reasons -- my dad apparently decided that rather than winning the races, the goal of the game was to see how high he could get the car to flip in the air while my niece thought it was lots of fun blow herself up as fast as possible. Whether you agree with their play styles or go after winning the races as the designers intended, you'll find something to enjoy.
Download Demolition Racer: No Exit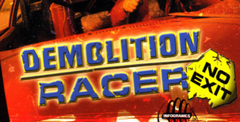 System requirements:
PC compatible
Operating systems: Windows 10/Windows 8/Windows 7/2000/Vista/WinXP
Similar Games
Viewing games 1 to 28