The Untouchables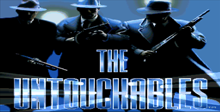 Click the "Install Game" button to initiate the free file download and get compact download launcher. Locate the executable file in your local folder and begin the launcher to install your desired game.
It's the roaring 20's and the mob is threatening to take over the city. You are Eliott Ness and it is your job to clean up the streets and alleys of Chicago one block at a time. As you proceed through the 6 levels of the game you must gather evidence, destroy the illegal caches of bootleg liquor and eliminate the gangsters before they get you. Pick up extra ammo for your tommy gun or get shells for your shotgun as you proceed down the dark and dreary side streets. Make it through the round and go after the gang lord who is hiding behind an innocent bystander. Succeed in clearing the round and go on to the next; but if you get shot you get to see your own obituary as the headline of the newspaper. The Untouchables is made by Ocean, a well respected English software company and their experience shows in this their first Nintendo cartridge.
Download The Untouchables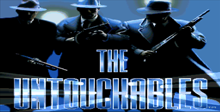 System requirements:
PC compatible
Operating systems: Windows 10/Windows 8/Windows 7/2000/Vista/WinXP
Pentium II (or equivalent) 266MHz (500MHz recommended), RAM: 64MB (128MB recommended), DirectX v8.0a or later must be installed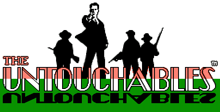 System requirements:
PC compatible
Operating systems: Windows 10/Windows 8/Windows 7/2000/Vista/WinXP
P-200, 32 MB RAM
Game Reviews
Manufacturer: Ocean Software
Version: Amiga, Atari ST, Commodore 64, IBM PC
In The Untouchables you play the famed lawman Elliot Ness in a fight to the death with the forces of Al Capone. The multisectioned shoot-'em-up requires a steady hand and dead-eye aim to keep the criminals from taking over Chicago.
Graphics and animation are more than acceptable, and the scenarios are certainly interesting. Unfortunately, actual play is so incredibly tough that only the best of gamers will enjoy it.
The top two-thirds of the divided screen shows current action, and the lower shows the weapon in use, amount of ammunition, player's energy level and time remaining. Each gamer has a single life that is measured by the amount of energy he or she retains. Energy drops with each bullet that makes contact, but in some sections, extra energy, time and ammunition can be gained from icons dropped by vanquished enemies. When the energy level reaches zero, the game ends.
There are six levels, in The Untouchables. The first presents a side view of Elliot Ness as he moves through a warehouse filled with stacked boxes. Ness is pursued by Capone's guards and must shoot them with his machine gun before they do the same to him. The object is to follow the blinking arrow to locate Capone's heavily armed accountants (yes, accountants!), gun them down and confiscate the evidence they drop.
Level 2 takes place at a bridge. Ness must not only gun down Capone's henchmen, but also any bottles that randomly appear on the bridge. Next, the player, armed only with a double-barreled shotgun, faces ambushes in the alleys of Chicago. If Ness' energy runs low, the gamer can switch to another character while Ness recharges. This part of the game is reminiscent of Hogan's Alley. Discrimination is required, since stupid- but-innocent bystanders hang out the windows to see what's going on.
Level 4 involves a baby carriage to be guided down the concourse of the train station while avoiding enemy fire and shooting bad guys. The train station is chock-full of bystanders (don't these people ever learn how to duck?), so the task is even more difficult. Level 5 is a sudden-death scenario. A gangster with a hostage must be downed with a single shot - miss and the game is over. Finally, Level 6 is a rooftop shoot-out with Capone's head hit man.
Each of the levels sports good graphics and a different play action, making the game very interesting. The one big flaw is that the game is extremely difficult. Few players will complete even the warehouse scene, much less progress far enough to see the upper levels. European games are often difficult - that's the way the top guns over there like 'em. But The Untouchables is the toughest I've come across in a long time, so much so that the game ceased to be fun after a while.
Travel back in time to the days of prohibition and gang warfare. You are Eliot Ness, the one man who can end Al Capone's reign of terror by putting him in prison. You are an Untouchable, armed with your shotgun and steel nerves.
Ocean has put together a decent game that recreates the Chicago of yesteryear. Each level has something different, from a first-person shooter, to an above view action level through a courthouse.
If you want to put Capone behind bars, you'd better be good. The Untouchables game is a great way to relieve stress.
Love that ugly mug of William Forsythe when you lose the game! This title would have been better if it were Super Scope compatible, for it is a bit difficult to use the pad during the shooting sequences.
General Luigi Don Gwano plans to enslave the Free World by seizing all of the Middle East's oil fields. In Ultimate Air Combat by Activision you fly to dump Gwano.
Gwano-a-Mano
This single player flight simulator uses sharp graphics, intense challenge, and great gameplay to keep you on the edge of your seat. You pilot three jet aircraft: an F14 Tomcat, an AV-8 Harrier, and an F18 Hornet through seven difficult levels to Gwano's hidden base.
On the way to your targets you fly via a forward-looking, first-person view out the cockpit. Use your radar screen and the Heads-Up Display in a dizzying dogfight. At the target site, the perspective switches to an impressive-looking 3/4 overhead view as you dump your bombs and outfly enemy aircraft.
In each level you must fly four different missions, which involve demolishing communication centers, hidden labs, submarines, and even mobile Scud launchers. Gwano's forces toss a ton of high-tech hardware at you: rocketships, helicopters, interceptors, missile launchers, and anti-aircraft weapons. Complete a mission and you can upgrade your aircraft; if you're dusted you lose a jet.
ProTips:
Drop chaffs to decoy enemy missiles or shoot them with your cannon before they reach you.
Grabbing Bonus Balloons, which appear after you hit a target, enhances weapons y or aircraft repairs later.
Modifying your jets makes them all lethal machines. U.A.C. puts a wealth of weapons at your com and. You can arm your aircraft with 14 weapons, which range from cannon with unlimited ammo, Sidewinders, and Sparrow Missiles for air-to-air combat to an Air-to-Ground Laser, Rockeye TV-guided bombs, and Harpoon Ground Missiles for land-based targets. Your payload is limited so choose wisely.
For Scud Studs
This intense and fun combat game will push your video flying skills to be max. Ultimate Air Combat? They aren't kidding.
The Untouchables is a side-scrolling video game that was released in 1991 by Ocean for both the Nintendo Entertainment System and Super NES game consoles. The game is based on the movie of the same name starring Kevin Costner. It lets you play out some of the most interesting and significant parts. It is set in Chicago and the main goal of the game is to take down Al Capone's henchmen and get Capone in jail as well.
The levels are:
The Streets, some shooting scenes;
The Warehouse, you must get the information about Capone;
The Bridge, The Untouchables - Stone, Malone, Wallace, and Ness – appear as the playable characters, you have to blow up some of Capone's drug trafficking trucks;
The Alley: here you have the option to switch between Ness and the Untouchables;
The Train Station: you must guide a baby-carriage down a flight of stairs whilst fighting off Capone's henchmen;
The Hostage: you must take one shot to take out the henchman;
The Rooftops: you must reload your own gun in between shots while you take cover behind a courthouse wall… etc. You have much more left to find out and enjoy the play.
SNES/Super Nintendo/Super Famicom Screenshots
NES/Famicom/Dendy Screenshots
This is a really good fun shooter with meny different game modes and veiws which or though not all a great but it adds to this games charm, I think all would find something in this game they would love!...