Valkyrie Profile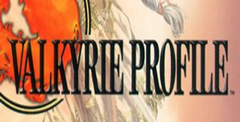 a game by
tri-Ace Inc.
Genre:
Action
Platform:

Playstation

Editor Rating:

8.8

/

10

, based on

2

reviews
Rate this game:
As you might expect from Star Ocean: The Second Story developer Tri-Ace, Valkyrie Profile plays with the standard RPG formula, mixing in a healthy dose of action and other unique elements. You play the goddess Valkyrie in her search for souls worthy to fight alongside Odin and other Norse deities in their sacred war in Asgard. Throughout the game you recruit and train warriors, choosing which of their skills and special abilities to develop before sending them to fight in the battle with the gods. Much of the game, including town and dungeon maps, takes place on 2D, platform-style levels. You can jump, slide, dash and climb your way around; if you get lost, just consult the auto-map. In combat, each of your four characters is assigned to a button. The goal is to time their moves so they hit simultaneously and open up special bonus attacks. There are also tons of special items, skills, spells and other techniques to learn. So far it looks like Enix is doing a fine translation job--the text is smooth and the English voicework (which there's a lot of) sounds good. Definitely one to anticipate this summer.
Download Valkyrie Profile
Game Reviews
People say:
9
This is a great first step as Enix's first self-published RPG in the U.S. since the Super NES days. The story closely follows Norse mythology, all the way down to place and character names. The richly detailed, hand-drawn 2D graphics and animation match the attention to detail and accuracy in its storytelling. Depending on your actions there are three different endings to the game. Dungeons are entirely 2D, but are multi-layered, giving them a 3D feel. But what makes this such an excellent game is the innovative battle system. Timing is everything--each character is assigned a button, and you have to time it so your party members hit enemies together for the maximum effect. Hitting their buttons at different times or orders affect how much damage you do, so you've got to develop the right timing. Build up enough hits and you can perform special finishing attacks. Unlike Final Fantasy and many other RPGs, you can't go through the game without managing every aspect of your characters. You have to distribute a lot of the extra experience points you get amongst the characters yourself. Enix did a fantastic job with the English translation too. At first, the voiced dialogue seems a tad cheesy, but it gets better as the game progresses. Plus, there are a few familiar voices from the Pokemon TV show and the U.S. Metal Gear Solid. Close behind Vagrant Story for the best RPG I've played this year.
9
Valkyrie Profile dishes out the most novel RPG experience this side of Panzer Dragoon Saga. Along with the amazing visuals and swelling soundtrack, you get a character-development as deep as previous tri-Ace title Star Ocean. You can build dozens of items and weapons, and combat is--gasp!--actually fun. Well, most of the time. Battles often require you to experiment with combos to topple certain enemies, although you still tap, tap, tap your way through fights with weaker foes. The story is hard to follow at first. Stick with it. The Norse theme here is bold new territory for an RPG. And I always thought Ragnarok was just the title of a GWAR album.
9
This is what games would be like nowadays had the 3D revolution never started. Valkyrie Profile is refreshing in a genre that's otherwise crowded by very few bonafide classics and tons of me-too wannabes. While the breathtaking sprite-based graphics immediately make this game stand out, it's once you start to understand the unique fighting system that the true beauty of VP becomes apparent. White everyone else is trying to copy Square, tri-Ace succeeds by being original. That's a lesson other developers would do well to learn. Although the learning curve is pretty steep, this game is an enjoyable experience from start to finish.