Wild Guns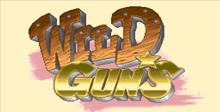 Click the "Install Game" button to initiate the free file download and get compact download launcher. Locate the executable file in your local folder and begin the launcher to install your desired game.
Travel back to the Wild West, where things are wilder than you think. It seems that the future is meshed with West, giving way to all sorts of havoc. Two brave heroes, Clint and Annie, have stepped forward to blast the relentless hordes of bad guys back to wherever (and whenever...) they came from.
Wild Guns is loaded with nonstop shooting action. Move your cursor across the screen to blast the nasties, but watch out, because you have to control your character as well! Jump, dodge, and roll your way to safety. Wild Guns is certainly tough!
Download Wild Guns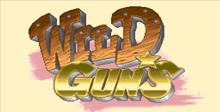 System requirements:
PC compatible
Operating systems: Windows 10/Windows 8/Windows 7/2000/Vista/WinXP
Pentium II (or equivalent) 266MHz (500MHz recommended), RAM: 64MB (128MB recommended), DirectX v8.0a or later must be installed
Game Reviews
Manufacturer: Natsume of Japan
Machine: Super Famicom
Theme: Action
The folks that brought you the superb Pocky & Rocky shooter have come up with an entirely new kind of 3-D shooting action game. Unlike standard 3-D shooters (where all you see on the screen is your gunsight or your aircraft), this Wild West action keeps the player-character on-screen (a cowboy named Clint or a cute saloon girl) together with the gunsight. That means you must keep your character moving, while still trying to aim your own gunsight.
Don't worry, it's not as tricky as it seems. In fact, it's a lot of fun, especially if you get a friend to join in on the mayhem.
Since this game is so cool, we'll try to bring you more information on this unique kind of game in the next issue of EGM, so stick around partner for what looks to be one of the hottest shooters in the West (err... East).
You like yer shootin' action fast, furious, and filled with big bad bosses? Then strap on yer six- guns, pardner, and saddle up for some of the season's wildest shootin' action. Wild Guns is a wild time at the A-OK Corral.
Wild Fun
At first glance, Wild Guns looks like a Sunset Riders clone: It's got behind-the-hero arcade- -- style shootin' in Wild West settings, Western heroes named Clint 'n' Annie, and more cowboy hats than a Willie Nelson concert. But Wild Guns introduces something new to the West -- outer space! Those backgrounds are strange planets, the futuristic weapons have 21 st-century firepower, and those ornery villains are robots. The Wild West never looked this way before, at least not in this galaxy!
The shootin' is dynamite. The backgrounds don't side- scroll like they did in Sunset Riders; here the heroes run from side to side, delivering a barrage of gunfire against aliens and mechanized weapons that roll into view.
The action intensifies in the fun two-player cooperative mode, where you and yer pal stand side-by-side and plug everything that twitches. Throughout the game, you easily pick up new weapons by shooting at them. Smooth controls make your targeting accurate (with a little practice), and extra abilities -- including lasso tossin', dynamite throwin', high jumpin', and sideways slidin' -- give you plenty of ways to survive.
ProTips:
Don't be distracted by the guns of the Carson City boss -- just keep nailin' his head, then prepare for a great explosion!
Blast at your own half of the screen in the two-player game, and you and your pardner will clear the backgrounds.
How the Galaxy Was Won
Solid graphics keep you cornin' back for more. The third-person behind-the-shoot- er view intensifies the duels, while the sprites and backgrounds are both colorful and detailed. As in some other good shootin' games, you can plug virtually everything onscreen, such as bottles, picture frames, and chandeliers.
Aim at the turrets, and you'll take out this desert tank.
Bombs blow up everything in sight -- they're powerful but in limited supply, so use 'em sparingly.
The sounds are good but not great. Fast music spurs things along, and the explosions resonate nicely; however, more voices would've made you feel right at home on the range.
Ride 'Em
If you've mastered similar shooters an' you've got an itchy trigger finger, don't go thinkin' you're immediately gonna be the fastest gun in Wild Guns' Wild West. Even on the Easy setting, this one's a decent challenge. But it's" worth stayin' with -- Wild Guns packs a fun wallop.
Try shooting everything on-screen, even if it's not shooting at you. These crates on the handcar will blow up.
A combination of lassos and guns works on this level- two boss.
While shooting at this giant mechanical crab, watch out for the claws that suddenly slam down from above.
Wild Guns is a third person shooter developed by Natsume for the Super Nintendo Entertainment System. The game was released in Japan in 1994 and in North America in 1995. The PAL version for Europe and Australia was released in 1996 and was published by Titus Software. The game is also available on Nintendo's Virtual Console Wii since May 2010 and in the PAL region since August 2010.
Although there are some science fiction elements in the game, the setting is the one of the Wild West. Robots, who serve as bosses of each level, are featured in this game, which is a total mixture and a prime example of the science fiction Western game.
The objective of the characters is to seek revenge against a murderous gang that killed one of the playable characters' family members. Annie is the female character of the game, which searched a bounty hunter to help her. She found Clint and decided to work with him to rescue the remaining family members she has. The players navigate through different levels and fight everything from towering machines to armored trains.
The gameplay is a third person, fixed viewpoint and is mostly about shooting. The movement of the items is done with the directional pad. The player controls both the on-screen character and the targeting reticule the same way.
The character remains still while shooting. Jumping, double jumping and dodge-rolls are all possible in this release. There are some more weapons featured in the game besides the standard gun. A grenade launcher, a shotgun and a gatling gun are all available weapons.
An fun part of the game is the background, which is interactive. The characters can shoot at bottle of whiskey in the saloon, break windows and destroy cactuses in desolation canyon. Destroying and object will sometime bring your power-ups, but don't expect it to happen too often.
The graphic engine of the game looks good and works fast. The game runs smooth and though there are not too many special effects, there are some cool technical gizmos. The artwork and design sprites are quite OK as well.
The fact that the game can be played in a two-mode is very good and makes the game more fun and interactive.
Unfortunately there are only six levels in the game, each containing three sub-levels. A sub-level doesn't take more than two minutes to complete, so by a short calculation one can finish the whole game in half an hour.
The game was received well, though it was not a commercial hit or a fantastic success. GameSpot users rated the release with 8.4, while two critics considered the game worthy enough of a 7.2 out of 10.
SNES/Super Nintendo/Super Famicom Screenshots