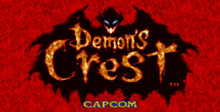 SNES Cheats
No enemies
Enter RBNL XHGB VGBB LYLD as a password. Only Bosses will appear in the game. Note, levels 5 and 6 will not appear with this code.
All items
Enter QFFF KNRR DDLR XGTQ as a password.
Play as Ultimate Gargoyle
Enter FDQP QRMB FGNH GTKL as a password.
Have all five vials
Hold A at the title screen and keep that button held while pressing Start to begin a new game. Note: Passwords and options may not be used.
Level 2
Password is BDLK BXPB GHGG FQKL.
Level 3
Password is TRTL STGZ FQMF XFLF.
Interesting
How would you like to play as the Ultimate Gargoyle? Come on, even if you've never heard of Demon's Crest you've got to be excited about playing as something called the Ultimate Gargoyle! And for those of you that are familiar with Demon's Crest, we'd also like to give you a little help with getting all the items and the Crest of Heaven:
Go to the Password Screen.
Enter the following code play as the Ultimate Gargoyle: FDQP, QRMB, FGNH, GTKL.
If you'd rather have all the items try entering QFFF, KNRR, DDLR, XGTQ.