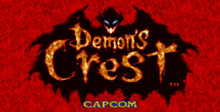 Nohbdy posted a comment: 12 years ago

this game is better than that by a lot try it as soon as possible becuase if you liked castlevania symphany of the night you'll like this too if not oh well...not everybody likes demon's as the main story line dude.
Sean Kalifut posted a comment: 11 years, 3 months ago

I just finished this game and it was really good. Capcom makes very nice games. A word to the wise, prepare to be driven insane when fighting Phalanx and the Dark Demon!