Viewing games 1 to 2 (of 2 games)


See also:
Cybernator

It's a run and gun game, the indirect sequel to Target Earth as part of the Assault Suits series.

Space Ace

Space Ace follows the adventures of the musclebound hero Ace. At the start of the game, the villainous Commander Borf...
It's average side scroller, but with a funky twist. This game has some top-notch action with radical dialogue, groovy music, and psychedelic graphics.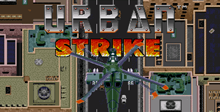 Urban Strike is the first, and only, game in the Strike series to feature non-vehicular combat. In some levels you will leave your helicopter and proceed on foot.
Discussion

1