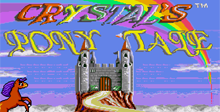 MATIAS MORALES posted a comment: 11 years, 4 months ago

Crystal`s Pony Tale es un sencillo juego de aventura y fantasia al estilo de los cuentos para ni?os. Tu eres un peque?o caballito que debe rescatar a sus 7 amigas del malvado hechizo de un brujo que las volvi? sus prisioneras. Para ello debes recolectar 7 gemas o joyas para intercambiarlas por ponys. Recibir?s la ayuda de otros animales que te guiar?n durante el juego. Adem?s debes recolectar llaves para abrir cofres y peque?as herraduras para enfrentarte a los malvados y pasar por los portales. Mientras desarrollas el game encontrar?s otros juegos como encontrar el par, o encastrar la pieza en su lugar correcto rememorando los juegos infantiles. Ver?s como tu pony es capaz de tirar carruajes, abrir grifos, escarbar, comer frutas, entre otras habilidades. Finalmente si logr?s encontar a tus amigas y derrotar al malvado hechizero podr?s asistir a la fiesta en el castillo.
Garo posted a comment: 11 years, 1 month ago

thith game kickth ath!!!!!!!!!!!!!!!!
Andy posted a comment: 10 years, 2 months ago

Uh a really strange game with the Jet Set Willie theme on the first level, Not much more can be said other than if you like pony's you might like this, If not stick too useing glue and eating Belgium steak....

If you bet on the horses and lost at least you can eat the loser.