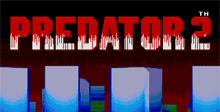 Pedro Ibarrola posted a comment: 16 years, 7 months ago

Yes I still remeber that game is was really cool i passed until the level 4 :( jejeje but now I think i can win because i can save the game progress
Andy posted a comment: 15 years, 6 months ago

I had this game as a birthday gift and my brother stole it the same day and sold it!, I was not very happy at the time but thanks to this site had a chance to play it!, My verdict the aiming sucks you can not aim at all!, After all that it is still a nightmare and it still is right at the bottom of shooting games lists!. So it's like the film stick with the first!, But sadly they did not make a Predator 1 game!!!....