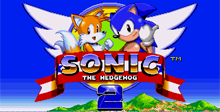 Justin Garcia CoolDuelist posted a comment: 14 years, 5 months ago

Again there's nothing for me to really say except that this game is also AWESOME! Now you play with tails. This Game is Highly Recommended by me, JGCD!
Brian posted a comment: 14 years, 4 months ago

This is the best sonic game EVER!!!!!!!
Duane Kross Jr. posted a comment: 14 years, 2 months ago

I played this game on Genesis and now on the pc and it is still awesome. If your into adventure, go for this one and go for all the other installments too. I also think that you should download Sparkster because it is just like sonic but with its own twist.
jake posted a comment: 14 years, 2 months ago

sparkster (otherwise known as rocket knight adventures 2). Is a good game with shades of wonderboy and mickey mouse. You will notice similaritys between them if your a fan of wonderboy and mickey youll see what I mean. Number 1 is also very good. Sonic is a unique game because there is no other character in gaming that can run and spin anywhere near as fast and it has good classic levels for the most part. Also if your a big sonic fan, there are OVER 10 sequels, on the sega master system, and mega drive combined, and thats not including sonic labyrinth and some sonic racing games which I didnt bother looking into.
steven posted a comment: 12 years, 10 months ago

este es el juego mas recomendado para todos!!!!!
Tonisha posted a comment: 11 years, 6 months ago

sonic & tail coolest game i've ever play totally coolest especally casino night is da best ever!!!!!