3D Baseball 95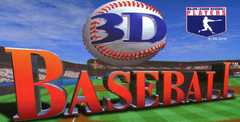 This game is in the very early stages of development. But the programmers at Crystal are stacking their team and are coming out of the batter's box quickly.
This polygon-based game looks incredible. Crystal Dynamics' programmers are confident they will be able to deliver a unique baseball experience for both fans of the game and baseball purists.
Van Earl Wright, former CNN sportscaster will be calling the play by play as the ball goes deep over the wall in left, right or center field.
Other games by
Sony Imagesoft